Upcoming December Live Music
By Paul Moffett
In December live music tends to run to choral performances of Christmas music, roughly matching the recorded Christmas music emanating from every functioning speaker in a public space. In Louisville, however, we have many choices besides Christmas music. Get out a least one night and hear a new band or an old favorite and remember, a CD is always the right size, so buy some for gifts and get it autographed for that extra-special touch.
Acoustic & Folk
The Bank One Lonesome Pine Specials Fall series wraps up with Little Jack Melody and His Young Turks, plus the "Brand New Roller Skates" gal herself, Melanie, plus guests in the Bomhard Theater on Dec. 6 at 8 p.m.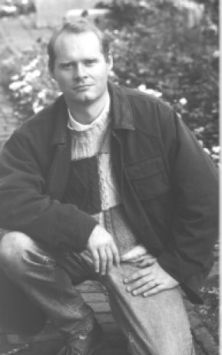 Judah Thornewill
• The Twice Told Coffeehouse stage has been slightly renovated, so that there is more room. Read Vicky Moon's story about new owner Rick Towles on page 22, then go see Cosy Sheridan on Dec. 12. Sheridan is yet another woman singer/songwriter trying to make the big time.
• Jennifer Martin returns to the Rudyard Kipling on Friday the 13th.. Freddie won't be there, so don't be afraid to travel to 4th and Oak for this show. Martin has been living in Nashville, working her way through the "songwriter college." She has a new release, By the Waves, so take extra cash if you are a fan. With support from WFPK's Laura Shine, she will probably even have an audience.
• Galloglas has established the Rudyard Kipling as its home base, regularly selling the place out. They'll be doing their Christmas show on Saturday, Dec. 14, with special guest, piper Karen Brumley. Get your tickets early.
• Judah Thornewill has been playing shows at the Rudyard over the last year or so, while he worked on a CD of his material. Well, the CD, Purple Pants, is finished and out. It's been on the CD changer at the LMN office and is intense and complex enough that a review will be along next issue. Thornewill will play at the Rud three times in December: Thursdays, Dec. 5 & 12 and Friday, Dec. 20, opening for 100 Acre Wood. Showtime is 8 p.m.
Bluegrass
• Ricky Skaggs and his Bluegrass Band will appear at French Lick Springs Resort on Friday, Dec. 6. (I bet you thought French Lick was closed.)
• Slide into the Rudyard on Dec. 7 for Pickett's Crossing. Showtime is 8 p.m.
Blues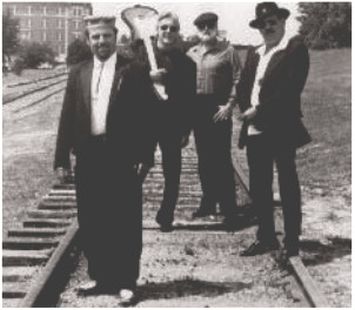 Big Al & The Heavyweights
• Stevie Ray's Blues Bar has held steady as a blues venue since it's opening and it has been paying off. They have been booking up-and-coming national acts on Wednesdays. (Nothing like that mid-week booking to get those acts cheap.) Antone's Records artist Teddy Morgan gets in on December 11, promoting his new CD, Louisiana Rain. Showtime is 9 p.m.
• Rollin & Tumblin' Records artists Big Al & the Heavyweights land at the Backstage for two nights, Dec. 13 & 14. Regular admission but you could buy their CD for yourself or a Christmas gift.
• At Louisville Gardens, there's a New Year's Eve Blues Bash, featuring the Metropolitan Blues All-Stars; Tanita Gaines and MR 2 Blues. Keep your eyes open for more information about this show as the month goes along.
Christian Music
• A late note: slip into the Louisville Gardens on Nov. 30 for Steven Curtis Chapman, Adrenaline and Caroline Arends. Showtime is 7:30 p.m.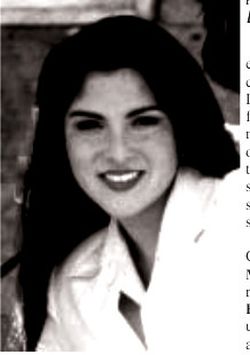 Jaci Velasquez
• Post Christmas is the time for a couple of interesting Christian shows. On Dec. 30, a show titled Acts 19:97 will present Clay Cross, Sierra, Jackie Valesquez and Louisville's Straight Company. Pretty impressive line-up, eh? Showtime is 8 p.m.
• On New Year's Eve, the Fox Brothers will be "singing in" at Valley View Baptist Church, 8911 Old Third St. Rd. The band has just received the Pioneer Award from the Christian Country Music Association. Showtime is 7 p.m. and a $5 donation is suggested.
Christmas Music
There's lots and lots of Christmas music everywhere, of course, and much of it free.
• The Seminary Choir of the Southern Baptist Theological Seminary will sing a Christmas Concert on Tuesday, Dec. 3, at 8 p.m.
• The Louisville Orchestra will give a free Christmas Concert at St. Mary's Church of the Annunciation in New Albany on Thursday, Dec. 12.
• The Louisville Male High School Concert and Symphonic Bands will give a free Christmas Holiday Concert on Tuesday, Dec. 17 at 7:30 p.m., at the Sallie Phillips Durrett Auditorium on the Male campus at 4408 Preston Hwy.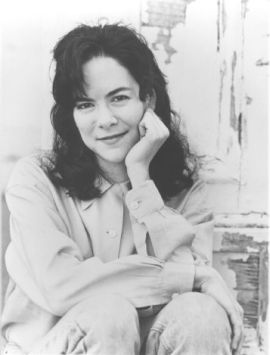 Jennifer Martin
• The Louisville Chorus, under the direction of Daniel Spurlock, will present "The Bells and Voices of Christmas," on Dec. 14 at 8 p.m. at the Cathedral of the Assumption.
Tickets: $12 Adults/$8 Children & students
• The Louisville Orchestra will present the Bank One Holiday Family Pops Concert at Louisville Gardens on Friday, Dec. 20 at 8 p.m.
Tickets & Information: 584-7777.
Country
• Coyote's mid-week country shows in December include Wade Hays on Tuesday, Dec. 3, tickets $15 Adv. / $18 Dos. On Thursday, Dec. 12, newcomer Terri Clark returns for a benefit show. tickets are $8 in advance, $12 day of show. Clark appeared with George Strait at the State Fair in August and made quite an impression.
• How about the Mandrells' Family Christmas Show at French Lick Springs on Dec. 20. New Albany favorites The Marlins will open the show.
Variations on Rock and Roll
The weekend of November 29-December 1 has it's share of good rock shows. For those of you who did not get enough arts and crafts, the Winter Rock Festival at the Water Tower will give you a last chance to buy gifts and listen to some of Louisville's best rock and reggae. The event happens under heated tents, so be not afraid of the weather.
Tickets: $7, one-day pass; $11, all three days. Admission to the Arts and Crafts Extravaganza is free.
• Francine Reed has a recipe for fried chicken in a new cookbook put out by the Washington, D. C. Blues Society, but the former back up singer in Lyle Lovett's Big Band will show off her vocal ability rather than her skill with a skillet at the Phoenix Hill Tavern on Sunday, December 1.
Tickets: $10 in advance, $12 day of show.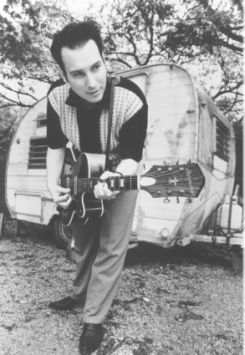 Teddy Morgan
• Rusted Root will be in concert in Knight's Hall, Bellarmine College on December 2. Showtime is 7:30 p.m.
Tickets: $17
• The Toy Tiger has a genuinely oddball show on Dec. 4, with Man Or Astroman?, The Delta 72, Cash Money and Like 60. All these acts are Touch and Go/Quarterstick Records acts, which may explain a lot. Bring your space helmets for autographs. Showtime is 9 p.m.
Tickets: $8 in advance and $9 day of show.
• More alterna-pop is set for the Butchertown in December. The Godrays, some of whose members were formerly with the kid pop band small factory, will grace the Dancehall on Thursday, December 5. Convoy opens.
Tickets: $4.
• The Last of the Full Grown Men, Webb Wilder, has made the Phoenix Hill a regular stop of late. He draws a good crowd for his Nashville-influenced rock. Go see him on Friday, Dec. 6.
• The Almighty Ultrasound and the Hunger will perform at the Phoenix Hill Tavern on Sunday, December 8, with the proceeds to benefit Kentucky Harvest. Tickets are $5 plus one (or more) canned good. Don't forget the canned good, okay?
• Grammy-winner Delbert McClinton's fan base in Louisville has gotten large enough that his shows have moved to Coyote's. He'll be there on Tuesday, Dec. 10, with the Mudcat Blues Band opening. McClinton has a new CD, Never Been Rocked Enough. Bring money.
Tickets: $10 Adv. / $12 DoS.
• Stress Magnets from Baltimore and Mr. Underhill from the United Kingdom will hit the Butchertown Pub for a heavy show on Dec. 11.
Tickets: $4.
• Also on Dec. 11, John Doe of X will be in concert at the Phoenix. The Scud Mountain Boys will open.
• Mojo Nixon hits the Phoenix on Thursday, Dec. 12. Nixon will, no doubt, have something to say about the recently released tapes from his presidential namesake. I can't speculate about, especially not in a family publication.
Tickets: $8 Adv. / $10 Day of show.
• Jason and the Scorchers blaze into the Brewery on Friday, Dec. 13 for a rip-it-up rock show. Bring your dancin' shoes.
• Fans of the Floating Men will want to roll into the Butchertown on Dec. 19 for Jeff Holmes doing a solo show.
Musicals
• Actor's Theatre is staging a musical version of the O'Henry story, "Gift of the Magi." It runs every day from Dec. 5 through Dec. 22 except Mondays.
Tickets: $8/9
• Actor's is also staging its 21st presentation of Dicken's A Christmas Carol from Nov. 27 to Dec. 28.
Tickets & Contact: 584-1205
Opera
• The Kentucky Opera has made Hansel and Gretel the December show. This year, they have revamped it, shortened in, and moved the show to the Macauley. At ninety minutes and sung in English, it's the perfect way to introduce the children to opera (the adults, too, for that matter). You have your choice of days: Dec. 12-17, at various times.
Tickets: 584-7777
Jazz
• Bloomington's BeebleBrox will stuff themselves into the Twice Told Coffeehouse on Thursday, Dec. 5, for a 9 p.m. show. For those who do not know, BeebleBrox was the name of a character in the Hitchhiker's Guide to the Galaxy series. (Former lovesauce & soulbones bassist Danny Kiely is playing with them.) They have a new CD, Quantuum Tweezers, so pack cash. They also have a web site: http:copper.ucs.indiana.edu/~mherzig/beeblebrox.html. Whew.
• The Louisville Jazz Society's December concert on Dec. 5 at the Silo Brew Pub will feature the Java Men. LMN's jazz columnist Todd Hildreth is the keyboardist in that group and is very good about not constantly plugging their shows in his column. They are excellent, so go see them if you haven't. Or if you have.
• The ReUnity Club Jazz Orchestra will perform in Clark-Todd Hall in the Kentucky Center for the Arts on Sunday, Dec. 6 at 6 p.m.
Urban
A couple of interesting urban concerts are available in December. The performers are pretty much at either end of the age range, so the fact that these shows are one the same day is lessened somewhat.
• The Kentucky Center for the Arts Midnite Ramble Series brings crooner Billy Paul in on Saturday, Dec. 14 for an 8 p.m. show.
Tickets & Contact: 584777 .
• Meanwhile, over in the Louisville Gardens, there's a rap/hip-hop package, featuring E40 & the Chic, Silk, and Master P. Showtime is at 7 p.m., which means it'll really be a long one.
Tickets: 584-7777.