Celtic Happy Feet
Perhaps you didn't hear the explosion. Ignited by the mega smash hit "Riverdance" and its successor, "Lord of the Dance," Irish step-dancing has taken off in the USA. Kentucky is not too far behind. In Louisville, the Bluegrass Irish Dancers are growing rapidly and are up to some 60 students. The North American Feis Association has approved Louisville as a site for a Feis (dance competition) in June 1997 to be held at Bellarmine College. Approximately 500 competitors will be coming and many will have Mom and Dad, Bud and Sis in tow. Chamber of Commerce, take heed! A fund-raising event is being planned for February, so watch this space!
Lexington now has the McTeggert Irish Dancers. Their director, Maureen Hall will be giving instruction at two upcoming ceilis on at 7:30 p.m. December 2 and January 13 at Arts Place, 161 North Mill Street, Lexington, KY. For more information call Kathleen at (606) 268-8878.
Boxing Day At The Irish Rover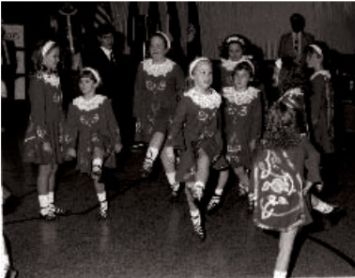 Young Bluegrass Irish Dancers show off their steps
Boxing Day (September 26) in Britain is celebrated in Ireland as St. Stephen's Day. The Irish Rover will host its annual breakfast with music by Ten Penny Bit from 10 a.m. to 2 p.m. The Rashers will be the craic meisters that evening. It's sure to be a mighty night, so write it down. Prior to that our wild and wooly Rashers will be playing at Hawley-Cooke (Shelbyville Road) on December 7, from 7:30 p.m. to 9:30 p.m. Slan leat! to Rasher accordion player Ronin O'Culain, who is returning to the scene of his nativity on Inisheer, County Galway. Ronin was a big shot in the arm to the local Celtic music scene and will be sorely missed both for his musicianship as well as his charm and wit. Sans O'Culain The Rashers will be playing at the Irish Rover on New Year's Eve but you had better make reservations now (899-3544).
The Stone Of Scone Returns
Scotland's "Stone of Destiny" has been returned from Westminster where it has been held since being taken as the spoils of battle by King Edward in the 13th century. It was the talismanic rock on which all of the Scottish monarchs had been crowned. The Scottish Society of Louisville will be celebrating this and more at their annual Auction Night on Saturday, December 7 at St. Andrews Church Hall, 2233 Woodbourne Avenue (in the Highlands, where else?). BYOB cocktails start at 6 p.m. with dinner at 7 p.m. and the bidding at 8:30. The Louisville Pipe Band will be serenading. A portion of the proceeds will be donated to the William Wallace Scholarship Fund.
Speaking of the LPB, Rock was remiss last month in failing to mention that member Lance Dahl won first place in the Amateur Bass Drum Competition at the Stone Mountain Highland Games. Well done laddie! LPB members also perform at the annual Boar's Head Festival December 29, 30 and 31st at St. Paul United Methodist Church, 2000 Douglas Blvd. This is a beautiful musical pageant and its FREE. However you must call the church to make reservations (459-1595).
Celtic Christmas
Galloglas is offering it's third annual Celtic Christmas Concert at the Rudyard Kipling on Saturday, December 14 at 8 p.m. As is their custom they will have a guest musician; Karen Brumley of the Louisville Pipe Band, who will perform on the highland pipes as well as the Scottish smallpipes. Galloglas' last five RK concerts have sold out in advance, so Celtoids are well advised to make reservations by calling 636-1311.
Jam Session At The Rudyard
Friday December 6 is the regular monthly session at the Rud. There is no admission charge and players at every level are welcome. The cast varies but you can usually count on Mark Cannon of Ten Penny Bit, Paul Whitty of Galloglas and Paul Kinder of Drowsy Maggie. Paul Kinder, music maven for the Irish Family Fest, has a vast knowledge of the canon of Irish tunes and often leads those assembled. Donal McCaffrey from Drogheda, Ireland and Colin Grant-Adams from Oban, Scotland occasionally appear. Incidentally, Colin has a new album coming out soon. Watch this space. Dan Cummins, a tenor banjo player from Chicago now residing in Lexington, is the newest face in the crowd.
Nollaig Shona Duit or Happy Christmas to all LMN readers!
Decimus Rock photo caption: YOUNG BLUEGRASS IRISH DANCERS STRUT THEIR STUFF