Slim Picks
By Cindy Lamb
The last replacement in The Replacements, guitarist Slim Dunlap, blew into town November 16 and the wind is just dying down. As part of the Bluegrass Brewing Company's concerts, booked by Spotlght Productions, the rhythm 'n' roots Minneapolis band was made to feel right at home in Louisville.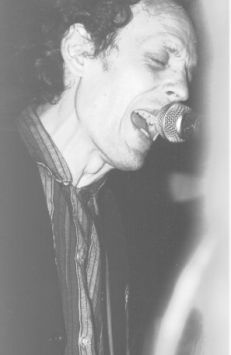 Slim Dunlap. Photo By Paul Moffett
As the last of the dining patrons polished off their pasta and tipped their servers, a fresh pack of nightcrawlers filled the room to the rafters and waited for their unlikely hero Slim to call them to disorder. Well, not really. Dunlap is as earthy as dirt and can kindle the same spirit of the night as whiskey or apple pie and coffee. It depends on what story's being told. On the road with bassist Johnny Hazlett, Jim Thompson on second guitar and vocals and drummer Brien Liljad, Dunlap is as comfortable with a crowd as an old shoe. Come to think of it, he resembles one, too.
"You better be careful with your lens!' he warns a photographer with a grin while having his photo taken. "I've shattered a few in my day."
The rest of his body seems rode hard and hung up wet as well but it serves as a road map of relentless touring, living from studio to stage, cigarette to cigarette.
When I first arrived at the BBC, I found Slim "holding up the wall" next to the hostess desk, with his loose smile wrapped around a Marlboro. My handshake hadn't even slowed down when he began spinning yarns from days passed.
"Yeah, these young guys get out there on the road to push a new record and they knock themselves out for two weeks. They come up to me and say 'Man, you've been doin' this for years, how do you take it?' I look at them and they're all exhausted. I just tell them you gotta pace yourself, roll with the punches. Save yourself."
Rolling with punches has sent Dunlap as well as former bandmate Paul Westerburg for a sober ride on the wagon. Although Westerburg guested on Dunlap's Times Like ThisBy plunking down some keyboards on "Nowhere's Near," the two don't see a whole lot of each other because of scheduling. Seeing that enough bands are "borrowing" guitar sounds from The Replacements isn't really a comfortable salute but fans aren't soon to forget each moving part of that band.
"It was plain to see that the people knew exactly who they were coming to see," stated BBC manager Sarah Ring, "he's obviously got a loyal following." That undeniable growl of the Rickenbaker was turned loose on the room after a couple tunes and folks just got closer for more.
Nostalgic, garage rock with a new front porch is how I like to see Dunlap's music. With tunes like "Hate This Town," a New 92 spinner, and the peculiar "Chrome Lipstick," he pulls up some deep roots to tell these mostly autobiographical tales.
Each tune kicks off with "C'mon boys, let's go!" or a lead guitar riff gets a "Okay, here we go!" adding kind of a honky tonk feel to the otherwise brasserie-like St. Matthews microbrewery.
"Here she goes, fellas..." cranks up "Ain't No Fair in A Rock and Roll Love Affair." Nah, more like hunter calling his bird dogs over to a duck. Except it's all electric.
Before the show, Slim waited for his sister to show while he entertained our group with more stories, about how he used to be a janitor and was nicknamed 'Tree' by one of the older men he worked with. Apparently, Dunlap, who's named for his father Robert, didn't take to the name and complained around the workplace about it. Under duress, the old guys finally re-dubbed him Slim and it took.
"I think they thought I was involved in some underworld activities or something," he exhaled with a laugh, "One guy was rumored to have said, don't call him Tree, man, it's Slim. Don't mess wit' him!"
Back home in the land of cheese and beer, the Dunlap family is a combination of a son, a daughter and a Mrs. Slim – a notorious yard saler.
"I'm proud to have gotten my child rearing out of the way," Dunlap notes kindly of his seventeen-year-old son, Lewis. "The boy is one of those professional skateboarders," Dad continued. "But I just don't see why he comes home and says "Mom! I made it all the way to the top and – BAM!– crunched right into the wall!' Why does he do that?"
By the end of the show (and long after my bedtime I must admit), Slim "invites" someone up to the stage who's never played guitar before to sit in on a song. Sarah ("I'll be awake 'til 6 a.m.") Ring related the experience. "It was a great blues vamp number and he got somebody up there and gave them his guitar. They carried the tune through while this guy just banged on the guitar and Slim just kept singing in tune."
With manners that a Yankee usually finds hard to come by, Slim gave Sarah the autograph of "Ya'll treated me real fine!"