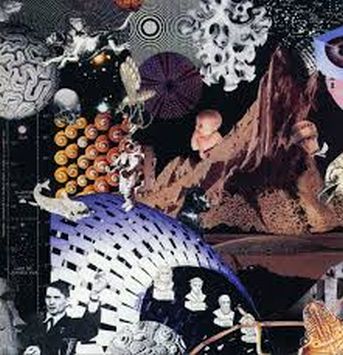 French TV III: The Virtual in Futility (Pretentious Dinosaur)
French TV
By Jeff Poole
French TV. The name brings up images of naked people and odd humor doesn't it? A Louisville band – Blues? Country? Unimaginative rock?
To my complete surprise, Virtue in Futility, French TV's third album, is a treat. With songs like "Hey! Real Executives Jump from the 50th Floor!," a Zappa-like study in ArtRock, and "I'm Whining for That Funky Baby of Mine," which is spooky Mingus-like jazz, you might get the impression that these guys aren't really serious, but let me tell you, this is serious stuff!
"Friends in High Places" is reminiscent of that great San Francisco Bay Area band Negativeland. Okay, so there's humor and social criticism, what else do you want from a CD? How about more from the same people? Virtue in Futility is the third in a collection of soon-to-be-four Cds by Mr. French TV Mike Sary and an revolving assortment of other talented players.
The album was recorded at Mom's studio with Howie Gano engineering. The first French TV album is on vinyl (really) and is soon to be released on CD by Mellow Records of Italy. All of French TV's recordings are available at ear X-tacy Records.
The fourth CD was recorded live at the Louisville School for the Blind album will soon be available. This album breaks with the French TV chronology and is titled YooHoo, just like the soft drink.
People of Louisville take note, you should CHECK THIS OUT! This town is full of talented people. I know you're all dying to see French TV in person, but Mike Sary reports there are no scheduled events in the near future. Maybe when the weather warms.
Until then, buy their CDs!