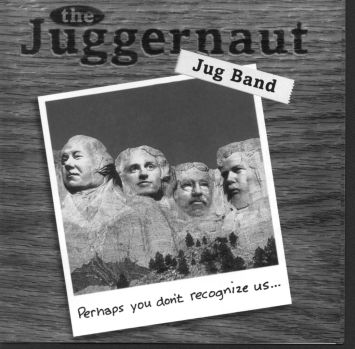 The Juggernaut Jug Band
Perhaps You Don't Recognize Us ... (Independent)
By Kevin Gibson
Louisville's Juggernaut Jug Band, a group which has been making music in various incarnations for 30 years, might be one of the most serious, contemplative bands in local music history.
The quartet's newest – and oldest – album, Perhaps You Don't Recognize Us ... , recorded in Louisville, pulls the listener through many different trepidations and moods, from happy to carefree to utterly giddy to downright silly (is that an emotion?).
Most notable is the musical intensity which betrays the angst buried within each of the somber band members: Tin Pan Alan, Gil Fish, Roscoe Goose and Jim Balaya.
OK, I can't keep up this critique parody any longer, especially as the kazoo solo from "The Blues My Naughty Sweety Gives To Me" buzzes in my ear. But I think you get the point. This band takes very little seriously in its music (except for their adept playing), and certainly not in themselves (Note: Those are not their given names).
That's not to mention that a glance at the titles of the 12 songs on this album reveal three tunes with the word "chicken" in the title. Unless there is a Col. Harlan Sanders solo album floating around somewhere, that in itself is probably unprecedented.
What it boils down to is this collection of originals, jug band standards and parody covers aims for and scores a direct hit on one goal: to entertain. It's professionally done, pleasant to hear and it will bring a chuckle at the same time.
When's the last time you heard Led Zeppelin's "Black Dog" played with a washtub bass, jug, bird whistle, vocal harmonies, a solo lifted from "Stairway to Heaven" and with a closing line of "And a boy's best friend is his mother"?
That's what I thought.
Jim Morrison's "People Are Strange" is equally wacky, and by the time you get to Balaya's "It's Like I'm Psychic" you've either caught a case of the feel-goods or you have to finally admit to yourself that you're possessed by Satan.
And if your soul is so decayed that the music doesn't do it for you, the free Juggernaut finger puppets enclosed in each compact disc will entertain you and your friends for hours and hours.
Stop laughing; they're really in there. Really.