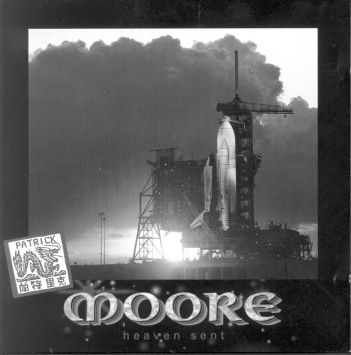 Heaven Sent Riverglow
Patrick Moore
By Paul Moffett
Patrick Moore is an Indiana anesthesiologist with a sideline – songwriting. He has taken this interest a long way, recording, to date, four CDs of his material. His last recording in the series, Heaven Sent, echoes his earlier work, dealing as it does with a variety of politically and philosophically charged subjects, ranging from straight-up gospel to promoting the repeal of prohibition against marijuana.
The earlier recordings, some of which were recorded in Leningrad, Russia, suffered somewhat from an excess of vocal processing, particularly reverb. With Heaven Sent, Moore forgoes attempts to make his voice carry the material and instead relies on the arranging and playing skills of Jon Stephen Fagét, who gets credit on the album for playing all the instruments the Moore doesn't, plus engineering the sessions.
Fagét's arrangements of the songs are quite varied and his instrumentation likewise covers a lot of musical territory, not all of it commonly found on 90s recordings: synth sea gulls and calliopes, for instance.
Stephen Sondheim once remarked that if a listener left a new musical production humming any of the songs, then the songs were not really "new" but were built on familiar themes. Moore and Fagét utilize the familiar with some frequency, from instrumental intros to the basic tunes of several songs. Additionally, several traditional verses are quoted – and cited correctly.
The opening tune, "Fish" and the next track, "Party Daze," might well be one song, at least musically, with very similar openings, while "Alaska" is a paean to the "natural state" of the biggest state.
The title tune offers up confessions of youthful indiscretions and promotes legalization, while "More" borrows its sound from the Beatles. "Love!" utilizes a traditional verse against a perky arrangement, as does "Ireland Forever!."
At sixteen songs, the CD is somewhat longer than commercial CDs, but it's apparent that Patrick Moore is more interested in getting the tunes out into the world than saving them for later projects. His four-CD project has used up what would be a significant catalog for most writers and represents a considerable and laudable effort.
Heaven Sent is available locally at ear X-tacy, HMV Records, Disc Jockey, Hawley-Cooke Booksellers, Blue Moon and Electric Ladyland.