Bluegrass Beat
Snowflakes falling, SPRINGTIME IS CALLING, and I hear you loud and clear.
Enough, bring on the flowers and greening of the trees. Bring on the spring and summer temperatures. And bring on the BG festivals. You may not be surprised to learn that, as I am starting this column, I haven't seen my driveway for two days.
Catchin' Up
As usual, we have to back up a few weeks to catch up:
On our Christmas trip to Virginia we spent a few days with our very good friends Richard and Ida Price. Richard had a BG gospel group in the Petersburg area before civil service moved him to Ft. Monroe. He is still interested in meeting pickers in the tidewater area and, hopes to play some down there on occasions.
We were able to catch up with New Dominion Bluegrass fiddler Jim Armstrong one day for lunch. Jim, a coast guardsman, lives in the Yorktown area. A good visit with Jim; and Rich is well on his way to meeting new BG friends down there.
Chubby Wise Will Be Missed
For those who may not have heard, Chubby Wise, co-writer of "Orange Blossom Special," died Jan. 6, at age 80. Chubby had played for many of the Opry greats, including many years with Hank Snow, and on some of Hank Williams' great recordings. I hope you were listening to my "Sunday Bluegrass" show, WFPK 91. 9, on the 14th. If you were, you heard a bit of Chubby and the story of "Orange Blossom Special" in Chubby's own words.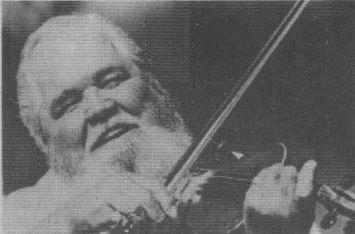 Chubby Wise
Just in case you missed that part of the show, I will tell you what Chubby had to say. This is from a taped conversation I had with Chubby at White's Farmer's Market during a festival May 13, 1989. That was the first and only opportunity I had to talk with Chubby Wise.
According to Chubby, he and Ervin Rouse had been making the rounds of the bars in Jacksonville, Florida, in 1939. The bars had closed and they went down to the Union (train) Station, in Jacksonville for coffee. They got to talking about a new train on the east coast of Florida called the "Orange Blossom Special."
"On. the' way home, Ervin said, 'Chubby, let's write a fiddle tune and call. it 'Orange Blossom Special.' Chubby' and I said, 'That's a good idea, Ervin.'"
This conversation took place at about 3 a. m. during the depression years, and the Wise family lived in a one-room apartment. At the time, Chubby drove a taxi cab in Jacksonville and played the beer joints at night.
When they got to Chubby's apartment, he told Ervin to get his fiddle, and they sat down on the side of the bed; Mrs. Wise got up and fixed breakfast for them. Sitting on the side of the bed, "he and I wrote the melody; I had nothing to do with the words." Ervin and Gordon (Ervin's brother Gordon Rouse) done that. But l'm sure it couldn't have been more than 45 minutes and we had the melody wrote. Lt just come to us; it was just one of those things. I always told everybody, 'Lady Luck didn't smile on us, she laughed out loud. ' Ervin told me, 'Chubby, let's go down and get it copyrighted. ' And I said, 'Ervin, my friend, I ain't got time to fool with no fiddle tune, I've got to check out my cab in about another hour. ' I said, 'lf you can do anything with it, it's all yours. ' He went and had it copyrighted, and I believe he done something with it."
(Chubby, I would call that a gross understatement.)
Chubby Wise, you, your happy laugh and your fantastic fiddle will be missed.
(Editor's Note: According to lrwin Stambler and Grelun Landon's book "The Encyclopedia of Folk, Country & Western Music," Ervin Rouse told Everett Corbin of Music City News that "Orange Blossom Special" was written by. himself and his brother Gordon on the same day in 1936 that the train "Orange Blossom Special" was christened at Miami. The New York Times News Service article regarding Wise's death that appeared in The Courier-Journal, however, credited Wise as a collaborater on the song.)
Bad Weather 'Hard on the 'Grass
The very bad weather has taken a toll on recent bluegrass shows in the area. I did see a part of the New Kentucky Blue with the Lewis Family at the West Point Country Opry on the 5th. Weather conditions dictated that we leave that show before it was over. Others stayed and I sincerely hope all made it home OK that night.
Plckin' and places coming up
Doyle Lawson will be in Cincinnati, Ohio,' at Willard and. Jean's Bluegrass Hall, Feb. 3, and in Nashville for the SPGMA Awards show the 4th. Doyle will also be at Mitchell (lnd.) Opera House Feb. 17.
Coming to Shepherdsville Country Music Place Feb. 2, Larry Sparks and The Lonesome Ramblers with Fresh Cut Grass; Feb. 9. The Goins Bros.
The West Point Country Opry has Claire Lynch and the Front Porch String Band Feb. 2; The Warrior River Boys Feb. 9; Northwest Territory Feb. 16; and The Lynn Morris Band the 23rd.
For Lewis Family fans, they will be at the SPGMA Awards weekend in Nashville Feb. 4.
Remember, too, bluegrass at Henryville, lnd., every 2nd and 4th Saturday of each month, and at Scottsburg, lnd., the 3rd and 5th Saturday of each month. The first Saturday of every month there's a Bluegrass Jamboree at the 4H fairgrounds, Madison, Ind.
Once again, remember it is WFPK, 91. 9, for "Sunday Bluegrass," 8-11 p. m. each Sunday. Be there and be at a live bluegrass show somewhere soon and regular. Festival season ain't too far off.