I've Got A Mind To Ramble
Lucky Thirteen
It's not too early to start making plans for, the 1996 Chicago Blues"Festival. Last year, Chicago was complete] y booked up at festival time, with several national conventions in town that same weekend, and it appears to be the same situation again this year. The dates for the thirteenth festival are May 31, June 1 and 2.
I called Barry Dolins at the Chicago Mayor's Office of Special Events to get some advance information. Dolins, who has been coordinating these festivals since their beginning, said the contracts are being negotiated with the musicians and he couldn't divulge who they are yet. He did say that the title theme will be "I Ain't Superstitious (Black Cat Cross My Trail)," taking a cue from the Willie Dixon song recorded by Howlin' Wolf in 1961.
Several past bluesmen born over 100 years ago will be honored, including Blind Gary Davis, Tommy Johnson, Rev. Robert Wilkins and Jesse Fuller. The Mayor's Office is also planning two Blues Weekends this spring, the first Feb. 912 and the second May 1013. These weekends include a record release party for John Prine, concerts at the Navy Pier and lots of activities in the clubs.
RSVP for SRV
Stevie Ray Vaughan's legacy lives on in many ways. with the books "Soul to Soul" by K eri Leigh and "Caught in the Cross Fire" by Joe Patosk and Bill Crawford. Blues bands and guitarists continually pay tribute to the legend who was revolutionizing the sound of rock blues when he was struck down at the age of 36. Guitarist Buddy Guy and Stevie were very close and Buddy has acknowledged that Stevie was the key to popularizing the blues. He opened the door wide and let in other musicians.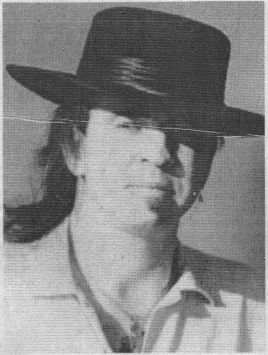 Stevie Ray Vaughn
There was a memorable concert I attended in 1985 at the Louisville Gardens that featured Stevie Ray and Double Trouble. Johnny Copeland opened the concert for a double whammy of Texas blues guitar. It was a no-nonsense affair, with no seats set upon the main floor, so the crowd packed the area around the stage. Stevie's album Soul to Soul had just been released and he played several cuts from it, plus an impassioned version of "The Sky ls Crying." I'll never forget the image of that frail figure who could produce such a powerful sound from his Stratocaster guitar and foot pedal amplifier.
Stevie never completed his high school education, dropping out of Kimball High School in Dallas during his senior year. His mother, Martha Vaughan, along with the Communities Foundation of Dallas, has been involved with establishing scholarships for underprivileged children with musical talent. These scholarships are awarded to the students when they are in the eighth grade. The money is invested and given to the college or university they plan to attend. This worthy effort in Stevie's memory is a great incentive for talented children to continue and complete their education. The program is concentrating on Greiner Middle School, which Stevie attended. This March, ten scholarships will be awarded.
Beverly Howell, the producer and host of "Blues Chat" on America Online, has been spreading the word of this cause. Beverly is a native of Austin, Texas, and hosted a special program "Remembering Stevie Ray" last August on the fifth anniversary of Stevie's death. Beverly is now taking her mission a step further, promoting a fund-raising concert at the appropriately named Stevie Ray's Blues Club on Tuesday, Feb. 27. The lineup will include the Shannon Lawson Blues Band, plus several big names to be announced shortly. Here is a great opportunity to participate personally in a benefit that will help perpetuate Stevie Ray's legacy. Beverly has been invited to participate with the selection process for the scholarships this year.