Celtic Jam Session
The Rudyard Kipling is a gracious host to Louisville's varied musical scene and certainly no less to the Celtic players who have gathered there on the first Friday of every month for the last ten years.
Modeled after the tradition of the lrish "sesiun," it is a jam session of traditional tunes, songs and ballads.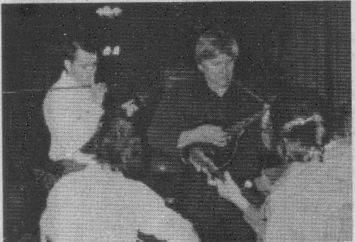 Mark Cannon picks the tune, Tom Lee finds the note. Photo by Decimus Rock
A sesiun appears to be somewhat spontaneous, but there are a few unspoken common sense "rules" that vary by location. In some sesiuns, new musicians wait until they are asked to join. Less experienced musicians often listen for a while to determine whether they can contribute to what is being done. When joining in, all are expected to have "big ears," to be sensitive to the other players and, when someone is taking a lead, to back off or even drop out unless appropriate variations in rhythm and harmony are offered.
Although there is a vast canon of lrish and Scottish music, sesiun players have a few dozen "common" tunes, e. g., "The Wind That Shakes the Barley," "Morrison's Jig," "Merrily Kissed the Quaker," etc., that you would be likely to hear wherever you go. The singing can be extremely varied. "Jock Stewart," "Stick to the Crathur," "Galway Races," "Why Paddy Murphy didn't Go to Work Today" are among the many sung at the Rudyard Kipling.
The progenitor of the local landmark band Drowsy Maggie, Gerry Ford, is also the putative father of our sesiun, along with bandmate Paul Kinder. Paul has taken his hammered dulcimer to sesiuns all over the USA and Ireland and is usually on hand to suggest well known tunes from his own prodigious repertoire. All the local Celtic groups are usually represented, including Mark Cannon and occasionally Robin and Bob Loeffler from Ten Penny Bit; Greg Byrne and Paul Whitty from Galloglas; John Woodard and Larry Green from the Rashers; occasionally Henry Austin from Tight Squeeze; Mark Rosenthal from Cloigliean; as well as pipers and drummers from the Louisville Pipe Band. Excellent "free agents" like Tom Lee and Ray Major, Pat Kirtley and William Whobrey also make a real contribution.. There have often been players passing through who add extra spice and maybe a new tune or two. You are likely to see native Irish and Scottish players like button accordionist Ronan O'Culain (Inisheer), bodhran player Donal MeCaffrey (Drogheda) and balladeer ColinGrant Adams (Oban), to name a few.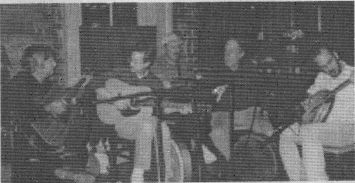 Left to right, Tom Lee, John Woodard, Greg Byrne, Gerry Ford and Glen Miller. Photo by Decimus Rock
At the Rudyard Kipling sesiun, guitars, bodhrans and hammered dulcimers are usually in surplus, so those players often take turns. Inasmuch as this is very thirsty work, such opportunities for a pint are appreciated.
It should be noted that there is no "Celtic straitjacket" on the players, so you will often hear the odd bluegrass tune, pop song, etc., for variety.
More and younger people are be ginning to attend, and they pick up these musical traditions first hand. Rock ventures to say it is the most convivial atmosphere you are likely to find for teaching and learning music. The motoring public should bear in mind the Rudyard Kipling is a restaurant (and a good one), so young and old alike are welcome. The most recent innovation has been to add sound amplification, which seems to have been well received by players and patrons as well.
Also the. "dangers" of the Limerick neighborhood are very much a thing of the past, thanks in part to the efforts of the Old Louisville Business and Professional Group.
Louisville's sesiun compares very favorably with the region and it is not at all unusual to have Celtoids driving in from Indianapolis, Cincinnati and Knoxville. It is a gem in your own backyard, dearly beloved, so check it out. Rock (almost) never misses a Rudyard Kipling sesiun.
Flotsam and Jetsam
February is relatively quiet. Ten Penny Bit is doing abenefit dance at Cane Run Elementary School from 8 - 11 p. m. on Feb. 10 to raise money for their tour of Denmark coming up in July. You can also hear TPB at the Thomas Winery in Madison, lnd., from 5-9 p. m. on the 17th. While you are driving in that direction, you can go into Cincinnati to hear Galloglas at Arno1d's that same night beginning at 9 p. m. Finally, Galloglas is giving a Valentine's Day concert at the Rudyard Kipling on Friday, Feb. 16, at 8 p. m. Call the Rudyard Kipling at 636-1311 now because all seating is. reserved and the show is already over half sold out.
See you near the stage.