Cowboy Corner
RD ANNUAL RROTE AWARDS
The Third Annual Roadrunner/Coyote's Video Music Awards (RRotes) were handed out Sunday evening, Jan 21, at Coyote's. In the country category, Brooks Tucker was the big winner, walking away with two RRotes; the Best Overall Video and Best Performance awards. Tucker's video also helped Archie Borders capture the Best Director award.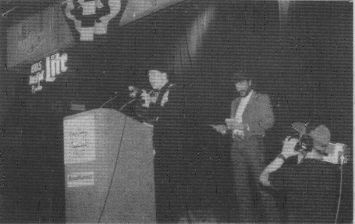 Brooks Tucker, the big winner at the RRote Awards Show, gives his acceptance sppech while Coyote Calhoun checks the schedule. Photo by Tom Metcalfe
In addition to the video awards, Louisville Music News' own Jean Metcalfe and Paul Moffett were on hand to announce the first Louisville Music News Lifetime Achievement Country Award, presented to Pee Wee King, co-author of the classic country tune "Tennessee Waltz."
The entire list of country winners follows
Best Overall Video: Brooks Tucker for "Under the Old Oak Tree"; Best Performance: Brooks Tucker ("Under the Old Oak Tree); Best Storyline/Concept Dan McGrew (Ain't All It's Cracked Up to Be"); and Best Song: The Terry Wariner Band ("Midnight Star")
Best Director: Archie Borders for the Brooks Tucker video; Best Homegrown Video: Other Smothers Brothers (Honky Tonk Insane"); Best True Country Video: The Galoots ("The Good-Bye Ring), and People's Choice: The Reed Brothers ("I'll Never Run Out of Love").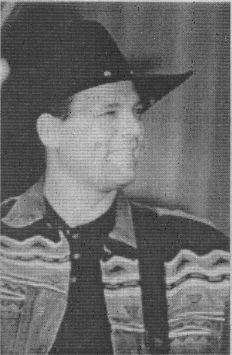 John Michael Montgomery. Photo by Letha Marshall
1995 BILLBOARD TOP 10 COUNTRY TUNES
Thanks to Nicholasville, Kentucky, native country superstar John Michael Montgomery, Kentucky was well represented in the 1995 Billboard Top 10 country tunes. Montgomery managed to land two spots: number five with "I Can Love You Like That" and the top spot with "Sold (The Grundy County Auction Incident.") Not too bad for a good ole Kentucky boy!
The entire list is as follows
10. "If the World Had a Front Porch" Tracy Lawrence
9. "They're Playin' Our Song Neal McCoy
8. "You Better Think Twice" Vince Gill
7. "This Woman and This Man" Clay Walker
6. "Thinkin' About You" Trisha Yearwood
5. "I Can Love You Like That" John Michael Montgomery
4. 'Summer's Comin'" Clint Black
3. "l Like It, I Love It" Tim McGraw
2. "Any Man of Mine" Shanna Twain
1. "Sold (The Grundy County Auction lncident)" John Michael Montgomery
Congratulations to all and keep up the good work!
1995 CMT VIDEO AWARDS
Although Alan Jackson was the big video winner, capturing two spots in the 1995 Country Music Television Top 12 Video Countdown, Kentucky boy John Michael Montgomery didn't do too bad either. He captured the number two spot with — what else 5 — "Sold (The Grundy County Auction Incident)."
CMT's top 12 videos of 1995 are as follows:
12. "Keeper of the Stars" - Tracy Byrd
11. "Let's Go to Vegas" -Faith Hill.
10. "Mi Vida Loca (My Crazy Life)" - Pam Tillis
9. "This Time" - Sawyer Brown
8. "Party All Night" - Jeff Foxworthy (featuring Little Texas)
7. "Gone Country" - Alan Jackson
6. "Any Man Of Mine" - Shania Twain"
5. "I Don't Even Know Your Name" - Alan Jackson with Special Guest Jeff Foxworthy
4. "And Still" - Reba McEntire
3. "Tell Me I Was Dreaming" - Travis Tritt
2. "Sold (The Grundy County Auction lncident) " - John Michael Montgomery
1. "The Red Strokes" - Garth Brooks
In addition, the following awards were announced: Video Group of the Year: Sawyer Brown; Rising Star of the Year: Bryan White; Male Artist of the Year: Alan Jackson; and Female Artist of the Year: Pam Tillis.
Independent Video of the Year: Shelby Lynne's "Slow Me Down"; Video Event of the Year: "Workin' Man Blues" by Jed Zeppelin (Steve Wariner, Lee Roy Parnell and Diamond Rio); and Video Director of the Year: Michael Merriman for videos such as Travis Tritt's "Sometimes She Forgets," Sammy Kershaw's "Southbound," Tracy Byrd's "Keeper of The Stars," Terri Clark's "Better Things to Do," and Shenandoah's "Heaven Bound.".
COUNTRY WEDDING BELLS
Wedding bells were ringing all around Nashville as three of country music's biggest stars prepared for holy matrimony. Don't cry girls, but it's true: country heartthrob John Michael Montgomery has taken the plunge. Montgomery married Crystal White of Lexington, Ky., on Jan. 8 aboard the Nordic Empress cruise ship and honeymooned on a cruise of the Caribbean. The happy couple plan to call Nicholasville home.
Wynonna, the ever-so-talented country crooner from Ashland, Ky., married Arch Kelley III, the father of her son Elijah Judd Kelley, at a private ceremony on Jan. 21 at Nashville's Christ Church. It was said that the reception was to take place at Naomi Judd and husband Larry Strickland's new Nashville restaurant, Trilogy. In addition to their recent nuptials, Wynonna and yacht salesman Kelley are expecting their second child in July. Keep your eyes and ears open for "Hurricane" Wynonna to strike, because her third album is due in record stores toward the end of this month and she will embark on a two-year tour in March.
Country music's eternal bachelorette, Tanya Tucker, has announced plans to marry Jonathon Cummings, her landscaper of two years. For quite some time Tanya had enjoyed watching from her window as Cummings worked, and finally invited him in; the flame immediately ignited. Tanya's marriage to Cummings has been blessed by her manager father, Beau Tucker. No wedding date has been set but you can be sure the ceremony will take place in Nashville. Daughter Presley will be the flower girl and son Beau will be the ring bearer.
OAK RIDGE BOYS BACK TOGETHER AGAIN.
As I recently told you, eight year veteran Steve Sanders decided for personal reasons to leave the Oak Ridge Boys last November. While the remainingmembers (Joe Bonsall, Richard Sterban, and Duane Allen) searched for a permanent replacement, Allen's 22-year old son, Dee, and son-in-law, Paul Martin, former lead singer of Exile, filled the vacant spot. Well, stranger things have happened. Former Oak Ridge Boy William Lee Golden has been named the newest member, once again.
Golden was a member of this country quartet from 1965 until 1987 when there were disagreements between the ORBs over Golden's new look; long hair, a long, scraggly beard, and buckskin coats. Things finally came to a head and Golden was dismissed. , despite the fact that he had a hand in 35 of the group's 47 hits, including "Elvira," "Fancy Free," and "Bobbie Sue."
All hard feelings aside, William Lee Golden joined the remaining three members onstage in Merrillville, lnd., at the stroke of midnight this new year. As of Jan. 19, the Oak Ridge Boys have been reunited and are once again touring the country. Steve Sanders will be missed, but we'd like to welcome William Lee Golden home, right back where he belongs.
HOT NEW COUNTRY
Tracy Lawrence fans won't want to miss his brand new album, Time Marches On. The record includes "If You Loved Me" and is already available in record stores.
Hometown girl Patty Loveless' follow-up album to her award-winning When Fallen Angels Fly is also now available. As much as Loveless's career has skyrocketed since her debut album, The Trouble With The Truth, which includes her current single, "You Can Feel Bad," is bound to be a huge hit.
Linda Davis, of "Does He Love You" fame with Reba McEntire, offers a brand new album and single, both titled Some Things Are Meant to Be. From the initial response to this single, it just may be the album that propels Davis into super-stardom. Be sure to treat yourself to this one because Davis's vocals will knock your socks off.
Last but not least, be sure to keep your eyes open this month for the new release by John Anderson, titled Paradise, which includes Anderson's hot new single by the same title.
No date has been announced yet, but also be on the lookout for Bryan White's sophomore effort.
UPCOMING LIVE COUNTRY
It's time to load up the hogs and take them to town to afford tickets for the mass of upcoming country concerts. First of all, the reigning Country Music Association Vocal Duo of the Year, Brooks & Dunn, will be rolling into Lexington's Rupp Arena Feb. 17 for an evening full of hits such as "Boot Scootin' Boogie," "Rock My World (Little Country Girl)," and "You're Gonna Miss Me When I'm Gone." On the bill with the dynamic duo will be the life of the "Party Crowd," David Lee Murphy, and the "Keeper of the Stars," Tracy Byrd. Tickets are now on sale.
The red-headed firecracker herself, Reba McEntire, will kick off her 1996 concert tour at none other than Louisville's Freedom Hall on Tuesday evening, March 5. Reba will be performing hits from her latest album, Starting Over, as well as hits from her twenty years in the music business. For a more intimate concert, she will perform in the round. Towering country heart-throb Billy Dean will be on the same bill to promote his upcoming new album, It's What I Do. Tickets for this show are now available.
Alabama, Artists of the Decade for the 1980s, will make their annual stop in Louisville's Freedom Hall on March 22. Alabama won't have any problem entertaining you with their 50-plus number one hits. Their recent "In Pictures" tied them with Conway Twitty for the most number one hits in country music history. Opening will be hot newcomer Kenny Chesney. Tickets will go on sale Feb. 10.
Well, that's it for now. Always remember: Keep your boots shined up and your hat on straight, 'cause country music is comin' your way.