Second Thoughts
Kentucky Opera Scores with 'Albeit Hening'
"Synopsis: The village officials meet at the home of the pompous Lady Billows to choose the annual May Queen, a timehonorcd English custom. Every girl mentioned is aeeused of some immoral act and since all parties are sticklers for absolute purity, an impasse occurs. Police superintendent Budd solves their problem by proposing a May King, the virtuous but immature and maternally dominated Albert Herring, son of the owner of the village's green grocery shop. Albert reluctantly goes through the ceremony but a latent rebellion is aroused in him by a liberal dose of rum in his lemonade by his friends, Sid and Nancy, young lovers whom Albert secretly envies. Albert subsequently disappears; a frantic search takes place but only his crushed orange blossom wreath, symbolic of his title, is found. A death watch for him follows only to have Albert reappear, disconcerting the mourners and asserting his emancipation. Nancy rewards his self-assertion with a sympathetic kiss and with obvious delight, Albert throws his wreath away."
I must admit that it took me a while to decide what to say about this work. I was not too familiar with its composer, Benjamin Britten, or his style of musical composition. I sought to remedy my situation by perusing a detailed life of the composer and conversing with three principals: Margaret Oates, Albert's mother; Charles Davidson, Albert; and Louisville's own Daniel Mobbs, Sid. I also learned that "Albert Herring" is a particular favorite of Kentucky Opera Director Thomson Smillie. All three principals expressed delight in performing this work and Danny Mobbs hopes to play the title role in another Britten opus. "Billy Budd," while Charles Davidson aspires to portray Peter Grimes, also by Britten. All three well deserved the enthusiasm of the several audiences. They saluted conductor Robert Dean especially for his understanding of singers. They noted, "Britten's works are not hard to sing but they are difficult to learn."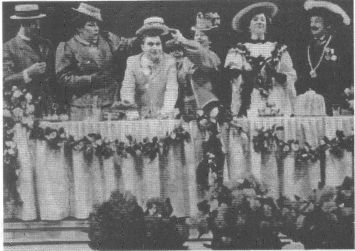 Albert Herring cast: l to r, Williams McGraw; Susan Shafter; Charles Davidson; Margaret Oakes; Evelyn de la Rosa; Christine Seitz; and Douglas Perry. Photo by Patrick L. Pfister
Unlike most operas, "Albert Herring" employs a small orchestra of only fourteen players. The score is extremely contemporary and I experienced some difficulty in adjusting my ears to it.I now understand why some persons have similar challenges in listening to contemporary music when played by our Louisville Orchestra.
I learned that Benjamin Britten is widely recognized as the foremost British composer of our times. It has been almost half a century since "Albert Herring" made its first appearance; any work which can keep the stage that long certainly deserves a careful and sympathetic hearing.
There are some autobiographical touches and influences in "Albert Herring." Britten seems to have had a lifelong preoccupation with the conflicts which innocent persons have with the world in which they live. Almost all his operas take up one or more aspects of that situation. Britten and his various librettists are something of social critics, as a discerning review of the characters in "Albert Herring" might indicate. They are not as harsh in this respect as was William S. Gilbert of Gilbert and Sullivan fame.
It may also be of interest to note that the story of "Albert Herring" is an adaptation of a short story by the 19th century master of the short story, the French author Guy de Maupassant. "Albert Herring" is considerably less bitter than its source. lts action takes place in Spring, 1890, just as the Victorian Age was closing. Despite its French inspiration, this work and its composer are English to the core. For one unfamiliar with certain English words and phrases, this writer hopes that the program for later productions will print a short glossary.
All told, "Albert Herring" is a triumph for all who had a hand in it.