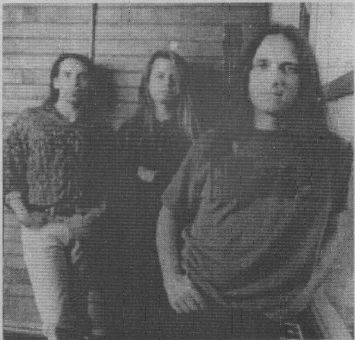 77s
a more focused Mike Roe
Tom Tom Blues (Brainstorm)
77s
By Robert Gruber
Tom Tom Blues is the solid album we all knew the 77s could make. Equally adept at polished, Bryan Ferrystyle pop and edgy bluesrock, Sevens frontman Mike Roe, over the past few albums, has tended to create uneven mixes of brilliant material — consider the Black Sabbath meets Morrisey sparks that failed to ignite on 1994's Drowning with Land in Sight. Perhaps cutting a solo album (l995's Safe As Milk) satisfied Roe's pop jones enough for him to focus on rock. The fiery inventiveness of a 77s live show has been channeled onto disc, and the results are amazing.
Longtime drummer Aaron Smith is gone (as is second guitarist David Leonhardt), replaced by Bruce Spencer. Powerful, yet tasteful, Spencer tailors his energies to each song without overplaying. Locking into the groove with bassist Mark Harmon, the bottom-end sound is vast and warm, an ocean for Mike Roe to either sail or surf, depending on the song. And for the first couple of songs, "Rocks In Your Head" and "Honesty," the feel is rockin'—it's a big sound for three guys (especially through headphones).
Pretty much all of these songs encapsulate the frustrations of romantic love. "Outskirts," an Allman Bros.-style blues workout, showcases Roe's talents as botha guitarist and singer. "Earache" takes on a fusion vibe, not unlike Tony Williams' Lifetime, beneath Roe's deep-voiced ruminations about Cadillacs, insurance, and the fallen world. "Don't Leave Me Long" blends acoustic chordings with swooping lead runs, while Roe half-croons the verses. Cool wah-wah tones characterize "Deliverance," as Roe explores the topside of his vocal range to fine effect.
Although the overall production of Tom Tom Blues is smooth, there's enough buzzing amps, muttered asides and various noises to make it feel off the cuff. This is a good album from a great band that hopefully will one day rule the world as we know it.