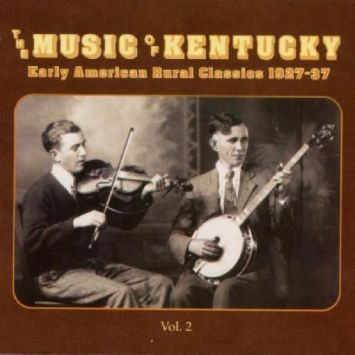 A good look at our roots
The Music of Kentucky: Early American Rural Classics, 19271937, Vol. I (Yazoo)
various artists
The Music of Kentucky: Early American Rural Classics, I9271937, Vol. II (Yazoo)
various artists
"Kentucky, I miss the voices singing in the silvery moonlight," wrote Karl & Harty in their now classic song. "Kentucky." In this song, the duo paid homage to both the state of their birth and the high, lonesome music of the Kentucky hills. Now, the voices of which Karl & Harty sang ring out again in a two-CD collection. The Music Of Kentucky: Early American Rural Classics, 1927-1937, Vols. 1&11, brought to you by the people at Yazoo Records.
Digging deep into the vaults to gather an impressive collection of 78 RPM records and field recordings dating from 1927 to l937, Yazoo has painted a fascinating portrait of Kentucky music during an important decade when primitive balladeers, traveling minstrels, professional string bands, singing church congregations, and barn dance fiddlers all rubbed shoulders in the region that would give birth to bluegrass, country, white gospel. and ultimately, hillbilly rock 'n roll.
The title of this series may mislead some to think this is a collection of bluegrass recordings. While the roots of bluegrass are present, this is the old-time music. Many of these recordings predate bluegrass by at least twenty years. It is a side effect of their age that many of these tracks are of less-than-digital sound quality. It must be remembered that most ot these songs have been remastered from ancient and often battered 78s. The remainder were taken from field recordings made by Alan Lomax for the Library of Congress, and were recorded on acetates. This music comes to us from an age when people were still more impressed with the songs themselves, rather than the technical flash used to record and produce them. In all cases, the quality of the music and conviction of its performance outshine any technical difficulties.
Various instruments are featured throughout with banjos, fiddles, guitars and mandolins. Banjos are played in the two-finger style, or clawhammer style. Without much radio and media intervention, this old timey sound was passed on by way of songbooks, traveling musicians and family-to-family tics.
Original copies of these recordings are rare. The Shepherd Brothers may be an extreme example of possibly a common predicament. Of the handful of songs they recorded, only two were actually released, and appear here taken from a single known worn copy.
The Kentucky Ramblers (not to be confused with Gary Brewer's contemporary group) sing of the railroad in "The Unfortunate Brakeman" then of mother in "With My Mother Dead and Gone." Another cut, "Ginseng Blues," hints at a provocative subject matter and features Jimmie Rodgers-style yodeling.
Ernest Phipps displays a Carter Family influence with "l Want to Go Where Jesus Is." Gid Tanner & the Skillet Lickers of North Carolina can be heard in the songs of Alfred Karnes, a native Virginian who had brought his music to Kentucky by way of Tennessee.
The recordings of Emry Arthur — a Kentuckian who recorded in lndiana during the 19205 — Basil May, and John Hammond exhibit the stark power of the voice accompanied by only quiet guitar or banjo. Arthur, with his world-weary voice and languid guitar, embody the brooding "I'm a Man of Constant Sorrow" with an appropriate, but no less disconcerting, air of suicidal depression. May's "The Lady of Carlisle" builds a slow-driving, eerie tension with its tale of two brothers whose competition for the love of a woman leads to a potentially deadly contest. Hammond's relating of the fate of Pretty Polly, the doomed pregnant girl murdered by her lover and thrown into a shallow grave, is unflinchingly graphic. His monotonal voice, the barely subdued frenzy of his banjo, and the ghostly fuzziness of the recording itself all work to create an atmosphere of dread and outright horror — the next worse thing to actually witnessing a brutal murder.
The Music of Kentucky: Early American Rural Classics, Vols. 1 & 11 are the first installment of an ongoing series. In the future, the Shanachie label will be releasing a collection of field recordings from the early '60s of Kentucky musicians assembled by John Cohen. lf Kentucky history interests you, then this early music cannot be overlooked. With a combination of books, pictures and the music, one can better understand the lifestyles and essence of a hardworking culture that persevered through the pressures of hard times.