RRotes at Coyote's
The 3rd Annual Roadrunner/Coyotes Video Music Awards were handed out in a glitzy ceremony at Coyote's on Jan 21. Tuxedoes and cowboy hats were in abundance as local country and rock musicians, their fans; and a host of celebrities packed the popular nightspot. The evening's host, bad-boy Bobcat Goldthwait, even dropped his trousers for the live broadcast, but, mercifully, did have cloth between himself and his jeans.
For the first time this year Lifetime Achievement Awards, sponsored by this newspaper, were presented. The country award went to Louisville's "Pee Wee" King, and was accepted on his behalf by his daughter Marietta Wuchterl and son Larry King.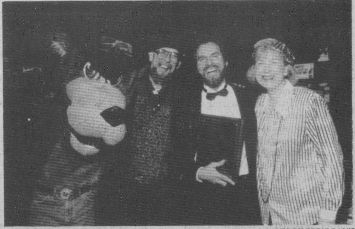 From left, Coyote's Mascot, Paul Moffett, Wayne Young and Jean Metcalfe. Photo by Eddie Davis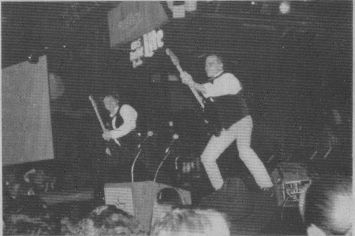 The Reed Brothers put on a show at the RRote Awards. Photo By Tom Metcalfe
"Pee Wee" King, who is perhaps best known for co-writing "Tennessee Waltz" with Redd Stewart, is a member of the Country Music Hall of Fame and can claim a star on Hollywood's Walk of Fame. With his Golden West Cowboys, he has also appeared in movies and starred in his own television show. Additionally, he has had several No. 1 hits on both the country and pop charts.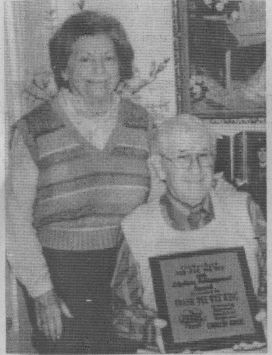 "Pee Wee" King proudly displays his Lifetime Achievement Award. His wife, Lydia, is at left. Photo by Paul Moffett
The Louisville Music News Lifetime Achievement award in the rock category was taken home by popular local rocker Wayne Young, who has been a driving force in numerous local rock bands since the 1960s.
Soul, Inc., Midnite Special, and the Shufflin' Grand Dads are but three of the bands for which Wayne has played guitar. Following a five-year stint as president of the Musicians' Emergency Relief Fund, Wayne is currently performing with his Eric Clapton tribute band, Slowhand.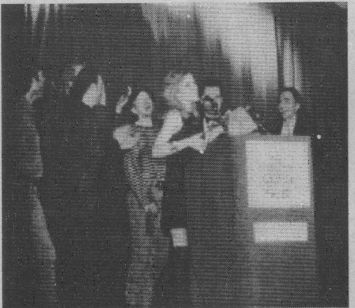 Diane Williams gives her acceptance speech. Photo by Eddie Davis
Each Lifetime Achievement honoree was presented a plaque, a duplicate of which will be displayed at Coyote's.
Additionally, a donation of $200 to MERF was given in each one's name.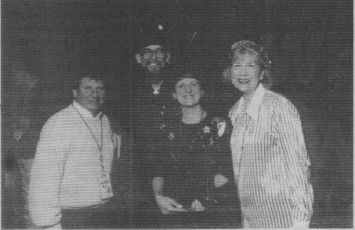 "Pee Wee" King's song, Larry King, at left, and daughter Marietta Wuchteri, holding plaque, with Moffett and Metcalfe. Photo by Tom Metcalfe
Rock bands who won RRotes are: Diane Williams, lovesauce & soulbones, Doug Jefferson (director), Chaz, Supa Fuzz, Adhesive Love, and Velcro Pygmies.
Country RRotes were awarded to Brooks Tucker, Dan McGrew, The Terry Wariner Band, Archie Borders (director), Other Smothers Brothers, The Galoots, and the Reed Brothers.
Here's to the winners!