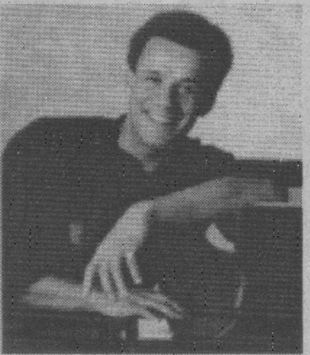 Jacky Terrason
Jacky Terrasson (Blue Note)
Jacky Terrasson
By Bob Bahr
We've heard him as a sideman on vars projects, his unique, bold approach reminiscent of a more precise Thelonius Monk. (His debt to the legendary Monk is direct; Terrasson won the prestigious Thelonius Monk piano competition a couple of years back.) Here was something special. In this age, when the jazz powers-that-be keep leading the future of the genre into a nostalgic cul-de-sac of rehashed bebop, and players trade technique for soul, distinctive musical voices are a rare breed.
Thus, Terrasson's debut was a chance to see how the jazz world plans on handling this new talent and distinct voice. The results aren't very promising.
Jacky Terrasson is heavy with standards and light on risks. An intriguing gift for composition, illustrated on Terrasson's own "Hommage A Lili Boulanger," "He Goes on a Trip" and "Just a Blues," takes the backseat for a cavalcade of moldy oldies. With "I Love Paris," "My Funny Valentine," "Bye Bye Blackbird," "I Fall in Love Too Easily," "For Once in My Life," "TimeAfterTime" and "What a Difference a Day Makes" on this album, it should have been titled Standards. It's a perfect illustration of the mentality that is stifling jazz music.
Terrasson plays it safe on these old warhorses too, interpreting them gently with a restrained, if honest rhythm section. Drummer Leon Parker and bassist Ugonna Okegwo bring a sparse feel to the tunes that is amplified slightly in Terrasson's similarly succinct style. It's a very enjoyable disc, and perhaps Terrasson should be commended for not using his debut for flashy, technique-driven showboating, but it lacks the fire that one would expect from him.
We could assume that it was the producer's fault and blame him, but whoops! Terrasson self-produced this disc. There's just no easy answer for this debut's disappointing results.
This is one listener that will continue to look for albums that feature Terrasson in the band. And, I'll surely check out his next solo project. But from this album, I'll retain "For Once in My Life," with its heart-quickening double-time passages, "My Funny Valentine," which stretches the song's classic melodies just enough, and the lyrical beauty of "He Goes on a Trip." The rest is unpretentious and cliché-free, but sometimes so subdued you wonder if the pilot light hasn't gone out on the music's furnace.
The silence, sweet lyricism and gentle interpretations of the standards on Jacky Terrasson are what one might expect on the 20th album of a jazz great. Maybe Terrasson has an old soul, but he has a young career, and his voice isn't strong enough yet for this kind of placidity.