Upcoming Live Music
February, the short month, seems (this year) like a VW with twenty circus clowns stuffed in it. Read on and you'll See what i mean. It's one busy month.
Bob Seger will be working on his night moves Feb. 1 when he and his Silver Bullet Band come to Freedom Hall. He'll come riding in behind the wheel of a glorious new Chevy pickup truck no doubt. Like a rock, man.
l heard Claire Lynch sing "It Don't Mean a Thing lf It Ain't Got That Swing" on a bluegrass compilation last summer, and my switch was decidedly fipped. A radiant performance at the Owensboro FanFest cemented it for me: Lynch is my favorite bluegrass singer. Her voice has captured the attention of plenty of other people too, like Patty Loveless. Emmylou Harris. Linda Ronstadt and Dolly Parton.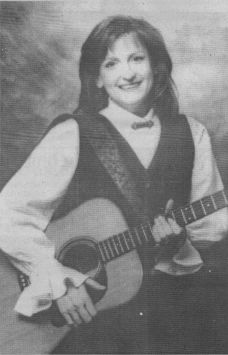 Claire Lynch
They tapped her for backing vocal duties; Tanya Tucker and Kathy Mattea have taken an interest in her songwriting too. Lynch appears at the West Point Country Opry on Feb. 2.
Every single person who was in the audience at k.d. lang's last concert in Whitney Hall will be trying desperately to visit the Whitney again on Feb. 3. That's when lang returns, this time in support of the torchy pop album All You Can Eat. It's a Lonesome Pine Special.
The next day, the Ceruti Chamber Players will be playing a program of classical music that includes works from Prokofiev, Franck and Weber. Stretch past your Mozart and Beethoven barrier and hear these compositions on Feb. 4 at the UofL Music School Recital Hall.
He's one of the best songwriters working today, and his backing band these days is a rockin' affair. John Hiatt tickets for his Feb. 7 Phoenix Hill Tavern show are probably scarce now, but if you can find them, I recommend buying them. This is a rare Hiatt appearance in a small venue like PHT. You may tell your grandkids about this show someday.
Canada's Hart Rouge return to the KCA for another Lonesome Pine Special. The rootsy pop/country rockers will be joined by Keith Hunter and the Witness for Christ Choir for the Feb. 9 show.
Ever heard the music at the East End Coffee House? Here's a chance to sample the goods; the regular performers from the Coffee House will gather at Ascension Lutheran Church on Feb. 10 for the establishment's Third Anniversary celebration. On tap are Linda Theinaman & Eclectica, Ralph Sidway, David Evans, John Gage, Bob Rosenthal, Riverfront Ramblers, Zen Penguin and Tender Mercies.
We seem to have a bizarre music triangle forming on the 10th. ln this corner, quite far away from the Coffee House gig, is the milque toast music of John Tesh, the talking head from Entertainment Tonight. He's headlining a SuperPops concert at the Louisville Gardens.
And in the last corner, the hipsters of Louisville will gather at Phoenix Hill Tavern on Feb. 10 to hear their beloved Son VoIt. Richard Buckner and The Unknown will be in the Tavern too.
"Oh, that's gorgeous, Edith!" Archie Bunker, you say? No, probably the crowd at the Cathedral of the Assumption on Valentine's Day, as they hear_a special program by UofL'sd iva divine, Edith Davis. The show is called "Edith Davis Sings Love Songs," and it's a sure bet.
l thought they broke up? Nope. The L.A.Guns will toss their hair and thrash their chords at the Toy Tiger on Feb. 14. Accept opens.
Lf offbeat is your cup of meat, try Johnny Socko on for size. Horns provide the hits, humor supplies the giggles, and nothing in the rock catalog is safe from these Bloomington buffoons. They play Phoenix Hill Tavern on Feb. 16. Yellow Dye #5 and Dr. Don & the Love Dogs are along for the 2 ride.
The 4th Annual Bartenders' Beach Ball is here again, this time bringing a taste of Texas. The Feb. 18 festivities, held at the CommonweaIth Convention Center, will feature twang guitar great Joe Ely and the blues rockers in the Fabulous Thiunderbirds.
The UofL School of Music is staging Jazz Week '96 again this February, with highlights being the appearance of the Blue Wisp Big Band (from Cincinnati) on Feb. 19, the John Hart/Chris Potter Quartet on Feb. 20, Benny Golson on Feb. 24, the same day that pianist Harry Pickens plays. Capable, competent student ensembles will play at all shows, so come out and support the future Josh Redmans of America.
He's rough. He's rowdy. He's raucous, rockin' country. He's David Allen Coe, and he's playing Coyote's on Feb. 20.
We have confirmed reports that Shag — yes, that's right, SHAG — will funkify the Backstage Blues Cafe on Feb. 21.
Back in Dylan's day, Joan Baez was sort of the First lady of folk. She's still recording well-received albums, and her current tour brings her to the Palace Theatre on Feb. 21. Hear her angelic voice again, after the opening set from Dar Williams.
It's Mardis Gras time, and that means cajun music at the KCA. Chubby Carrier & the Bayou Swamp Band do the honors on Feb. 23 for this "Fat Friday" Party, a Lonesome Pine Special show.
Buster Brown vocalist/bassist Bob Rutherford wrote me a note letting me know that Buster Brown did not simply reunite for a few shows — the band is back for good, and gigging soon at a club near you. Dates for February: the 2nd and 3rd at Butehertown Pub and the 22-24th at Kelly's Lounge. Thanks, Mr. Rutherford.
You can't get through a month without some blues. Two hot guitarists, Tinsley Ellis and Kenny Neal, blaze into the Backstage Blues Cafe on Feb. 26.
What's up tigerlily?A Natalie Merchant concert, that's what's up. Her tour supporting her solo album TigerliIy comes to the Palace Theatre on Feb. 28.