Bluegrass Beat
HAPPY NEW YEAR! This is the last — and the first. The last because it is the last column I write in '95. And it is the first one of '96. Now, how many times will '95 supposed to be '96 before I can remember '95 is all over?
The year 1995 did have its high notes and its low notes, its good notes and its very sour notes. Among those high notes: a call from Earl Scruggs; a letter from Patsy Montana; the Otter Creek Festival; The Fall Homecoming at Norris, Tenn. and the festival at Charlotte, Mich. (and a call back this year from the new owners). This is not all of the high notes, just a few that come to mind during this frantic last minute before the deadline writing.
Some of the low notes include the passing of Curley Fox, great fiddle player for many, many years on the Opry; and friends who experienced some serious health problems and are currently on the mend. During our "Christmas calls" on our Sunday Bluegrass show I didn't get to talk with Earl Scruggs. Earl's brother passed away the day before our call and he was in North Carolina. Every year, of course, has its ups and downs and we continue to survive and go on. Let's continue that trend.
Some good news. You have heard it said that there is a moving in the airways that is bringing public stations together in the Louisville area. What this means to Sunday Bluegrass is just this. Sunday Bluegrass will be heard on WFPK, as will the other favorite music programs you have been used to on WFPL, beginning Jan. 8. The bluegrass show will remain on Sunday night and our first show on 'PKwill bethe 14th.
That's not all. Sunday Bluegrass will then, once again, be starting at 8 p. m. Right, 8-11 p. m., meaning another half hour has been added to the "fastest and shortest" two-and-a-half hours in radio. Look at this real hard—actually hold it up in front of you for one minute—then stare at a blank space on the wall and hopefully you will see: WFPK 91. 9 FM 8-11 p. m. Be sure to move over to 'PK with us because we do not want to leave anyone behind. This means a big THANKS to all of you for all of your support.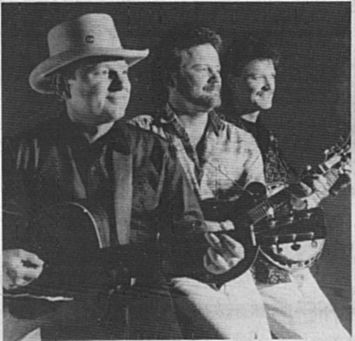 The Reno Brothers
Shows are coming. Friends and fans, get this year off right by going out to see your favorite bluegrass artists and shows when they are in the area:
At Shepherdsville Country Music Place, Jan. 5, Dr. Ralph Stanley. Ralph is the single most requested artist on my show. That's all I have on the Shepherdsville shows as of this writing.
At West Point Country Opry, they start the year off with The New Kentucky Blue and The Lewis Family. Then Gary Brewer and the Kentucky Ramblers on the 12th; The Reno Bros. on the 19th; the 26th, Leroy Troy and (not sure at this time); Feb. 2, Claire Lynch and the Front Porch Strings; and The Warrior River Boys on the 9th. Many more to come, so stay tuned.
I sincerely hope you all had a wonderful holiday season.
Let's go forward looking to more bluegrass; attend more festivals and shows and keep supporting bluegrass and traditional (the real country) music.
Once more: WFPK, 91.9 FM, 8-11 p. m., for Sunday Bluegrass, starting Jan. 14.
HAPPY NEW YEAR!!
DEAR BERK...
The Country Gentleman gets interesting mail. Here 's a sample:
My fan club president, Ruth Dennett, asked me to send you the enclosed cassette.
She thought you were a very nice person. Happy to learn we "old timers" have a friend in this business. I'm finally slowing down a LITTLE as] still feel that I have an audience OUT there, have to [look] a little for them, but they, are there crying for their kind of country music.
Keep up the good work, and I will try to drop by and say HI, if I am ever down that way again.
My husband's people live in Knoxville so I am down that way at least once a year!
The best of the WEST to Berk,
Patsy Montana
San Jacinta, CA 92583
P. S. The Flying Fish cassette contains songs most requested on tour. Mum & Me has my late daughter singing harmony on most and lead in "Lately." Her personal cassette was No. 4 in England when she passed away from cancer!