I've Got A Mind To Ramble
1995 Blues Review
I have always enjoyed those year-end wrap-up news programs, so I thought it would be nice to do one on our local blues scene. Follow me through 1995.
January
• Veteran piano player Benny Holton dies on Jan. 10. He recorded on the King label and frequently played at the Top Hat.
• Foree Wells is featured on the cover story of the January issue of Louisville Music News.
• The legend, Jimmy Rogers, does a nice show of Chicago blues standards at Air Devils Inn, featuring Madison Slim, on Jan 18.
• Sue O'Neil and the BluesHounds debuts at Stevie Ray's on Jan 20.
February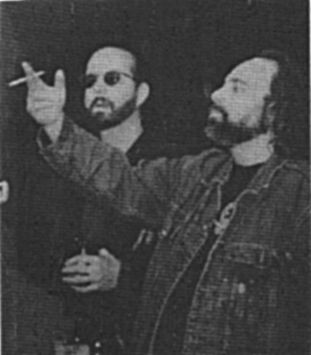 Jim Rosen Salutes the crowd at Garvin Gate. Mike Suttles is at rear. Photo by Jean Metcalfe
• The Brewery features Clarence "Gatemouth" Brown on Feb. 3 and Buckwheat Zydeco on Feb. 24.
• Red, Hot & Blue briefly features live blues on the weekends, including the Shannon Lawson Blues Band.
• A benefit for Lamont Gillispie to pay his medical expenses brings out a crowd at Stevie Ray's on Valentine's Day.
March
• Buddy Guy roars in the Thunderdome with his polkadot Fender on the Ides of March, with Gravy opening the concert.
• The KYANA Blues Society stages a benefit at Jim Porter's on March l6 to raise money for a feStiva| in '96. Sue O'Neil does a duet with Tanita Gaines.
Aprilril
• Anson Funderburgh & the Rockets with Sam Myers made their annual Louisville appearance on April 6 at Jim Porter's.
• The maiden voyage of the KBS Bluesland Cruise loads up at Willie's for good eats and heads out to Stevie Ray's (The Redd Snapper Blues Band), on to Backstage Cafe (Cincinnati Blues Allstars), and finishes up at the 26th Street Tavern (26th Street Blues Band).
• Big Daddy Kinsey & the Kinsey Report comes to the Backstage Cafe on April 12.
May
• Bill Gaither headstone is set in the New Crown Cemetery in Indianapolis through the contributions of the KBS.
• Louisville Music News does a feature cover story on Winston Hardy in the May issue.
• Ear X-tacy moves to the old Pier 1 store at 1534 Bardstown Rd., with a more expanded blues selection.
• The KBS has another festival fundraiser on May 28 at Stevie Ray's.
June
• June 2 is a doubleheader night of two generations of music, with Lonnie Mack at Coyote's and The Jeff Healey Band at Macauley Theatre.
• Kelly Richey releases her second CD, The Blues Don't Lie, at Backstage Cafe on June 9.
• Bob Margolin is amazed with the line dancing going on in the dance hall while he's performing at Backstage Cafe on June 16.
• Winston Hardy stages a big CD release bash for Mumbo Jumbo at Jim Porter's on June 22.
• Sometime midyear the Cherokee Blues Club becomes the Cherokee and concentrates on alternative rock instead of blues.
July
• The Metropolitan Blues All-Stars celebrate the release of their third album, Hillbilly Nation, at Waterside Music Festival on July 2.
• Marcia Ball plays at Jim Porter's on July 13. The Rusty Spoon Blues Band opens the show and it is the last time the band performs together.
August
• The KBS holds its Third Annual Amateur Blues Contest at the Backstage Cafe on Aug. 6 and the Redd Snapper Blues Band comes out the winner.
• The Blues Castle (aka Red Devils Motorcycle Club) at 10th & Dumesnil does a soft opening during August.
• Jim Rosen has a tumor removed and is diagnosed as having lung cancer.
• Duke Robillard does a nice show at Backstage Cafe on Aug. 16.
September
• Posters go up all over downtown for the Bobby Blue Bland and Clarence Carter show at the Palace on Sept. 8.
• That same weekend, the Two Rivers Blues Festival holds its first festival in Carrollton with Lonnie Mack climaxing the final evening on Sept. 9.
• The end of September and on into October there are a series of fund-raising benefits for Jim Rosen at Stevie Ray's, Butchertown Pub (Harmonica Showdown), Backstage Cafe, and Blues On Broadway (Lexington).
October
• Garvin Gate Blues Festival features some great Chicago blues with Magic Slirn & the Teardrops, Mississippi Heat with Dietra Farr, and Byther Smith, Oct. 13-15. Seventy-seven-year-old singer and harmonica player Fred Murphy receives the Sylvester Weaver Award during the festival.
• Big Heavy's Blues & Dance Club opens its doors at 227 E. Market St.
• The Palace has two star-studded blues shows in October with Buddy Guy, KoKo Taylor & Her Blues Machine, and Lonnie Brooks & His Blues Band on Oct. 13. That night Buddy Guy does play Buddy Guy. Also Robert Cray and Larry McCray perform on Oct. 22.
• James Peterson makes his second Louisville appearance this year at Stevie Ray's on Oct. 25.
• Two more record stores with excellent stocks of blues CDs open this month: Blue Moon Records at Holiday Manor on Brownsboro Rd. and Underground Sounds at 2003 Highland Ave.
November
• The Fabulous Thunderbirds fly in from Texas for a show at Backstage Cafe on Nov. 14.
• The Chris Cain Band is at Big Heavy's on Nov. '16. Jim Rosen sits in briefly for the second set.
• Smokey. Wilson ignites Stevie Ray's on Nov. 22 for one of the best club concerts of the year.
December
• Dan Shockly, the owner of Air Devils Inn, is tragically killed in the parking lot of ADI on Dec. 2.
• Rick Mason and John Burgard team up to form Highway 49 and have been playing at Shenanigans each Thursday night.
The year 1995 has given us many high points and a few low points but that's what life and the blues is all about. I wish everyone good luck for 1996.