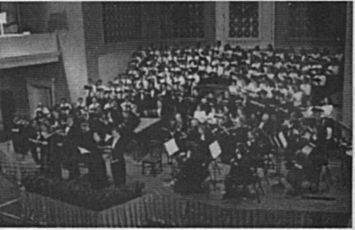 Photo by Andrew Rawls
A Work of Surpassing Beauty
The School of Church Music has done it again! Last year, Southern Baptist Seminary staged Menotti's "Amahl and the Night Visitors" as its Christmas gift to our community. It left a Christmas glow on all of us who came to it — and some of us felt it was a rare treat.
But this year the Seminary did it again!
They presented Johann Sebastian Bach's "Christmas Oratorio," and it is a work of surpassing beauty. It is works like this that make Christmas what it is — and performances like this year's presentation which gives all of us, regardless of denomination, a deep sense of gratitude to the Seminary, with a special acclaim for its conductor, John H. Dickson, and the School's music director, Lloyd Mims.
Dr. Mims is a music educator par excellence who puts all he is into the School's productions, while we equally applaud the unique conducting eclat of Dr. Dickson. The amount of time and effort such works demands is staggering but both persons are more than up to it, A special word is due Dickson, who conducts with knowledge, skill and joy; he makes the work seem almost effortless while filling the audience with delight and awe.
So much attention has been given that other Christmas Oratorio, George Handel's "Messiah," that one forgets that this work by his contemporary, Kapellmeister Bach, is easily its peer. Louisville Music News asked Dickson about these two masterworks. With that smile and gracious manner that one also feels in his conducting, he replied, "They are really two quite different works. Handel wrote his piece for the concert hall while Bach's opus is made up of six distinct units and it is written for worship and the sanctuary." Both men wrote for the honor of God.
Handel's work covers from Creation to the exaltation of Jesus Christ; Bach largely confines his work from the birth of Jesus to the coming of the Magi. However, it too ends on a note of triumph and thanksgiving. Both with its awesome melodies and inspiring, carefully chosen text, Bach's work can be a revelation of what Christmas is all about.
In that spirit, your observer wishes all our readers the joy and peace of this season. I take great joy in writing for you all.