Cowboy Corner
American Music Awards, Country Style
Country's favorite redneck comedian, Jeff Foxworthy, along with comic Sinbad, recently announced the nominees for the 23rd Annual American Music Awards with five categories devoted entirely to country music. Hot newcomer Shania Twain headed up the country nominations with a whopping three: Favorite Female Artist, Favorite New Artist, and Favorite Album.
Country nominations are as follows: Favorite Male Artist: Garth Brooks, Alan Jackson, and George Strait; and Favorite Female Artist: Mary Chapin Carpenter, Reba McEntire, and Shania Twain.
in addition to these nominations, Garth Brooks was also nominated for Favorite Artist of the Year along with Boyz II Men, Green Day, Hootie & the Blowfish, and TLC.
Be sure to tune in to see if your favorite country artist wins when the American Music Awards are handed out on Monday evening, Jan. 29 at the Shrine Auditorium in Los Angeles, Cal. This three-hour gala, also hosted by Foxworthy and Sinbad, will be broadcast from 8-11 PM EST on ABC.
Congratulations and good luck to all the nominees!
Country Fixins???
'Two of country music's beauties are breaking into the restaurant business, but they won't exactly be serving up country fixins. Mama Judd, better known as Naomi Judd, recently opened her and husband Larry Strickland's latest creation: Trilogy. It's a new Nashville restaurant specializing in fine dining combining a taste of France, a slice of Italy and a touch of Germany, all mixed with a California flair.
Naomi says, "My mama's family ran the most popular restaurant in our hometown [Ashland, Ky.], so I guess it's in the blood.
My goal with Trilogy is to create a new standard for outstanding food and superb service, all in a unique setting."
Trilogy, which means the study of three art forms closely related, not only represents Naomi's career as an award-winning singer] songwriter, best-selling author, and executive producer of her television miniseries, Love Can BuiId A Bridge, but it also mirrors the relationship and diversity of all three Judd women, Naomi, Wynonna and Ashley.
The dinner menu will feature entrees such as grilled jumbo sea scallops with lime-ginger sauce, sweet-and-sour pork loin and sautéed potatoes, and hickory-grilled New York strip with roasted elephant garlic. Daily items include fresh fish grilled over a wood oven and pasta specials. A gourmet pizza or hamburger can be found on the bar menu.
Trilogy is located on the edges of Music Row in Nashville at 1911 Broadway Ave in the building that formerly housed Maude's Courtyard. Lunch will be served Monday through Friday beginning at 11:30 a. m. and dinner will be available Monday through Thursday from 5:30 to 10:30 p. m and Friday and Saturday until midnight
Following in Naomi's footsteps is country's sweetheart, Barbara Mandrell, with a new venture with Fazoli's, an ltalian fast-food restaurant. Barbara and husband Ken Dudney, along with Ray Maddux, Bob Langford, and seven other investors, joined together to form FAZ-NASH no. 1, LLC, a joint venture in which Fazoli's restaurants will be opened. They have already opened two restaurants in the Nashville area and have others in the works in Cookeville, Tullahoma, and Murfreesboro. They have a 38-county area in Tennessee and Kentucky in which they have an option to build. Barbara kicked off this new venture by actually making pizzas with the staff and serving lunch to excited customers.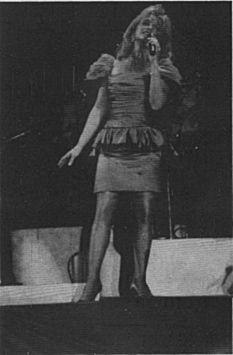 Barbara Mandrell. Photo by Michael W. Stout
Not only is Barbara following in Naomi's footsteps as a restaurant owner, but she is also going to be the subject of an NBC Movie of the Week. Writer Linda Bergman has converted Barbara's successful autobiography, "Get To The Heart," into this two-hour movie which is scheduled to air during May sweeps. If not aired in May, look for this amazing drama of family, love, life, near death, and country music to air in October. Peter Gruber, producer of smash hits such as Batman, The Color Purple, and Rain Man, will be producing this made-for-TV movie.
And just who would Barbara like to play her? "Off the top of my head I'd choose Jenny Garth or Crystal Bernard from the series 'Wings.' They are both exceptional singers and actresses. They are also petite and blonde." And what about husband Ken' Barbara joked, "Steven Segal." Ken added "Brad Pitt called yesterday and I'm considering him."
Country Baby Boomers Turn Fifty
Like it or not, it's time for Baby Boomers to turn 50 years old and two of country music's loveliest Baby Boomers are doing just that this month. A very special Happy 50th Birthday goes out to Ashland, Ky s own multi-talented and award-winning singer-songwriter, best-selling author, movie executive producer, and now restaurant owner Naomi on Jan. 11
On Jan. 19 the multi-talented and award-winning country music singer/songwriter/ performer, actress, theme-park entrepreneur, bestselling-author, humanitarian, education-promoter, and savvy business woman, the incredible Grand Ole Opry member Dolly Parton will turn 50.
Happy 50th Birthday, Dolly and Naomi, and we wish you many, many more!
Hot New Country
With the recent holiday season behind us, your local record store is slim on new material. lf you are a Buddy Holly fan though, you're in luck. Not Fade Away (Remembering Buddy Holly) will be available Jan. 2. This tribute album includes performances by country greats such as Mary Chapin Carpenter, Waylon Jennings, The Mavericks, Marty Stuart, and many more. The original version of "Peggy Sue Got Married" is also included, performed by Buddy Holly and the Hollies.
Upcoming Live Country
George Strait fans are in luck because this multi-platinum, award-winning Texan will stop off at Lexington's Rupp Arena on Thursday evening, Jan. 18. George will be sure to sing a heaping portion of his, hits, including his latest smash hit, "Check Yes Or No." Opening for Strait will be country's hot newcomer, Terri Clark, known for her smash debut release, "Better Things To Do."
Keep your eyes and ears on Terri Clark because I believe this little gal is really going to go places. If Santa somehow forgot to leave George Jones tickets in your stocking, don't fret. Tickets are still available for the, "King of Country Music" and the Jones Boys. Jones will be performing at the Palace Theatre, Saturday evening, Jan. 20.
Cowboy Corner Country Quiz.
Q: Is it true that Bluegrass diva Alison Krauss is really just 24 years old? Tell me about her.
A: Alison Krauss, who recently stormed across country airwaves with her remake of Keith Whitley's "When You Say Nothing At All" and swept the latest Country Music Association Awards, is actually just 24 years old. Not bad, huh? Alison was born on July 23, 1971 and grew up in Champaign, Illinois. Growing up in the 1970s, Alison was winning fiddle contests at bluegrass festivals by day and roller-skating on Friday and Saturday nights like all others her age. She recorded her first album for Rounder Records, Too Late To Cry, at the ripe old age of 16. She has recorded five albums to date and released her sixth just last year, the platinum-selling Now That I Found You: A Collection. In addition, Alison has recorded the award-winning "When You Say Nothing At All" for Keith Whitley:A Tribute Album and "Somewhere In The Vicinity Of The Heart" along with Shenandoah.
This Bluegrass fiddlin' wonder swept the 1995 CMA Awards, winning for Single of the Year for "When You Say Nothing At All" with Union Station, Vocal Event of the Year for "Somewhere In The Vicinity Of The Heart'' with Shenandoah, Horizon Award, and Female Vocalist of the Year. In addition, Alison has won awards from organizations such as the International Bluegrass Music Association, Nashville Area Music Awards (the Nammies) , the Grammys, and many more.
In addition to winning these awards, Alison has had the opportunity of recording with country greats such as Dolly Parton, Vince Gill, Pam Tillis, Emmylou Harris, Patty Loveless, Alan Jackson, Mark Chesnutt, and Dwight Yoakam.
Alison Krauss has become a hot commodity these days and will be touring with Martha White as a sponsor for her 1996 tour. Her days of opening for such big names as Garth Brooks, Dwight Yoakam, and Alan Jackson are drawing to a close.
If you have a question you'd like answered about one of your favorite country artists, please send your question, along with your name, to: Cowboy Corner Country Quiz, Louisville Music News, 7505 Cambridge Drive, Crestwood, KY 40014. Please don't hesitate to send us your question.
We're anxious to hear from you.
Well, that's it for now. Always remember: Keep your boots shined up and your hat on straight, 'cause country music is comin' your way.