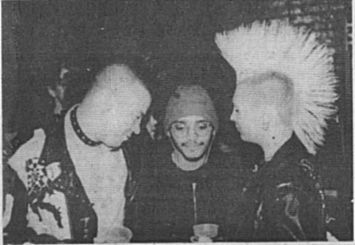 Sparks Patrons compared notes on their hardresses as Chris Randall of Sister Machine Gun played an ordinary chord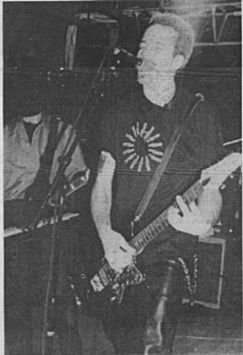 Die Krupps Sister Machine Gun at Sparks
Die Krupps, the German pioneers of "industrial metal" music, rattled the walls of Sparks just around the midnight hour on Dec. 3. D. K. and Chicago's Sister Machine Gun flaunted their goods to a somewhat small, but dedicated crowd.
D.K.'s set drew from their recent Rings of Steel CD (a compilation of re-mixes) and the upcoming Odyssey of the Mind CD from which they played a couple of new songs. "Isolation" and "Action" were both. well received by the cheerful metalheads.
Jurgen Engler, the founder of D.K., elaborated on the inspiration of the song "Metal Machine Music," a trademark song from a '92 hit single (originally put out by Lou Reed as a two-LP set of looped noise samplings, to grudgingly fulfill his contract obligations):
"We just put words to it and went with it," says Jürgen.
It contains the thump and crunch the band is best known for.
Chris Randall, the brains behind Sister Machine Gun, introduced the crowd to a laid-back groove and plenty of industro- metal variations with a strong set of almost danceable originals from the new Burn CD.