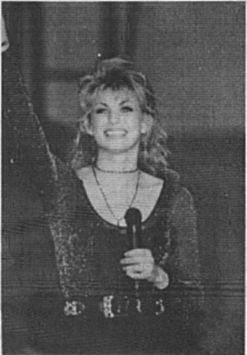 `A strong and promising sophomore effort
It Matters To Me (Warner Bros.)
Faith Hill
By Michael W. Stout
Many new artists find themselves in the sophomore slump after enjoying a successful debut release, but Faith Hill's second release, It Matters to Me, proves that she is not one of these unfortunate souls. Hill's highly acclaimed, platinum-selling debut album offered hits such as "Wild One" and "Piece of My Heart," but it is a mere appetizer compared to her new main course of an album. It Matters to Me is a meat-and-potatoes platter full of depth and substance with a little fun thrown in, dealing with everything from love and life to serious social issues.
The first hit from this album, "Let's Go to Vegas," fills the little-fun-thrown-in slot on this album, with Hill urging her love to go to Vegas to "kiss the single life goodbye" and "bet on love and let it ride." This one is your typical run-off-and-get-married song sung in an extraordinarily fun, Vegas-glitzy, gaudy way.
The real depth and substance comes in on songs such as "A Man's Home Is His Castle" and "I Can't Do That Anymore." The first is a very serious tale of spouse abuse in which the wife comes home and lets the supper burn, at which she says, "Well he hit the roof, hit the wall and then it was my turn." She further states that "He holds the keys in a fist of rage, his home is his castle, and mine is a cage."
Hill toured extensively with Alan Jackson in the recent past and asked him to write her as ong while compiling this album. Well, Jackson came back with a song, but not to Hill's liking. She says it was a great song, just not right for her. Jackson came back with another song and it was perfect. "I Can't Do That Anymore" is a sad tale of how a wife does everything to please her husband, including cutting her hair the way he wants and quitting her job to make a new home far away. While he's out becoming Mr. Successful, she's home on the treadmill trying to look the way he wants. She says "I don't like depending, I keep right on pretending, but I can't do that anymore."
Hill's current release, the title track, is an extremely moving ballad dealing with a husband's love gone stale. "When we don't talk, when we don't touch, when it doesn't feel like we're even in love, it matters to me." This tender plea to understand and rekindle the flame two people once shared very well could be the most successful tune Hill has ever recorded.
It's refreshing to hear an album with some grit and substance in these days of fluffy commercial country music. Faith Hill has greatly matured since her debut release and if she keeps this up, then she is well on her way to a long and successful country music career.