Newsical Notes
It was great to see some old faces at our Dec. 2 Tenth Anniversary / Contest Awards / Christmas Party at the Rud. For starters, all four of the founders of the LASC were present: Dave Evans, Debi Knight, Prez Paul Moffett and this writer.
Debi had driven in from her home in Irvington, where she has now closed up her pet shop. (She said that they sold all the pet owners in town everything they needed.) Debi's husband, Rick, is a part-time police-officer in the town, and their daughter, 22-year-old Melanie, is a karate instructor.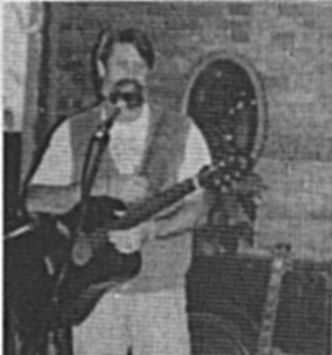 Photo by Jean Metcalfe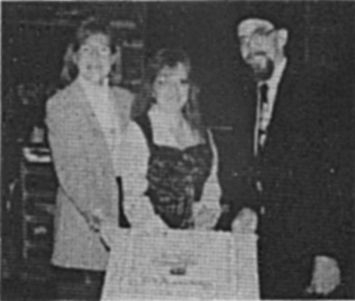 Photo by Wally Stewart
Dave Evans, above left, one of the found founding members of the LASC, performed at the conbination Tenth Anniversary/Songwriting Competition '96 Awards Ceremony / Chhristas Party a the Rudyard Kipling on Dec.2. The other three founders, from left, are Jean Metcalfe, Debi Knight and Paul Moffett.
By popular demand, at the party Dave Evans favored us with a couple of his originals (and he's written quite a few excellent ones). Until recently, Dave was a member of the group Zen Penguin. He is currently writing contemporary Christian originals. (Sorry Dave slipped out before we snapped a group photo of the founding foursome.)
Although the turnout of contest winners was small, Marie Augustine was there and took home $50 for her win (in a tie with Dwight Smith) in the "Other" category. Unfortunately Dwight had to be out of town on songwriting business. Wearing a neat new frock, Marie sang two or three spirited songs, including her popular "Thrifty Nickel Man."
Congratulations, Marie and Dwight!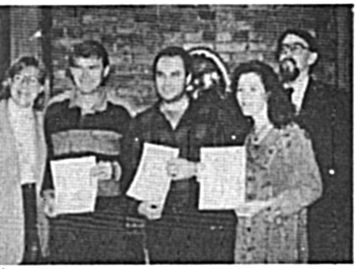 Songwriting Competition '95 winners present at the awards ceremony display their certificates. From left, Earl Meyers, Gordon Heins and Marie Augustine. They are flanked by presents Jean Metcalfe, left, and Paul Moffett, right
And congratulations to all the other LASC members who attained finalist status or higher in the contest. (See list of top prize winners elsewhere in this newsletter.)
Rita Beach phoned before the Dec. 2 party from her home in Dry Ridge to say she was trying to get over the flu (plus she had a gig that evening) and couldn't be with us at the Rud. She sent her regards to all. Rita also related that she had recently joined ASCAP and had been to a showcase in Nashville headlined by Alex Harvey, who wrote "Delta Dawn" and "Reuben James." It was GREAT, Rita said.
Longtime member Bob Rosenthal has a new album out. Louisville's favorite and best-known folk singer released Forever Angels at a party on Dec. 15 but this writer, unfortunately, wasn't able to attend. My loss.
ForeverAngels is a mighty fine album, and contains songs written by Si Kahn, Dan Fogelberg, Kentucky's legendary Merle Travis, and Jimmie Rodgers, among others. Ronnie Dee, one of the LASC's all-time favorite members, plays autoharp (on "Hobo's LuIlaby") and banjo (on "All Around the Water Tank") on the album.
Get a copy. (See the Local Releases listing in this issue for other info.) Then take that CD or cassette to HawleyCooke Booksellers on Shelbyville Rd. (you can buy it there, of course) between 2 and 3 p. m. on Feb. 10 so Bob can autograph it for you. See you there.
LASC President for Life Paul Moffett and this writer pitched a song a while back for Patty Loveless' next album. Alas, we were a bit late with our pitch (newspapering, you know) and we've since heard that the album's first single has already been released, even though the album hadn't been named or released as of press time. Maybe next album ...
Our hats are off to the writers of that first album single. (Turn to Prez Paul's Down on the Corner column on page 27 for more very interesting details.) Sympathy is extended to former LASC member and excellent singer/songwriter Scott Furlong, whose father, Kenneth E. Furlong, passed away in mid-December.
Hope everyone had an enjoyable Holiday Season, and we wish one and all a Great and Musical New Year!