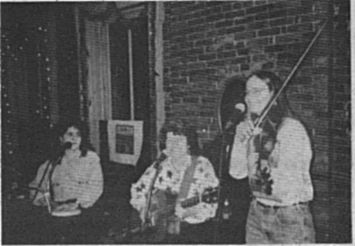 Photo by Wally Stewart
Tall, Dark & Handsome
A catchy, memorable _name is a great asset for entertainers hoping to capture the interest of those not familiar with them. Tall, (6' 2" Karen Jones) Dark (Miriam Davidson) & Handsome (Bev Futrell) does that. However, the Lexington band's Dec. 2 show at The Rudyard Kipling rarely lived up to the excitement normally associated with the well-known phrase.
This eclectic, acoustic group presented well over 20 songs and lots of humorous teasing with the sizeable audience and each other. Some fun was had but an abundance pf slow and moderate tempos didn't give many opportunities for showcasing musical skills.
Jones was primarily on fiddle but also played guitar and mandolin, while Futrell used mandolin, harmonica and guitar and Davidson alternated between guitar, accordion, keyboard and percussion. One of the night's best efforts was Futrell's harp work on the light blues of "How Long." Lead vocals were shared and all three women provided silky harmonies. notably on "All the Words in the World" and a Motown medley that included "I Feel Good." The latter song usually guarantees dancing feet but only "Dance All Night" really got my toes tapping, though some folks snapped their fingers and bounced a little on "Fever."
The trio's forte seems to be humor, for Davidson's "Jewish Wedding Song" and several others in that vein worked well.
Bruce Cockburn's "Wondering Where the _Lines Are" was thoughtful but l eventually started thinking, "You can have too much of a good thing." A mixture of slow and fast songs, tension and release, and passion is vital in music and I kept waiting for the group to cut loose and kick up their heels. There were moments when it seemed that would happen but the band kept stopping short of really kicking. The crowd's reactions were varied — some smiling and paying attention, others not —but most stayed for all of the three-set gig.
I'd like to hear Tall, Dark & Handsome with some higher energy musicianship added to their repertoire. As good as their strengths are, it might result in an evening as exciting and memorable as their name.