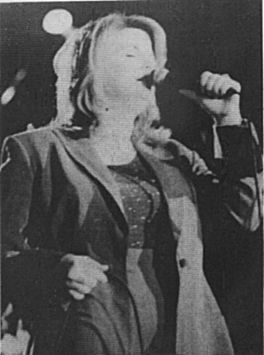 Trisha Yearwood. Photo by Michael W. Stout
Trisha Yearwood
Occasionally an artist bursts onto the music scene with as much or even more talent than everyone else in Nashville, but sadly enough are practically shunned by all the country music awards. They are seldom nominated and rarely winning. Well, Monticello, Ga., native Trisha Yearwood is a case in point. It is sad and very shallow to think that these awards are based on glitz and glamour alone and not raw talent. If the industry would just sit down and really listen to Yearwood's vocals and realize how beautiful and pristine her voice is, then she would be nominated every year and would be the reigning Female Vocalist of the Year.
Louisville was bitten by the Trisha Yearwood bug when she stopped off for an unforgettable performance at Louisville Gardens on Dec. 2 to perform her hits and spread some holiday cheer. When she took the stage, one could quickly realize that she is an extremely contemporary country performer with more soul than practically all of Nashville put together. Yearwood can make her voice growl like a wildcat and purr like a kitten. In addition to the music, it was a treat to see just how personable Yearwood really is with her audience. For example, a fan hollered, "You go girl," and she immediately responded jokingly with, "I'm goin'!"
Yearwood spent nearly half of her 85-minute set performing hits from her four critically acclaimed CDs, hitting notes as high and beautiful, as the angels up above. She started the evening off with hits such as "Down on My Knees," "XXX's and O00's (An American Girl)," "The Song Remembers When," "Like We Never Had a Broken Heart" co-written by Garth Brooks and Pat Alger, and her current single from Thinkin' About You, "I Wanna Go Too Far."
The quaint audience ate up every single song but literally feasted on two servings in particular: "Wrong Side of Memphis" and her debut number one single from 1991, "She's in Love With the Boy." Yearwood explained that she wanted to perform the latter tune differently this year, so she decided to perform it acoustically, much like the demo tape. This song also treated the audience to a rare sight: Yearwood strumming a guitar. Before beginning, she stated that she could play all the chords in the song but one, "but you'll never know which one."
Well, she didn't exactly pull it off without a hitch, missing a few lines during the course of the song. Upon completion, she jokingly explained to the audience that they now knew why she doesn't play guitar.
Halfway through the show the stage was transformed into a winter wonderland, complete with a fireplace and a burning Yule log, easy chair, beautifully wrapped gifts stacked to the ceiling, and multi-colored twinkling lights. Yearwood filled the arena with holiday cheer as she sang new and traditional Christmas tunes from last year's holiday album, The Sweetest Gift. These tunes included Mel Torme's "The Christmas Song (Chestnuts Roasting On An Open Fire)," Hank Snow's "Reindeer Boogie," Elvis' "Santa Claus is Back in Town," and "Sweet Little Jesus Boy."
Two carols shined brighter than all the others: "The Sweetest Gift," (a mother's smile), and Skip Ewing's "lt Wasn't His Child." The latter describes how Joseph took care of Jesus, although he wasn't Joseph's child, he was God's child.
Trisha Yearwood proved that she can wrap her sweet vocals around any song and make it her very own with her incredibly diverse voice when she performed her favorite song of all times as an encore: Judy Garland' s "Somewhere Over the Rainbow" from the all-time favorite classic movie from 1939, The Wizard Of Oz.
Upon leaving the show, it was clear that Yearwood had done exactly what she had intended: For nearly an hour and a half she had transported the entire audience from a world with violence and disease to a beautiful land of music "Somewhere Over the Rainbow."