And if comes out here:
WFPL FM 89. 3 WFPK FM 91. 9 WUOL FM. 90. 9
Do you still have that little manual that tells you how to reprogram the buttons on your radio? You'll need it, unless you have a child you can trust to reset all those digital tuning devices in your car and your house.
The reason? Your favorite public radio stations are transmogrifying. Set the dial to maximum warp, Hobbes.
The long-awaited merger of WFPL, WFPK and WUOL is well underway and the changes will be audible beginning January 8, 1996. If you're a regular listener of any of those stations, you'll notice the difference fairly quickly.
The merger's most noticeable effect will be the consolidation of the classical programming on WUOL and. WFPK into one station — WUOL— thereby making the air time on one entire station — WFPK — available for new programming. That was the opportunity presented to the Public Radio Partnership, the newly formed combined management of the three stations. Gerry Weston, longtime station manager at WFPL, is the Partnership's President.
It hasn't been easy and new offices for the Partnership seem no closer than when the whole thing started, but a new, 400-foot tower has risen up in Floyds Knobs and the programming is (mostly) settled on.
The shorthand. for the new formats is this: WFPL FM 89. 3 will be the news and information station (all talk, all the time): WUOL FM 90. 5 will be the classical music station (all classical, all the time): and WFPK FM 91. 9 will be the station that plays all the other kinds of music not played on commercial radio (all cool, all the time?).
The details, expressed as "the grid" by those struggling with where to put what, are the devil to work on, in, because no matter how the details shake out, a lot of people will have to change some of their listening habits.
So, dear reader, where is your favorite show now? Read on.
The Music's in the Details
If you are a WFPL music aficionado, WFPK is the station you have to reprogram your radio buttons to. Maybe you should use even the button next to the WFPL button, so that whichever you hit, you're happy. Anyway, set one to 91.9 FM.
That way, you can punch up a little Album-oriented Adult Alternative (sometimes called A3 or Triple A) on WFPK's drive-time shows, mornings and evenings. Mornings, Laura Shine of "Womanwaves" will spin the best of the singer/songwriter and melodic rock CDs, in whatever sub-genre that she likes, from 6 to 10 a. m. evenings, Leslie Stewart gets you home from 3 to 6 p. m. Both announcers have many fans and the new shows should. give them both a chance to gather more. The shorthand is this: if you liked "Audioasis," you'll like the drive-time programming.
From WPN in Philly, "World Cafe" gives you another two hours worth of triple A, from 10 a. m. until noon daily.. David Dye is the host There'11 still be plenty of jazz, a staple of WFPL's programming. Phil Bailey's daily iazz show will start at noon and run 'til three, when Leslie Stewart takes over.
Scott Dowd's "D' lnner Space" lives up its name with New Age 6 - 8 p. m. daily and Sunday.
Rick Forest takes over the evenings with his jazz show from 8 to midnight Saturday mornings have opened up due the talk shows staying on WFPL. "World Cafe" fills in the 6-8 a.m slot, followed four hours of Cary Willis' choice of triple A plus world beat music. At noon (instead late at night), "Afropop" is the product of the "dirty job of finding the best music of Africa" and bringing it to any station with a satellite dish. A few months of that and maybe Pascal Bokar will draw a bigger crowd to the Velvet Rose.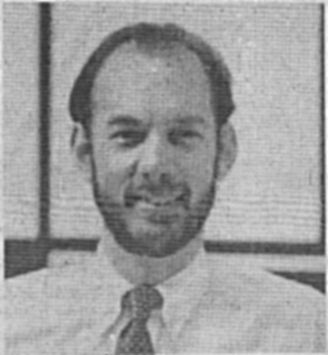 SAY HELLO TO THE NEW BOSS: Public Radio Partnership President Gerry Weston
The Saturday afternoon lineup will be a like the old Sunday 'FPL schedule, with "Thistle & Shamrock," "Womanwaves," "Folk Sampler," "Folk Masters and Mountain Stage" taking you to the "Lonesome Pine" show at 8 p. m. Scott Mullins' "Saturday Night Blues Party" starts at 9 p. m. and will rock you down until 1 a. m. Hardcore blues fans will want to toss back a NoDoz or two if they want to catch "Blues Before Sunrise" from 1 a. m. until 6 a. m.
Sunday Sundays will be jazz-dominated early. "KJAZ Satellite Network" runs from 8 a. m. till 10 a. m., followed by "Worldwide Jazz," Dick Sisto's "Inner Ear," then "Making the Music"; "Piano Jazz"; "Jazz Smithsonian"; "Jazz at' Lincoln"; "Jazz at Kennedy"; then "Jazzset" till 6 p. m., when Scott Dowd takes over with "D'lnner Space" for two hours.
"Sunday Bluegrass" with Berk Bryant, the "Country Gentleman," breaks the jazz tone with three hours to fill with that traditional and old-time country music and bluegrass, from 8 p. m. until 11 p. m.
Are the Dead cool, now that Jerry has demonstrated the non-wisdom of mixing bad genes with bad habits? Put on your tie-dye, light the incense and enter the Dead space for an hour every Sunday at 11:00 p. m.
lf you are suffering from insomnia late on Sunday night, "Echoes" will put you in the proper frame of mind to find inner peace (and a few ZZZs), from midnight 'til 6 a. m.
News, Information (and Talk)
WFPL gets to drop its "do it all" mode and just focus on news and information. Weekdays, the morning lineup remains anchored by "Morning Edition" with Bob Edwards. The time slot stays 6 10 a. m.
An hour of "Fresh Hour" follows "Morning Edition."
The biggest, and likely the most problematic' is the move of "Radio Reader" from it's 11:00 am (and 7:30 p. m. rebroadcast) slot to 9 p. m. on weeknights. The rebroadcast will be an entire week of "Radio Reader" episodes on Sunday night, from 9 p. m. 'till. 11:30 p. m.
"Monitor Radio" takes over the 11 a. m. noon slot.
Public affairs-type programming will dominate the mid-day mix, including WFPL's "Noon Report" and an array of locally produced, issue-oriented programming and forums.
Talk radio fans can now get their daily allotment without having to change stations, when "Talk of the Nation" comes to the 2 4 p. m., slot. Hosted by Ray Suarez, "Talk of the Nation" is NPR's interview and call-in show.
"All Thing Considers" remains the solid anchor from 4 till 6 p. m.
The return of the Canadian news and talk programme "As It Happens" (daily at 6:30 p. m.) was brought about by many, many requests from listeners. "Marketplace" precedes it from. 6-6:30 p. m.
"Monitor Radio" and "Fresh Air" fans can get a second listen, from 8-9 p. m. and 9:30- 10:30 p. m.
"Radio Reader" is sandwiched between them, at 9 p. m. Late night to early morning will be broadcasts from the British Broadcasting Corporation. Gives you a chance to polish your British accent.
Saturdays on WFPL change slightly, early, with the addition of "NPR's Weekly Edition" from 7-8 a. m., followed by "Weekend Edition," "Car Talk," and "Whad'Ya Know" in their regular time slots.
"Weekend Radio," a comedy program, is at 1 p. m.. Other new shows include "Only a Game" at 2 p. m.; Scott Dowd's "Studio Z," a magazine show focusing on arts, culture and entertainment, at 3 p. m.; "Movie Magazine" at 4 p. m.; Dave Cronin's "Off the Cuff," 4:30 p. m., then "All Things Considered" at 5 p. m..
"A Prairie Home Companion" stays at home from 6-8 p. m., then "Riders Radio Theatre" gallops in for a half-hour. At 8:30, "Rabbit Ears Radio," a program featuring the reading of children's books, can help put the kids to bed.
Two hours of radio theater follows with the "NPR Playhouse" from 9 till 11 p. m. The BBC broadcasts resume at 11 p. m.
Sundays, new shows include "5l%," a woman-oriented program. "Cabbages and Kings" moves to 7:30 a. m. "Weekend Edition" stays at 8-10, followed by "CBC Sunday Morning," for some more Canadian Broadcasting. The "Parents Journal" fills noon 1 p. m..
Sunday afternoon is a veritable smorgasbord of programming: "Voices in the Family," 12 p. m.: "Sunday Rounds," a call-in show on medicine and health, 2-3 p. m.; "New Dimensions," moved from Mondays, 3-4 p. m.: an environmental show, "Living on Earth," 4-4:30 p. m. and Cameron Lawrence's "Down to Earth" at 4:30-5 p. m.
"All Things Considered" holds the traditional 5-6 p. m. slot. "Studs Terkel" gets to do his thing from 6-7 p. m., followed by "Selected Shorts" till 8 p. m. "New Letters;" and "Storytelling" fill out the 8 9 p. m. hour.
Close out Sundays with the repeat of the five hours of "Radio Reader." Or tape it to listen to at a more familiar time, if you must.
Save the Best for Last?
WUOL 90. 5, the remaining classical station, will have live announcers, and a mixed format, rather than block programming. The station will also feature what's billed as "Arts Modules," 90-second rnini-programs during drive times; interviews with artists and those in the arts community and arts and music scheduling information.
Not to worry, "Adventures in Good Music," with Karl Haas will remain, although moved to a new time slot, daily from noon to 1 p. m., and again at 8-9 p. m. Live announcers are the keystone of the new WUOL, however. Tom Fenn will host the morning broadcast from 6 11 a. m., followed by Alan Brandt from 11-noon and 1-4 p. m.. Rich Miles has the drive time slot from 4 8 p. m.
Judy Kameny finishes the night after Hass, from 9-11 p. m., when the "Beethoven Network" takes over until 6 a. m.
Saturdays kick off with Alan Brandt from 8 a. m.-1 p. m., followed by four hours of the 1995-97 Texaco Metropolitan Opera.
Angela Fitzpatrick plays the best of "Broadway and More" from 5-7 p. m. when "Pipedreams" float in until 8 p. m. Alan Brandt's "Clef Notes" is from 8-9 p. m. Lovers of orchestral music have from 8 p. m. until 11 to listen to symphonic concerts.
Sundays start at 8 a. m. with "With Voice and Heart," followed by "Recital Hall Preview" till 8:30. Judy Kameny is the announcer until 2 p. m., when Angela Fitzpatrick is back until 6:30 p. m., when Scott Dowd's "Artscene" airs. "Saint Paul Sunday" and "San Francisco Symphony Orchestra" close the evening out until 11 p. m.
Whatever you think of the changes, the staff are eager, nay, anxious to hear what you think. Do give your stations of choice a chance, of course, then call them during the first week at 5741700. Afterwards, call 574-1649 and talk to Leslie Stewart for WFPK or John Gregory for WFPL. You can write them at Public Radio Partnership, 301 York St. Louisville, KY 40203 or fax them at 574-1671 or E-Mail them at WFPL@igloo.'com. For WUOL, call Bill Underwood at 852-8142.
WUOL has a home page on the web at http://WUOL.org. WFPL and WFPK are working on their home pages.
Enjoy.