Anthrax, My Own Victim and the Misfits at the Brewery
If it's true that variety is the spice of life, then I'm sure that many people were satisfied with the Anthrax/Misfits show on June 2 at the Brewery's Thunderdome. The show was a mixed bag of metal, punk, hardcore, and rap.
Louisville's own My Own Victim, just back from a tour of Europe, opened the show with their brand of hardcore metal. Playing tunes from their recent Century Media release Burning Inside, they did a good job of warming up the crowd for a night of moshing. "Break The System Down," from the new CD, got the mosh pit going. While My Own Victim delivered a good opening set, the omission of "Push Back" from their excellent EP was a disappointment.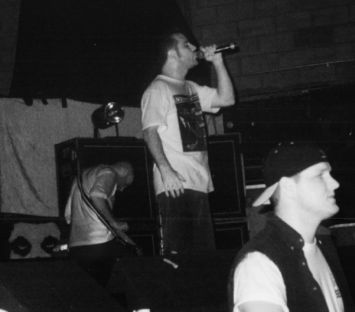 John Bush, lead vocalist for Anthrax, was protected from the screamikng masses by a line of security guards. Photo by Laura Karnes
Anthrax, who I thought was the headliner, took the stage next. Opening the set with the appropriate "Caught In A Mosh," they continued on with both old and new material. Minus long time guitarist Dan Spitz, the rest of the band charged ahead with such Anthrax classics as "I Am The Law," "In My World," and "Indians."
Some of the newer material included "Only" and "Room For One More" from 1993's Sound Of White Noize. I was surprised to not hear more selections from the latest release Stomp 442, but "Fueled" and "Random Acts Of Senseless Violence" were solid additions to their classic material.
Vocalist John Bush, who replaced former singer Joey Belladonna on Sound Of White Noize, was in fine form with his voice as clear as it is on record. He handled his job as frontman well.
Bush had said early in the show that Anthrax doesn't do encores and they stuck to their word, ending a much too-short set with their popular rap/metal hit "Bring The Noize."
The Misfits came on after what seemed like a very long wait between bands; therefore, I didn't get to see their entire show. I don't think I missed too much, though. I'm not very familiar with their music, although I know they played a big part in punk music's history.
The few songs that I did hear were all very similar sounding and I was actually getting rather bored. I know punk is about attitude, a way of life, and all that stuff, which is fine. But . . . I get a little worried when it seems that more emphasis is on what kind of clothing and makeup is being worn rather than how good the band's songs are and how well they can play their instruments.
Kind of reminds you of the 80's, eh?