Barbershop music:
It's not just white suits and straw hats anymore
Don't knock it until you've tried it.
So says Jan Seales, a longtime member of the Pride of Kentucky Chorus, one of two Louisville chapters of the national organization of Sweet Adelines, and a barbershop singer for over 30 years.
As a young girl, Seales watched and listened as her father performed in a barbershop chorus. She was never interested in the obscure but persevering musical form.
One day many years later she was admiring the brooch of another woman only to find out it was a medal from a barbershop competition. The woman asked Seales to attend a rehearsal and after much convincing, Seales agreed to show up.
I finally figured out that I was going to have to go to rehearsal and prove I wasn't interested," she said. "The rest, as they say, is history. I learned the difference between singing it and listening to it."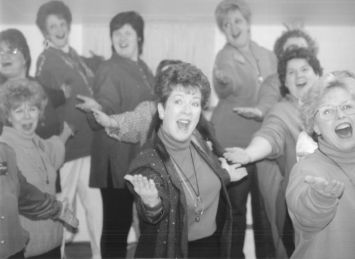 Jean Marshall, front left, and Beverly Craig, front right, of the Pride of Kentucky Chorus sang at a Sweet Adelines Reunion called "Harmonic Convergence" in January at Buechel Park Baptist Church. Photo by Jean Metcalfe.
The woman with the brooch was Reta Decker, a member of the Decker Sisters Barbershop Quartet (which placed third nationally in 1953) and founding member of the original Louisville charter (known then as the Bluegrass Chapter) of the all-female Sweet Adelines in the mid-1950s.
Seal's story no doubt is similar to many others told through the years to those who became hooked on barbershop – a harmonic, upbeat form of a cappella singing – without realizing it.
"It's probably the longest thing I've ever stuck to in my life, including my work," said Seales, a retired Naval Ordnance employee. "I really don't know what it is, other than the fact that you make your own music. There is a kind of joy when you are your own accompaniment. The fun is participating in it."
The Bluegrass Chapter lasted only about three years, Seales said, but the Kentuckiana Chapter was formed in 1964, followed by the Falls of the Ohio Chapter in 1972. Those chapters consolidated in 1982 to become the Derby City Chorus, and in 1984 the Pride of Kentucky Chorus was born as an offshoot of the original, and both are still going strong today.
The Pride of Kentucky stays busy, especially around the holidays, and does several private performances per year. The next on the schedule is an August show in Mitchell, Ind. Also, if you crave a different gift to give your sweetheart on Valentine's Day, this chorus will deliver a singing telegram and can be reached at – not surprisingly – 368-SONG.
The Derby City Chorus, another Sweet Adelines charter, is currently 90 members strong and frequently plays at various community events in addition to staging an annual Christmas show.
The chorus performs a cappella songs from various time periods, from traditional barbershop numbers to more contemporary music, according to director Charlotte Moore.
Derby City recently wrapped up a membership drive and is now focusing on learning new songs and choreography this summer.
"In addition to singing, we're trying to help everyone become a better performer overall with choreography. We're trying to focus on the entire performance and not just the singing," Moore said.
Moore sang in high school and church choirs but had never tried her hand at barbershop until a barbershop-singing friend asked her to attend a rehearsal. She isn't sure why, but she couldn't quit.
I just love to sing," she said. "I really like the harmony."
Of course, the most famous barbershop chorus in the Louisville area is the Louisville Thoroughbred Chorus which, according to chapter literature, formed in 1945 when a Louisville businessman named F. W. Drybrough asked a few friends to come over and listen to some barbershop harmony with the hope that a local chapter of The Society For the Preservation and Encouragement of Barber Shop Quartet Singing in America could be formed.
Twice the number he invited showed, and the chorus would go on to win seven world championships.
In addition, the chorus would reach out into other areas. Former director Jim "Mr. Barbershop" Miller wound up in Cincinnati with the Southern Gateway Chorus for several years and former Thoroughbred David Harrington formed the Harrington Brothers, a barbershop quartet which ended up performing professionally in Myrtle Beach.
The Louisville Times Chorus formed officially in 1993, but actually began in late 1992 "as an idea," according to director Bob Thrush. He said the chorus began with eight men "committed to a cappella music," and the number has since quadrupled.
Also a chapter of SPEBSQSA, the chorus has made great strides in a short time, winning its first-ever district competition in 1994 and later that year becoming the smallest chorus ever (19 at the time) to qualify for international competition.
Louisville Times just missed last year's cut, and Thrush said the group's goal is to get into top form for this October's district competition and qualify for next year's international contest in Indianapolis.
"Our goal is to qualify for that competition and go there and win a medal. There are 32 choruses in the Cardinal District (Indiana and Kentucky) and the Thoroughbreds have never been beaten in the preliminaries, so that's a big undertaking for us," the director said.
The Louisville Times Chorus is currently on a recruiting mission and wants men who enjoy singing a wide array of music from varied genres such as jazz, swing, gospel, contemporary, light rock and traditional barbershop.
We have a style more like Take 6 or Boyz II Men than what you'd expect from a barbershop chorus," Thrush said, noting that the group covers everything from Sinatra to the Beatles to Ike and Tina Turner.
We have two major goals: One, entertain the audience with not only our music but with every aspect of our performance, and two, have fun doing it," Thrush said. "We do a lot of different types of music, not just traditional barbershop music. We concentrate more on the performance and the entertainment value of what we do for our audiences."
Anyone interested in singing barbershop or booking a chorus can contact the Kentucky Thoroughbreds or the Derby City Chorus at 267-SING; the Louisville Times Chorus at 1-800-39-TIMES, or the Pride of Kentucky Chorus at 368-SONG.