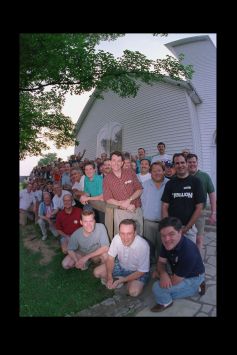 ?>
Louisville's Thoroughbreds:
Are they in the hunt at Salt Lake City?
Seven-time Champs eye finish line at international barbershop competition
If barbershop choruses were basketball teams,
Thoroughbreds would be Wildcats.
If barbershop competitions were basketball seasons, The Louisville Thoroughbred Chorus would
be in a rebuilding cycle.
And, following consecutive sixth-place finishes in annual international competition – disappointing seasons, by the team's standards – the Thoroughbreds wouldn't be a bad bet for this year's barbershop office pool, if such a thing existed.
With the annual international contest coming up this July 4 weekend, Thoroughbred Chorus president Richard Riedel sees his team as a No. 2 seed, metaphorically speaking.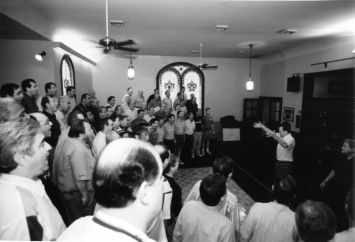 Thoroughbred Hall allows Director Ken Bukcner to be seen by all singers
"I would say right now that there are four choruses better than us," he mused. "But once you get on the stage and the curtain goes up, lights glaring, all that goes out the window. Anything can happen. A No. 1 seed can get knocked off."
And, even though the harmony of some 90 voices replaces the ping-ping of a bouncing basketball, the drive to win and the desire to compete remain the same.
"Our attitude is that you don't train to finish second, you train to win. And that's what we're doing," Riedel said.
Gathered for a Monday night practice session after a weekend excursion to Rough River where they practiced almost nonstop – sort of a barbershop mini-camp – the Thoroughbreds' collective demeanor seemed one of tense joy.
The fellowship between these men is apparent the moment one walks into their Watterson Trail practice hall (a small but quaint former church), as is the joy they feel when singing.
But their desire to compete and to win is also evident, especially with the international contest just days away and the familiar gold medal hanging before them like, well, like the NCAA Championship trophy.
"We've always sung well," Riedel said, "but we want to get back into the mode where we are medaling."
Returning to the level of champion may be even more difficult than getting there in the first place, if the basketball parallel is accurate. Much like the Kentucky Wildcats in the 1950s and '60s and the Louisville Cardinals in the 1980s, the Thoroughbred Chorus was once the team to beat. And few did.
From 1962 to 1984, the 'Breds won a then-unprecedented seven gold medals in the annual chorus competition sponsored by The Society for the Preservation and Encouragement of Barber Shop Quartet Singing in America, an organization comprised of hundreds of local chapters and which publishes its own bimonthly magazine.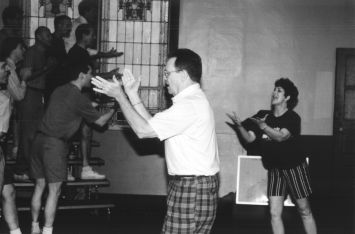 Betty Lou Coleman, right, choreographer with the Sweet Adelines, offers tips to the singers while Buckner directs.
These medals, quite literally, represent the world championship of barbershop singing. It includes everything but cutting down the nets.
In an amazing stretch from 1978 to 1984, the Louisville chorus won three straight international championships (winners must sit out two years before competing again) under the direction of the heralded Jim "Mr. Barbershop" Miller, who either as performer or director has had a hand in every championship the Thoroughbreds ever won.
Like a singing Adolph Rupp or Denny Crum, Miller forged a troupe of performers with not just talent but a will to win and a commitment to excellence, and the result was an international dynasty.
Miller, now a photographer in Louisville and still active in the local and international barbershop scene, left after the 1984 championship to hook up with a friendly-rival chorus in Cincinnati. The Thoroughbreds kept their edge, never finishing lower than third through 1992, but a new champion has arrived on the scene: a Dallas chorus called The Vocal Majority.
Dallas, with its victory in 1994, tied the Thoroughbreds for most victories since the international competition began in 1959. The troupe from Texas also eclipsed Louisville's three straight wins by capturing the gold every three years from 1978 through 1993, or six in a row. And, as the Thoroughbred Chorus prepares, it knows The Vocal Majority will be waiting for them in Salt Lake City. In true Thoroughbred fashion, they are not afraid.
"That has never been equaled and never will," said John Markley, former Chorus president and current singer/right-hand man to Riedel, of The Vocal Majority's win streak. "We're now tied at seven (championships) each and they have been dominant.
"But we don't intend to kiss the ground for them just yet."
"We've got a chance at going in and knocking Dallas off," Riedel agreed. He does acknowledge, however, the difficult task which lies ahead, especially when the weight of expectation is counted in.
The Thoroughbreds' dress rehearsal at the CLifton Community Center on July 26 had a big finish. Photo by Jean Metcalfe
Much like the basketball Wildcats, the Thoroughbreds have a history of winning and a standard which must be upheld. Only a handful of the remaining chorus – one-fourth at best – were around for the glory years. The rest bear the mantle of winning established by Mr. Barbershop and his harmonizers.
"Having won seven gold medals is a great tradition," admitted Riedel, "but it's also great baggage. Last year, we felt certain we would medal. ... (Finishing sixth for the second straight year) really hurt.
"And when a chorus that won comes back in they are automatically favored," perhaps giving Dallas an extra edge with the judges, he said.
Riedel insists that the Louisville group consists of, at best, talented amateurs. The Thoroughbreds struggle to recruit new members and to keep current ones, as each member has his own career and family obligations which have to come first.
In Dallas, meanwhile, the Majority will put 150 men on the stage this year and – thanks in large part to population differences – is so stocked with barbershop singers that it can be selective as to who it accepts into the chorus and who goes to international competition.
Nevertheless, Riedel also remembers his first international competition with the Chorus in 1987 following Miller's reign. Louisville put 89 men on stage versus Dallas' 154-man chorus, yet "the attitude was such that I was totally convinced we would beat Dallas."
Louisville finished third that year, but Riedel's story is evidence of how this love for singing – what some might consider a simple hobby – fuels an instinct for competition.
As the years go by, that finish becomes more valuable to me," he said.
Riedel considers the group's main goal "to have fun. It gives a lot of guys something to look forward to; it's a constructive hobby."
But it is also something which draws people together from all professions and generations. The chorus contains teachers, lawyers, doctors and horse racing executives (in Riedel's case), and singers' ages range from teen to retirement (Markley is in his 70s and has been singing for 51 years).
Riedel believes the competition, the regional and international rivalries, brings out something in the group's members which they may have enjoyed playing sports or otherwise competing at some point in their lives.
These guys come from all walks of life and they have these things in common: They're all nice guys and they are all competitive individuals," Riedel said.
Plus, the majority of the Thoroughbreds shows a dedication one doesn't usually find in more traditional "hobbies" – like knitting or stamp collecting.
We spend a lot of time on craft," Riedel said, noting that enunciation in barbershop singing is imperative, as it is an a cappella art form. Each word from each singer's mouth must sound exactly the same for the chorus to sound its best, he explained, and doing so requires grueling hours of practice. "When you do it right, it's much more than a casual hobby."
Like Wildcats practice, Thoroughbreds train. And, as each Kentucky or Louisville basketball player which still owns a championship ring would attest, the coach – the one person which provides the group with motivation and direction – can make the team truly great.
Enter Ken Buckner, one of the Thoroughbreds who has been around for all seven championships. At that Monday meeting just days from competition, Buckner appeared a man on a mission, barking orders and trying to squeeze seemingly endless instruction into a scant few hours' time.
Buckner, who took over for longtime member Ken Hatton this year, was part of the Miller tradition, so he is no stranger to motivation. And this year, Miller is working with the group again as an informal coach.
If the veteran Thoroughbreds know their stuff, this may be all the edge they need to return once again to the winner's circle.
Jim made this society," said Troy Lovett, the chorus' membership vice-president and longtime member. "The competitive fire he put into the chorus set the standard. It's similar to Kentucky and the S.E.C. (Southeastern Conference) in basketball – they set the standard."
Lovett is quick to point out that part of what made the Dallas chorus great was its desire to compete with the Thoroughbreds many years ago, to reach a level of excellence instilled by Miller into their Louisville counterparts.
The skill of a Bobby Knight or a Rick Pitino is to take guys and mold them and teach them," Lovett continued. "I think Jim could go into Fargo, N.D., in the middle of winter, find 60 guys, and give him about three months ... ."
"It's the same as any world championship," said Miller, a former football coach at Flaget High School, describing the secret to success. "Whether it's a Stanley Cup or an NCAA Championship or a Super Bowl, anything like that demands a price. When (the chorus) understand(s) that, they're going to be something.
"They have to rebuild that tournament toughness. It's almost an exact parallel to a sports effort. The mental preparation is exactly the same. We're all amateur singers; we have a lot of silly things in our lives that clutter our minds like rent and jobs. That's where the price has to be paid."
In spite of the praise of his former troops, Miller remains modest about his accomplishments and his influence – he won an international championship with Cincinnati before returning to Louisville –arguing that a coach can only get the ball rolling and issue a challenge.
"If the troops don't accept that challenge and pick up the ball, the whole thing is nil," he said.
Nevertheless, The Louisville Thoroughbreds Chorus would rather perform with his help than without.
"We're very fortunate to have him with us," Riedel said. "Cincinnati's loss is our gain. I don't think Cincinnati will beat us this year, and I think Jim will have a lot to do with that."
Miller and Buckner are old friends as well as longtime singing partners, and the revered mentor has words of confidence regarding the new director.
"Buckner is so well-prepared. He's done everything that can be done, and he's perfectly suited to doing the job he is doing," Miller said. "I'm looking for great things from this bunch."
Will The Thoroughbreds knock The Vocal Majority from its throne and regain past glory? Barbershoppers and Louisvillians alike will know soon. Here's a tip, however: There's always next year, and the Louisville chorus knows it.
If Dallas wins again, all won't be lost. Next year's international convention is scheduled for Indianapolis, Louisville's back yard, in an international sense.
Even if they don't bring home the gold, the Thoroughbreds want to improve upon two straight sixth-place finishes. "We want to have the momentum to springboard into the next level," Riedel said.
Markley was slightly more direct. "Salt Lake City is a long way away; it's expensive and difficult for everyone to get away. Next year, it's in Indianapolis.
"Needless to say, we're expecting to do extremely well this year, and in Indianapolis we'll send advance notice – we're going to be ready."