Gene Bertoncini and Howard Alden
Those who can, teach" The Bellarmine Jazz Guitar Clinic teachers have chops to spare
If, as a reviewer in the Courier noted in an article about the David Grisman Quintet's recent Louisville appearance, Louisville audiences are perhaps too easily impressed with impeccable technique, then there was a somewhat atypical Louisville audience at the evening concert presented by the guest instructors from the 1996 Bellarmine Jazz Guitar Clinic. There was hardly a standing ovation in sight, except at the end of the evening.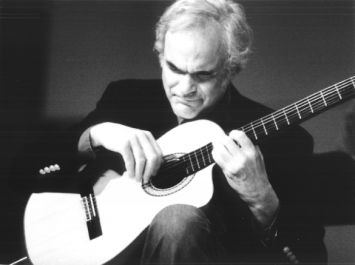 Gene Bertncini
Which is as it should be – a band has to be really in the heavens to rate a leap up, and, while the playing was good, this group admittedly suffered from a shortage of rehearsal time, having spent most of the day teaching.
It would be fairer to note the individual performances. Sherman, Alden and Bertoncini all took a turn in front of the rhythm section of bassist Tyrone Wheeler and Terry O'Mahoney on drums. The lack of a PA system occasionally made his drumming appear to lag slightly.
Sherman opened the show with a brief set before bringing on Gene Bertoncini. Bertoncini slouched on stage in blue jeans and with almost a chuckle headed demeanor. He mimicked the Great Dane, Victor Borge, pointedly picking up a piece of sheet music, looking at intently for a moment, then turning it 180 degrees. He grinned at the audience and was applauded for his effort. Then he laid out a smooth, fluid melody line and grinned again.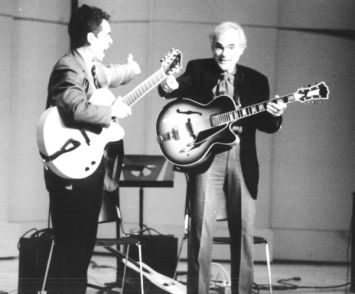 "No, no, YOU first." Howard and Alden and Gene Bertonciini offer mutual praise
Howard Alden dressed as though his next gig was at a Catskills resort. He stood, seemingly slightly ill at ease, and shuffled his feet awkwardly before beginning. He then proceeded to coax a continuous stream of rapid-fire arpeggios, played in every position on the neck, out of his guitar. It was simply dazzling.
Bertoncini's and Alden's selection of material ranged over a broad musical territory. Billy Strayhorn got a lot of play, as did Ellington and Cole Porter. There was also a bossa nova mixed in for flavoring by Bertoncini, who is noted for his bossa nova playing.
One piece worth mentioning was a tune called "Jimmy and We," which Clinic Director Jeff Sherman had commissioned from U of L's John La Barbera, in memory of the late Jimmy Raney, an instructor at several of the previous clinics. All three guitarists, as well as the rhythm section, played the piece. Sherman, in the introduction, apologized for the lack of rehearsal time, the group having played the composition only once. It was a little rough and the mix wasn't the best, but it evoked interest and a desire to hear it performed again.
Perhaps the piece can become a 'standard' at the clinic and improve as time goes on. Perhaps a sound system can be secured for the room and a good mix for the audience and the players.
That would be a real honor for Jimmy.