Cowboy Corner
I was on hand when the 30th Annual TNN Music City News Country Awards, hosted by Lorrie Morgan, Martina McBride, and Mark Miller of Sawyer Brown, were handed out Monday, June 10 in Nashville at the Grand Ole Opry house, the first day of Country Music Fan Fair week. Veteran winner Vince Gill led the pack of nominees with seven nominations but only walked away with one: Vocal Collaboration of the Year for "Go Rest High On That Mountain" along with Kentuckians Patty Loveless and Ricky Skaggs. Gill wrote this tender ballad in memory of his late brother and Kentucky's own Keith Whitley. This surprise aside, the big surprise of the evening was the Female Artist of the Year Award. Favorites Reba McEntire and Shania Twain applauded from their seats as co-host Lorrie Morgan accepted her second Female Artist award in three years.
Texas boy George Strait was the big winner of the evening, despite the fact that he wasn't there, capturing the Video of the Year Award and the Single of the Year Award for "Check Yes Or No" and the Album of the Year Award for Lead On. The ever-so-popular long-legged fellow from Newnan, Georgia, Alan Jackson, walked away with two trophies, including Entertainer of the Year and Male Artist of the Year.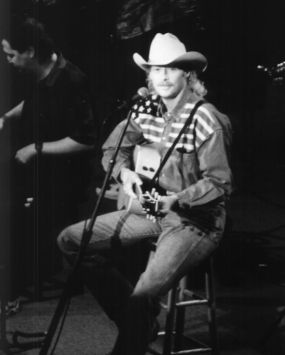 Alan Jackson's fans get to see the Entertainer and Male Artist of the Year cloue-up and personal at a fan event. Photo by Letha Marshall
Despite an election campaign driven by his fan club, Flatwoods' Billy Ray Cyrus, who was nominated for Entertainer of the Year, Male Artist of the Year, and Album of the Year for Storm In The Heartland, walked home empty-handed. Ricky Skaggs was up for the Christian Country Artist award (in addition to Vocal Collaboration of the Year), but last year's winner Ricky Van Shelton captured his second trophy in this category. Nicholasville's John Michael Montgomery was nominated for Video of the Year for "Sold (The Grundy County Auction Incident)" but was unfortunately beat out by George Strait's "Check Yes Or No."
It was no surprise that Brooks & Dunn captured their fourth Vocal Duo of the Year Award, Sawyer Brown won Vocal Band of the Year, and the Statler Brothers won their 24th Vocal Group of the Year Award. Hot newcomers Terri Clark and Bryan White captured the Star of Tomorrow-Female and -Male Awards respectively.
The entire list of winners is as follows:
Entertainer of the Year: Alan Jackson
Male Artist of the Year: Alan Jackson
Female Artist of the Year: Lorrie Morgan
Vocal Band of the Year: Sawyer Brown
Vocal Duo of the Year: Brooks & Dunn
Vocal Group of the Year: The Statler Brothers
Christian Country Artist: Ricky Van Shelton
Star of Tomorrow-Female: Terri Clark
Star of Tomorrow-Male: Bryan White
Single of the Year: George Strait's "Check Yes Or No"
Video of the Year: George Strait's "Check Yes Or No"
Vocal Collaboration of the Year: Vince Gill, Patty Loveless, and Ricky Skaggs—"Go Rest High On That Mountain"
Album of the Year: George Strait's Lead On
Comedian of the Year: Jeff Foxworthy
Minnie Pearl Award: Amy Grant
Living Legend Award: Willie Nelson
Congratulations to all the winners!
Kentucky State Fair
Going Country
As of press time, no official announcement had been made about this year's Kentucky State Fair concerts, but you know I wouldn't let you down. This year's fair promises to be another country music fan's haven. If I've done my homework correctly, hot duo Brooks & Dunn are going to kick the fair off again this year, along with the talented "Texas tornado" Tanya Tucker on Thursday evening, Aug. 15.
Country crooner George Strait will make his annual stop off at the Kentucky State Fair on Saturday, Aug. 17. He'll be sure to perform hits from over the years as well as brand new hits such as the incredibly successful "Check Yes or No." Appearing with George will be hot newcomer Terri Clark ("Better Things To Do," "If I Were You").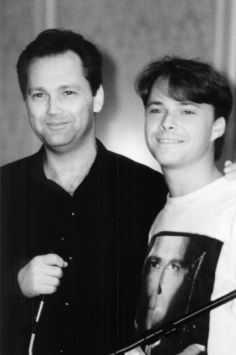 Steve Wariner and Bryan White
As the song says, "Honky Tonkin's What I Do Best," and that's just what Marty Stuart and Travis Tritt will be doing when they appear in Cardinal Stadium on Friday evening, Aug. 23.
Alan Jackson will resume his fair-closing date on Sunday evening, Aug. 25 when he performs in Freedom Hall along with newcomer Wade Hayes, who helped Brooks & Dunn get things off to a good start last year.
I've heard the Oak Ridge Boys will be coming again this year, but I haven't heard exactly what day, but I would say it's safe to guess that they'll turn up in Cardinal Stadium for a free show on Sunday evening, Aug. 18. If this year's fair holds true to fairs in the recent past, you can probably count on a free country show in Cardinal Stadium on Wednesday evening, Aug. 21. We'll just have to wait and see.
And for you country fans who like to stray a little every now and then, pop songster Michael Bolton will perform Friday, Aug. 16, Christian artists 4-Him and Point Of Grace will perform in Cardinal Stadium on Monday, Aug. 19, and the Gin Blossoms and the Goo Goo Dolls will be performing Saturday evening, Aug. 24.
All I know about tickets right now is that they go on sale Monday morning, July 8 (probably at 10:00 AM) at all Ticketmaster locations. If tickets are handled as they have been in the past, there will probably be a ticket limit per show and all Ticketmaster locations except the Kentucky Fair and Exposition Center Box Office will only accept cash. Keep your eyes and ears open for the official announcement of all 1996 Kentucky State Fair concerts and all ticket information. Good luck at getting a good seat, and I hope to see you at the show.
Country Baby Boom
Not only are my lovely wife and I hurrying to put the final touches on our nursery before our little cowboy makes his grand entrance, but so are some of your favorite country performers, two from right here in the Bluegrass state.First of all, Ashland's very own Wynonna (who took the country by storm as half of probably the most popular country duo of all time, The Judds) and husband Arch B. Kelley III are the proud parents of a brand new baby girl. 1 1/2 year old big brother Elijah Judd Kelley welcomed baby sister, 9 lb. 4 oz. Pauline Grace on Friday, June 21. Mother and baby are doing fine."
Nicholasville's country heart-throb John Michael Montgomery and his lovely bride Crystal are expecting their first child in September. John Michael and Crystal (a student at the home of the 1996 NCAA Champs, the University of Kentucky) were wed aboard a Nordic Empress cruise-liner docked in Miami this past Jan. 8. Soon after the nuptials, JMM was quoted as saying, "As far as being a family man, I want to try my hand at that. I want to have some kids and watch them grow up." This little miracle is proof that dreams really do come true.
Country crooner Mark Chesnutt, whose performance was rained out after a mere 20-minutes at last month's Louisville CityFair Country Jam, recently announced that son Waylon will soon have a little brother or sister. Mark and his wife Tracie are expecting their second child after the New Year.
Congratulations to these country stars and best of wishes! Oh, and by the way, if you readers have any good child-rearing tips, please pass them on because I've never done this before.
Hot New Country
Your favorite local record store is flooded with new country as hot as the sweltering temperatures these days. Marty Stuart's back with Honky Tonkin's What I Do Best, which includes the smash title duet with Marty's pal Travis Tritt. David Ball fans won't want to miss his new release titled Starlight Lounge. Confederate Railroad is offering up their Greatest Hits with tunes such as "Trashy Women" and "Queen of Memphis."
I'm sure you've all heard LeAnn Rimes' incredible debut tune, "Blue" by now. Well, this thirteen year old Patsy Cline sound-alike's debut album, simply titled Blue, will be available later this month. Also be on the lookout for Wade Hayes' sophomore effort, On A Good Night, which includes the rapid chart-rising title track.
Rhett Akins is back with a new album titled Somebody New, which includes a sure-fire chart-topper, "Don't Get Me Started." Kenny Chesney's Me And You is already available for your listening pleasure.
Happy listening and don't forget the sunscreen because this new country music's gonna scorch ya!
Upcoming Live Country
Don't forget that just around the corner, Friday night, July 5, Pikeville's own Dwight Yoakam will bring his honky-tonkin' Bakersfield sound to Freedom Hall along with Mr. "Thinkin' Problem," David Ball.
If Corvettes are your speed, then you'll be in fiberglass heaven on Sat., July 6. Country classic George Jones and newcomers Faith Hill and Tim McGraw will be performing during The American Heritage Festival '96 at the National Corvette Museum in Bowling Green. Advance tickets are $20 and tickets at the gate are $25. Tickets for children from ages 6-12 are $5 and children under 6 are free. Tickets include admission to the National Corvette Museum as well as the concert and can be purchased by calling 1-800-CORVETTE or (502) 781-7973.
The Statler Brothers will roll into town with a string of hits a mile long when they perform at the Palace Theatre on Aug. 3. They'll be sure to sing classics such as "Elizabeth," "I'll Go To My Grave Loving You," "Class of '57," "Do You Remember These," and "Whatever Happened To Randolph Scott." This will be your chance to see first-hand just why The Statler Brothers have the highest-rated series on The Nashville Network to date.
"C-O-U-N-T-R-Y" "Pickup Man" Joe Diffie fans are in luck. Joe will be performing at Fort Knox on Aug. 4 along with David Lee Murphy. All proceeds will be used for U. S. Army recreation facilities for our nation's soldiers. For ticket information, call Fort Knox.
Well, that's it for now. Always remember, keep your boots shined up and your hat on straight, 'cause country music is comin' your way.