Kraft Country Tour '96 "Women Of Country
Until the past decade or so, if one heard the name Carter, Tillis, or Morgan in the same sentence with country music, one would immediately conjure up thoughts of the Carter Family, June Carter Cash, Mel Tillis, or George Morgan. However, seasons change, as does country music. A certain three "Opry brats" have become today's country superstars, their platform shoes firmly planted in their ancestor's musical footsteps.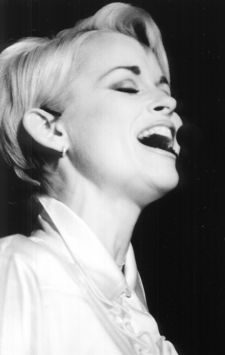 Lorrie Morgan
These musical beauties are none other than Carlene Carter, daughter of June Carter Cash and Carl Smith and granddaughter of Maybelle Carter of the famous Carter Family, Pam Tillis, daughter of stutterin' M-M-Mel Tillis, and Lorrie Morgan, daughter of Grand Ole Opry great George Morgan.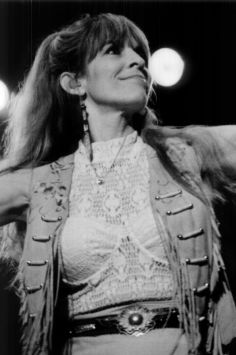 Carlene Carter
Everyone present for the Kraft Country Tour '96 "Women of Country" concert at Louisville Gardens on June 6 witnessed history as Carter, Tillis, and Morgan shared the same stage — the first all-female tour in country music history. It was an evening for men and women alike to celebrate women.
Carlene Carter kicked the evening off with a spunky, yet shallow 30-minute set of light-hearted material such as "I Fell In Love," "Come On Back," and "I Love You 'Cause I Want To." A third-generation Carter, Carlene presented a welcome tribute to her musical heritage by performing "My Dixie Darlin'," which her grandmother Maybelle recorded at the ripe age of 16.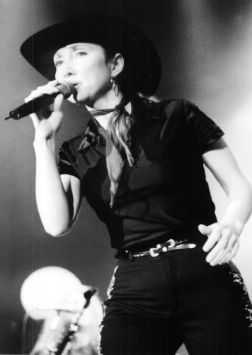 Pam Tillis
Pam Tillis followed with the most powerful and pristine set kicked off with a recording of the "Father of Country Music" Jimmie Rodgers' "Waiting For A Train." As sweet as a wild rose, she immediately tore into crowd-pleasers such as "Shake The Sugar Tree," "Mi Vida Loca (My Crazy Life)," "Cleopatra, Queen of Denial," and "Maybe It Was Memphis." It wasn't until she offered a moving ballad like "In Between Dances," "Spilled Perfume," or "The River and The Highway" that one realized just how perfectly Pam can wrap her sweet vocals around a note and make a lyric spring to life. Daddy Mel would have been proud to hear his little girl's rendition of his 1972 hit "I Ain't Never" which he co-wrote with Webb Pierce in 1951.
All theatrics of the evening were saved until the curtain raised on Lorrie Morgan's 65-minute set. She appeared perched on a cascading staircase leading to a baby-grand piano which was playing home to Lorrie's most endearing family photos, surrounded by everything from a crystal chandelier, to lighted candles, flowering bouquets, and a velvet chaise lounge. Lorrie began with "Back Among The Living" from her brand new Greater Need album proving her strength, independence, and vulnerability as a woman. Despite the fact she was overcoming a sore throat, Ms. Morgan offered a well-received performance ranging from early hits such as "Five Minutes" and "Out Of Your Shoes," to more recent number one hits like the sassy "Watch Me," and finally weighing heavily on new material such as "I Can Buy My Own Roses," "Good As I Was To You," and her current smash duet with Jon Randall, "By My Side," performed live with Randall himself. One song alone summed Lorrie's dramatic performance up best – "I Didn't Know My Own Strength" – for "all the strong women" in the audience.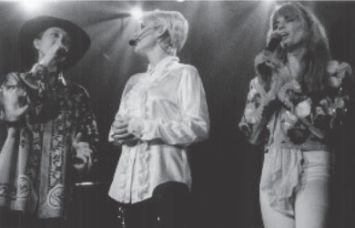 All three of the performers
Although entertaining, it was disappointing that, unlike her touring mates, Lorrie Morgan made no reference to her own musical roots and embarrassingly omitted her father's smash country hit, "Candy Kisses." Fortunately this oversight was overshadowed when Lorrie was joined by Pam Tillis and Carlene Carter for an unforgettable musical union as sweet as a dripping honeycomb. The trio blended harmonies on tunes such as "Honky Tonk Women" and A. P. Carter's "Will The Circle Be Unbroken," outshining the other highlights of the evening.
The "Women of Country" are stronger, more powerful, and more respected performers in country music today than ever and that's enough for us all to celebrate. As one enthusiastic fan screamed, "You go girl!"