Nashville's Summer Nights
The gigantic, eclectic treasure chest known as Summer Lights in Music City poured out over downtown Nashville on May 30, starting its 15th annual street party. Hot salsa, country, acoustic funk, classic R&B, western swing, dance, drama, blues, folk and some things unclassifiable were all close at hand. The three blocks of Deadrick Street from the Tennessee War Memorial to the Metro Courthouse were home to nearly 300 acts, spread over seven stages and the street itself.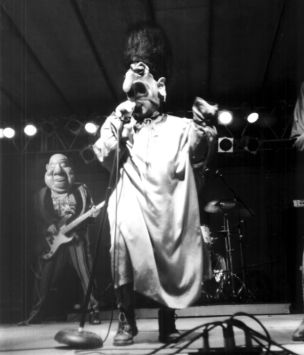 Big Nazo
Several gems could be found and dry weather with temperatures in the mid-70s helped draw a record crowd Thursday night for the search. Certified festival favorite Big Nazo got one of the five smaller stages jumping with uptempo R&B, comedy and great performance art. Costumes with huge noses, loose limbs and oversized heads turned the band into offbeat, fantastic cartoon characters, and fans were still raving about them on Sunday.
Christian pop and rock had its own stage and featured Pam Thum, Ashley Cleveland, Margaret Becker and Code of Ethics. Late night sizzled with blues from Big Mike (6' 10") Griffin and Little Milton, while earlier there was a very poignant tribute by friends of Walter Hyatt, who went down in the May 11 ValuJet crash.
Acoustic songwriters were brought inside the opulent War Memorial Auditorium, and their rich words were not by other stages' mega-amps. On Friday, local, original theater was presented there.
Out on the street, one stage was all urban hip-hop and R&B, with Utopia Stage, GRITS and D'Sauce providing the beat. Toes were tapping at Bada Bing, Bada Boom's western swing show. They even made a Bo Diddley tune swing.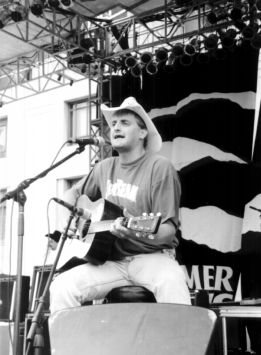 Marty Brown
On Saturday, the toes were more than tapping to the intoxicating beat of Orquesta Mondo Pingus. Maceo, Kentucky's Marty Brown brought traditional country fans lots of boot-stomping fun, with a set containing several cuts from his new release Here's to the Honky-Tonks.
That night, the War Memorial area was jammed with those screaming for Rock 'n' Roll Hall of Famer Sam Moore of Sam & Dave. He danced onstage to his signature tune – "Hold On, I'm Comin'" – and held the mob in the palm of his hand for a sensational 'can't sit down' fifty-minute set.
Rain on Sunday morning kept many away, it cleared in mid-afternoon and the show went on. A variety of dance groups made up of local residents and Vanderbilt University students entertained with ballet, jazz, tap and other styles, including a Hindu worship solo.
Several long-time stars of the Grand Ole Opry brought a loving tribute to Minnie Pearl. Memories and favorite songs of the late, greatly missed comedienne were shared.
Eight-time Grammy winner Ce Ce Winans closed Summer Lights, backed by the Nashville Symphony; and several vocalists, thrilling an overflow audience with a contemporary gospel and pop set. A celebration of love happened when Mom Winans joined her daughter for a spectacular "Great is Thy Faithfulness." Ce Ce sent the congregation away dancing and happy, having 'church' on "I'll Take You There."
For information on next year's celebration, call 615-259-0900 and have as much fun as I did.