An Interview With Uriel Segal
One of the more hopeful signs amidst the recent uncertainties involving the Louisville Orchestra came to light only recently. An LO Board member, unsolicited and preferring anonymity, became convinced that music in our city would benefit from the baton of Uriel Segal, whose conducting finesse is well known world-wide. This Board member came forward and offered to pick up the tab for Segal's stipend for leading our orchestra twice during the recently concluded season and twice again during the coming 1996-1997 season.
Louisville Music News visited with Maestro Segal during his most recent visit to our city. We found him to have a pleasing personality as well as being a highly talented and articulate music artist.
Born in Jerusalem around the close of World War II, Segal began his musical career with the study of the violin at the age of seven. A few years later, he took up the viola and scarcely had he entered his teens, when he decided that he wanted to become a conductor. In addition to his pronounced musical talent, he experienced two remarkable musical assets.
In 1962, when the Israeli Philharmonic found itself without a music director, its board decided to have a season in which an incredible number of maestros with world-wide reputations would be invited to be guest conductors.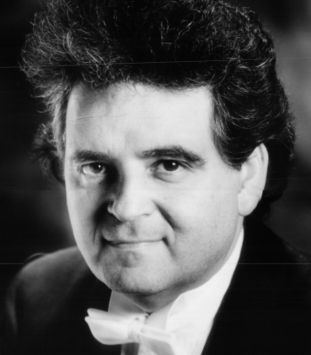 Uriel Segal
I found myself studying the techniques of such men as Carlo Guilini, Anatol Dorati, Josef Kreps and Rafael Kubelik, without the burden of classwork and tests," Segal said. "It was an invaluable experience for anyone with aspirations to conduct."
My music studies in Israel were interrupted by two years in the military," he went on, "where I played in the band. Afterwards, I also studied in London."
The second major musical highlight came in 1969. Segal explained:
My conducting career got a tremendous boost when I entered and won First Prize at the Mitropoulos International Conducting Competition in New York in January, 1969."
This award let me spend a year with the New York Philharmonic as assistant conductor and I received many invitations to be guest conductor in a number of European cities. I still conduct extensively in Germany and have had a regular commitment to the Stuttgart Radio Symphony Orchestra since 1972."
Segal offered this insight from the many different conducting:
The more I have conducted, the more I have found it invaluable to be so familiar with the string section of the orchestra."
Despite this extensive and intensive work with classical music, Maestro Segal says, "I have never had any inclination to compose music."
Your readers should know that in most countries symphony orchestras are struggling," he went on. "For instance, in England, a concertmeister makes only about 1/3 of the salary which he or she would receive from the New York Philharmonic. Most musicians in Great Britain derive most of their income from fees paid from making recording. Yet music has had a distinguished history in the British Isles going back to the visits of such geniuses as Handel, Haydn and Mendelsohn."
You ask if I have any favorite composers? Well, I have a great admiration for Bruckner and Mahler. Mozart is in a class by himself. His 29th, 34th and from the 35th through the 41st are sheer genius; no other word can describe my response to his great talent. It is simply incredible."
Segal does not look into the past only, however. Asked if he thinks today's compositions are on a par with the past, he said:
Yes, there is great music being composed in our day. There is the genius of Olivier Messiaen, who died only a few years ago. There is the work of the Poles Witold Lutoslawski and Krzystof Penderecki; there is the great talent of Toru Takemtsitu."
"I like what little I have heard from the pen of your country's John Adams – and I hope to have more opportunities to play his music." (All these masters except Messiaen have won Grawemeyer Awards - Ed.)
As for the requirements for excellence in conducting, Segal was definitive:
What does it take to excel as a conductor? One has to be able to inspire the orchestra to the exaltation of the music. One has to have high recall, good rhythm and to tune in as the piece calls for either loudness or softness. You have to relate realistically to the various sections of the orchestra. One has to have plenty of good will and to know one's players."
We turned to other aspects of music. Regarding the composers whose works he led, he noted, " Richard Strauss was an artist; he was not a politician. Politics did not interest him, which led him to become somewhat careless during the years of Hitler's Germany. I don't think he was hard core Nazi."
Segal went on to say that despite its title, "death and transfiguration," this work by Strauss is NOT a religious work any more than his opera Salome was."
By contrast, to really appreciate Bruckner's work, one has to recognize that his Catholic faith is almost always a vital dimension in his work. His third symphony, not unlike the Strauss piece, deals with life and death but in almost an entirely different way. This symphony is a demanding work; it lasts 54 minutes. It went through three writings before the Vienna Symphony accepted it."
Perhaps since 1996 marks the centennial of Bruckner's death, this performance is Segal's homage to the composer.