Shenandoah Songwriters/ Tour
It was an irrepressibly upbeat Andrew McKnight who worked the people in the back room of the Rudyard Kipling on Thursday, June 6.
All eight of them. Maybe nine.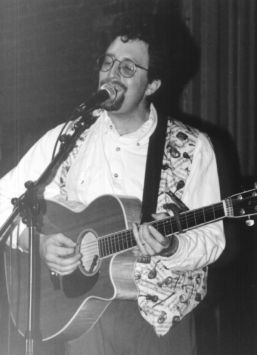 Andrew McKnight
McKnight and songwriting colleagues Terri Allard and Seth Austen were in town during a short Southern tour, promoting a CD apiece. They decided to travel together, combine audiences and, it was to be hoped, make new fans for themselves. Traveling companions can be a comfort as well, especially when the road gets too many potholes in it.
We cheer each other up," McKnight explained and, with three repertoires to draw from, "only the best songs" were played.
And we all sing on the tunes and help each other out," chimed in Terri Allard.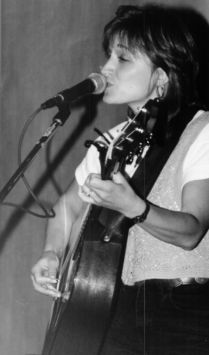 Terri Allard
Working from an In-The-Round format made most famous at the Bluebird Cafe in Nashville, the three took turns presenting the best of their efforts – and mighty good efforts they were.
Seth Austen told a wonderful tale about spending a couple of years in Patsy Cline's hometown of Winchester, Virginia. During that period, the town council debated naming a street after Cline, easily the town's most-famous native. When it was over, the council had decided to name an alley after her.
"And they misspelled it "Pasty Cline" on the street signs," Austen said.
From this experience, he wrote what he called a song about rejection, "Fallen Angel." Austen also played a number instrumental compositions, most from his Turquoise Records CD.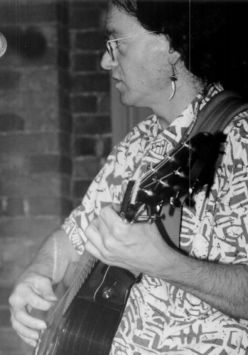 Seth Austen
Allard, a singer with a very smoky voice, preferred to leave her commentary to the lyrics of her tunes, many of which were written from painful personal experience. From her CD, Terri Allard, she sang "Once Upon a Time," about her difficulty in forgetting the past, and "Just a Little Wild," a singable tribute to her just-a-little-wild mother. The smoky chorus of "Good, Good Love" was definitely in the hunt for the best hook of the night.
McKnight, whose day job is as an environmental engineer, writes a lot about places: his own home, towns bypassed by the Interstates, barge workers and the river Atchafalaya, which will one day become the outlet of the Mississippi River. Of the three, I was most familiar with his material, having listened to several of the tunes in songwriting contests. McKnight has a fine CD, called Traveler, on Falling Mountain Music.
After a break, they finished out the night with another set of good tunes, including "Stuck on the Eleventh Step of the 12-Step Blues," an Austen tune which could resonate with many people.
They were headed back to Nashville for a showcase, then it was on with the rest of Southern leg of the Shenandoah Songwriters Tour '96.
Thanks for coming and listening," said McKnight, cheerfully. "We really appreciate it."
And he meant it.