Upcoming Live Music In July
July is Full-Bore Festival Month and the Louisville area is no exception. Besides that, the concert and cool nightclub show schedule is also full up. All this and the Fair isn't even until August.
Bluegrass
The Old Joe Clark Festival at Renfro Valley celebrates Old Joe Clark's 50th year in the business. On July 4, you can hear J. D. Crowe, Lost & Found, Wilderness Trail and New Vintage. Friday. July 5, the lineup includes Vince Combs, the New Coon Creek Girls, IIIrd Tyme Out, the Reno Brothers, Ernest & Elwood and Claire Lynch, plus Old Joe Clark & Terry. Those of you who missed Claire Lynch's show at West Point can make amends by attending this one.
On Saturday, July 6, the show includes Berk Bryant's fave rave Randall Hylton, Southern Blend, Chesapeake, the Lewis Family, Blue Highway and Ernest & Elwood.
Tickets are $29 in advance for all three days, $31 at the gate; $14 for any single day. For the three-day price, you get a free soup bean dinner and jam session, if that tweaks your banana.
If you prefer to listen to your bluegrass indoors, scoot on down Dixie Highway to the West Point Country Opry On July 19 for The Hunter Family, The Lewis Family on the 26th and, if you missed him at Renfro Valley, Randall Hylton on July 27.
Blues
If the blues are cool, why are the best shows in the hottest part of the year? No matter the answer, the schedule for blues is terrific in July.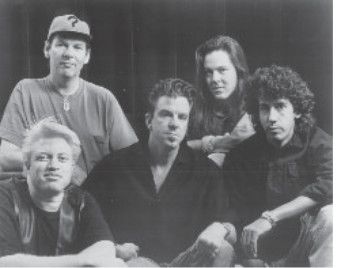 Storyville, not Double Trouble
At the 11th Annual Waterside Festival, the music booking chores have been turned over to Media Events & Howell Productions, with the result that a first-rate blues festival is in the offing for the July 5–7 weekend.
On Friday, Smokey Wilson and Lavelle White will perform on the Main Stage. AOL Blues Diva Beverly Howell has managed to pull together a really remarkable show for Saturday night: fifteen-year old prodigy Jonny Lang holds forth from 7 – 8:30 pm, then former Double Trouble keyboardist Reese Wynans and Big Time bring their roadhouse boogie and jump blues to the stage at 9. At 11 p. m., it's Austin, Texas, all over again when Storyville fires up. In addition to David Holt (ex-Mavericks, Carlene Carter) and Louisville native David Grissom on guitar, Storyville has the rhythm section from the Double Trouble band, with Malford Milligan singing lead vocals.
You don't supppose that Reese Wynans will join them on the stage, do you?
Gosh, that would be the first time both bands have appeared on the same stage at the same time since 1990.
Gol-lee. Could it really happen? There's no guarantee, but hint, hint, wink, wink and I don't mean O'Bannon.
You can log on to their web site for updates at: http://members.aol.com/WSide96/
WSide96.htm.
Over at Stevie Ray's, the quality of the acts, while always good, has been getting better lately, with more national acts coming in. On July 4, James Peterson plays a 9:00 pm show in support of a new CD. On the 10th, Anson & Sam Meyers et al return to town for a Wednesday show. On Thursday, the 18th, Chicago's Phillip Walker makes the 9:00 pm gig and on Wednesday, July 24, Monster Mike Welch comes in to show off his much-heralded chops.
Country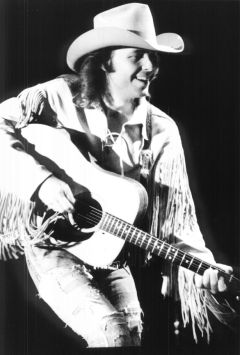 Dwight Yoakam
The country concert of choice for the first part of July is unquestionably the Dwight Yoakam show, with Mr. "Thinkin' Problem" David Ball. All of that happens on July 5 at Freedom Hall.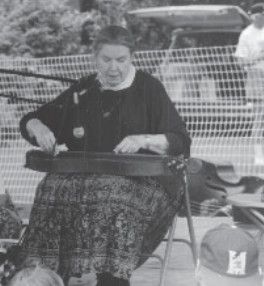 Jean Ritchie. Photo by Beth Moffett
For the last part of the month, the just-announced Lonesome Pine Special appearance by Lyle Lovett is a must-see. Lovett has a new CD, Road to Encenata, to promote, so he's doing two shows at the Macauley, on the 16th and the 17th, at 8 pm. Call for your tickets TODAY.
Get rowdy and get down. All you Hank Jr. fans can see the Legendary Bama Band in action at Colonial Gardens for a mere (and we mean teeny-tiny) $3 on July 3. BlackHawk Xpress opens.
If you're willing to travel, Toby Keith will be playing a show in Owensboro, at the Ramada Resort and Conference Center on the 13th.
Acoustic / Folk
Once more, Richard Van Kleeck takes the prize for wonderfulness for the multiple singer/songwriter show he booked for Lonesome Pine at the Macauley Theatre on July 13 . Scheduled are Gillian Welch & David Rawlings, Kate Campbell, plus Lynn Miles and Guests. There is a considerable buzz about Gillian Welch, and both Campbell and Miles have strong fan followings. If you like well-written original music, well, there's a lot of all around town, but this show gives you the Macauley as an extra inducement. And that "Guests" business could mean some wicked surprise.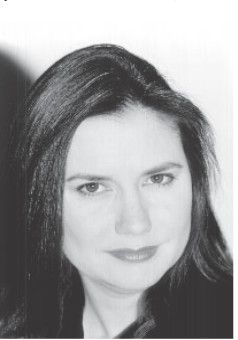 Kath Campbell
The National City Kentucky Music Weekend is set for July 26-28 at Iroquois Amphitheater. This event is in its 21st year and, with a new sponsor, organizer Nancy Johnson Barker is excited about the lineup. Leading the list is Hee-Haw alumnus, banjo wizard and storyteller David Holt. Mountain music maven Jean Ritchie will be making her second trip to Kentucky in as many months for KMW. Also scheduled to appear are Radio Flyer; a reunited Reel World String; the Juggernaut Jug Band; a fiddle and guitar duo, Small Potatoes; Johnson's The Kentucky Standard Band; mountain dulcimer wiz Rob Brereton, and a harmonica and guitar duo Madcat and Kane. All told there will be 30 acts, plus the usual crafts booths, concerts, street dances and workshops and it's all free.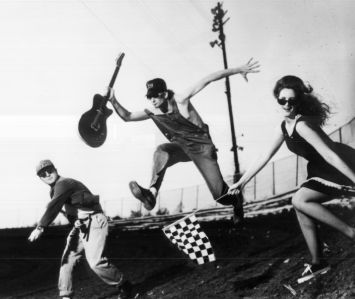 Southern Culture on the Skids
How about Judy Collins at Tom Sawyer Park, with the Orchestra? That happens on July 27. Great show to take the family to.
Jazz
The all-star faculty of Jamey Aebersold's Summer Jazz Workshop will be playing at a concert to benefit the Louisville Jazz Society on Wednesday, July 3, at 8:30 pm at the Silo Brew Pub on Barret Ave. There are so many players that they're divided into groups. Group 1 will be Bobby Shew, trumpet; Jack Wilkins, tenor sax; Mark Levine, piano; Todd Coolman, bass; and Ed Soph, drums. Group 2 will consist of Hank Marr, B3 organ; Eric Alexander, tenor; Kevin Dean, trumpet; Fred Hamilton, guitar; and Steve Davis, drums. Group 3 will feature Conrad Herwig, trombone; Gary Campbell, tenor sax; Barry Ries, trumpet; Andy LaVerne, piano; Lynn Seaton, bass; and Steve Davis, drums.
All that for $9 ($7 if you are a member of LJS).
The Old Seelbach Bar has taken up the torch for live jazz in Louisville in a big way. Dick Sisto has been using his connections to bring in some very interesting performers. On July 5 & 6, that will include Steve Erquiaga, a "great guitarist," Dick insistos,. who was in town with Andy Narell, plus the trumpet meister Gerry Mulligan, plus Barry Ries. With Sisto and Ty Wheeler also in the band, of course. Why bring in all these folks if you can't play with them?
Rock (in all its variations)
All the heavy metal fans will no doubt be in attendance at the Pantera / White Zombie concert at the Louisville Gardens on July 1. Let us rock and don't forget the ear plugs.
Getcher weapons at the ready, the Nuge returns, this time to the Palace on July 5, for an 8 pm show. Bad Company is on the bill in addition to Mr. Nugent.
In addition to their usual lineup of hot Louisville bands, the Phoenix Hill Tavern has several noteworthy shows in July.
Stabbing Westward will be in concert on July 2. On July 12, those food-fightin' fools the New Duncan Imperials make a much-delayed appearance in town, performing with the Krinkles. The next day, July 13, the Last of the Full Grown Men, Webb Wilder, returns to play the roof garden, with Louisville native Sheila Lawrence opening. Sheila called in June to say 'Hi!" and report that she's been plugging away in Nashville, writing songs and networking like mad. So go hear her.
Alternative booking agent & promoter Elaine Ford is bringing back Tuesday shows at the Butchertown. As always, Ford's bookings are intriguing, sometimes dangerous but always interesting. A Texas band called Glorium will be in with Wickeder on the 16th and Paul K and the Weathermen will be there on the 23rd.
Ford has also booked Southern Culture on the Skids into the Brewery on July 30. S.C.O.T.S. has snared a Geffen Records deal and they are touring in support of Dirt Track Date. Baby, you make me want to walk like a camel.
Getting Old Guys (& Gals) Music
On July 25 at Freedom Hall, you can timetrip back into the 70s with a twin bill of Lynyrd Skynyrd and Doobie Brothers.
On Sunday, July 28, go see what the Redbirds publicity guy says they're calling HippieFest. They've got Foghat, Mountain and Iron Butterfly at Cardinal Stadium. Take your kids if you've got the nerve.
Beyond the Fringe
Are you bored, bored, bored with the same all genres of music available in Louisville? Do you wish you could hear something really different and inventive? Well, Bucky, be careful what you ask for, 'cause you can have it on Saturday, July 27, from noon-midnight. It's called the Eclectic Electric Event #1, at the Belknap Playhouse on the U of L campus and the acts include Louisville's Ut Gret and French TV; the Mathematicians from Indy, Quarkspace, out of Bloomington, plus Volare and Boud Deun, of whom I have no information.
Then again, you could go hear Tiny Tim & Brave Combo at the Macauley on July 27 for a Lonesome Pine Special show. They're touring to support a new, joint album. Tim, of course, has no need of introduction and Brave Combo is well-known to fans of North Texas polka bands, so go. The combination should be really, truly remarkable.
Afropop
Wrap up your month with a trip to the Macauley on July 30 for The Bank One Lonesome Pine Special 1996 Summer Concert Series finale, Afropop diva Angelique Kidjo, at 8 p.m. WFPK has been spinning Kidjo's CD lately, so there could be quite a crowd.