Wille Nelson At the Palace
At about a dollar a song for the choice seats, Willie Nelson's June 20 concert at The Palace was an uncommon bargain. In a fast-paced performance that lasted nearly two and one-half hours, the country outlaw offered up hit after hit, all the while waving to the fans and flinging out red bandanas soaked with the sweat of his own brow.
Belying his 63 years, Nelson was lookin' good in a blue-and-white tie-dyed tank top that showed off well-preserved arms many a 40-year-old would be proud to possess.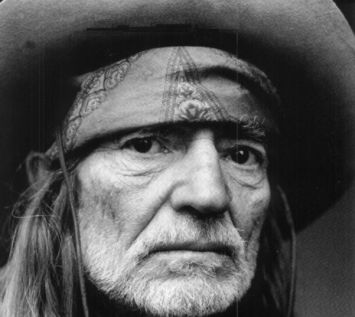 Naturally, he opened the evening with "Whiskey River" and of course his sister, Bobbie Nelson, played a peppy piano solo of "Down Yonder." A rousing "Under the Double Eagle" instrumental was also included as were the super popular "Crazy" and "Blue Eyes Crying in the Rain."
While the audience was more of the sedate, adoring-fan bent, there was heard many an ear-damaging whistle and a few folk couldn't resist dancing in the aisles. (One woman accidentally twirled from her partner's grasp and landed on an amply padded, er, carpet.)
In a nice venue-pleasing touch, Nelson gave several vocal and instrumental solos to his "Kentucky boy" guitarist, Jody Payne. And with "Me and Paul" he paid tribute to his longtime drummer, Paul English.
Although Nelson may not be the best businessman in the world (just ask the IRS), he's way on up there when it comes to writing classic country songs and playing that great beat-up guitar (what a nice sound it delivers, especially on "Angel Flying Too Close to the Ground"). And while he could easily fill an entire evening with quality tunes from his own pen, Willie elects to dip into the rest of the best. From Hoagy Carmichael's "Georgia On My Mind" and Irving Berlin's "Blue Skies," to Kris Kristofferson's "Help Me Make It Through the Night," Nelson sings what works for him, phrasing each song just as he darn well pleases.
He did introduce two or three cuts from Spirit, his debut release on PolyGram's Island Records, and the crowd listened appreciatively. But the evening consisted mostly of the tried-and-true. Others among them were "On the Road Again," "You Were Always On My Mind," "Mamas Don't Let Your Babies Grow Up to Be Cowboys" and "To All the Girls I've Loved Before" (complete with imitation of Julio Iglesias).
Although Nelson doesn't employ witty patter or pyrotechnics, the graying redhead did deliver a couple of high kicks during Payne's instrumental break on "Working Man's Blues."
After the Lone Star and U.S. flags had been unfurled and the house lights signaled no more encores, the tally stood at a whopping 45 songs sung. Could it be that Willie's sweatbands are more than just window dressing?
•
On June 10 Nelson was awarded the TNN Music City News Living Legend Award. Introduced by his outlaw pal Waylon Jennings, Nelson chuckled as he related that he was about to say he was happy to be alive to accept the award, but quickly realized that a person would have to be alive in order to be so honored.