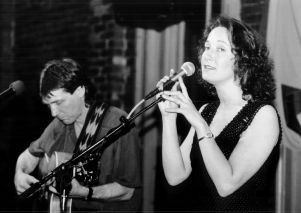 Photo by Paul Moffett
Tocoi Light:
Griffith-Mealy Shine at the Rudyard
By Paul Moffett
It was a family affair in the warm back room of the Rudyard on a Tuesday evening in May, barely three days after Derby. Singer Laurie Rose Griffith, formerly of Shelbyville and Frankfort, was making her first professional appearance in the area since joining up with, then marrying Peter Mealy, folksinger and songwriter. They had been living in Dayton, Ohio, and now were in Fredricksburg, Virginia.
The room was comfortably full; the crowd happy and ready to listen. All that was necessary was to explain exactly what the title of their CD "Tocoi Light" meant.
"It's not a West Virginia beer," Peter Mealy jibed," so don't ask for it in a bar."
Actually, 'tocoi' is Native American term for a mystical light in the sky which can be seen only by those who have been 'touched,' special people for whom the experience is transcendent. It originated in the Beckley, WV, area.
Mealy and Griffith are, in one sense, very old-fashioned performers – they are happy to play songs written by other people, even though Mealy is a pretty fair writer himself. They draw their material from songwriting friends in Dayton and Fredricksburg – Dayton's Bill Dalzell wrote the title tune from their CD – plus such nationally known writers as Cheryl Wheeler, Michelle Shocked and Shawn Colvin. They perform the Colvin tune "Shotgun Down the Avalanche" because, as Mealy said, "Laurie sings it so well."
Indeed. Griffith's voice is the most powerful of their many strengths. Mealy's instrumental work on the guitar and double bass was tasteful and exactly supportive of his partner's singing, as well as his own. Their selection included songs by Cheryl Wheeler, whose "Addicted" and "Aces" were country hits, Michelle Shocked's "Been a Long Way," as well as the old fiddle tune "Devil's Dream."
Mealy's songs also stand up well in the mix. "You Can't Fool the Moon," and "Enough to Call It Love" (co-written with Griffith) are particularly noteworthy.
The other songs on their CD are by 'unknown' writers, i.e., writers without big-time cuts. "Easy Way to Live," by Pat White, is a lament by a waitress seeking a better life, while "My Neighborhood," by Bruce Dalzell, who also wrote the title song, is a tight little description of events in the writer's neighborhood as a child.
Mealy and Griffith are touring to support the CD and indicated that they would return to the Louisville area again, especially with their family connection. It would be worth any folk music lover's while to hear them next time.