Los
Straitjackets
With the microphones nicely tucked aside, the well-polished quartet of masked, guitar-wielding members of Los Straitjackets showed off their (really) unique brand of instrumental surf guitar. Looking like some comic book characters in their Mexican-style wrestling masks, their animated and well-coordinated stage antics made for a visually interesting show.
In between songs, Danny Amis would announce the next selection in – what else? – Spanish, in a "Speedy Gonzales" delivery which gave the show a comedic atmosphere. The guys seemed to really enjoy what they were doing and it was reflected in the music they played.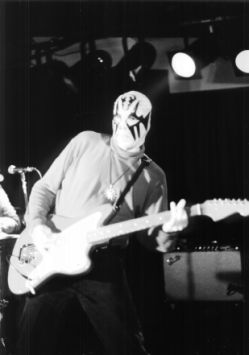 Los Straitjackets' guitarist Danny Amis
Cave Man," "Itchy Chicken" and similarly named songs made most faces at this Butchertown Pub gathering light up with smiles. Others songs prompted couples to get out on the dance floor and strut their stuff.
The twin guitar sounds of Eddie Angel and Danny Amis worked wonders, as Scott Esbeck on bass and L. J. Lester on a minimal drum kit tied the whole thing together.
After the show, the band autographed CDs, LPs, T-shirts and even some Mexican wrestling masks, which were available for fans to buy,
Their new CD, Viva! will be released on June 4 and you can catch their first national appearance on the Late Night with Conan O'Brien show on June 28.
Watch it if you want to see what you missed. I highly recommend it.
Wink O'Bannon's band, the Wink Band, opened.