Upcoming Live Music In Louisville
By Paul Moffett
June brings with it the usual explosion of live music, both indoors and out. This month is particularly rich if nostalgia is your thing, or if you believe that there's no talent like an old talent. There are also several excellent country shows booked into the vicinity, so get a refund on those Branson tickets and catch the music here.
Get rolling right away with a trip to Churchill Downs on June 1 for their "Kentucky Sampler," where you can listen to Mr. Fish and the rest of the Juggernauts, plus the Cumberlands later in the day. Or, if you prefer silky elegance to outdoor authentic, then you can do no better than to have the limo drop you at Louisville Gardens for the Bank One SuperPops Concert with Miss Nancy Wilson. Eight o'clock showtime.
Sunday, June 2, you have hardly a chance to take a break. You can return to Churchill Downs for more Kentucky music or you can hit the Brewery for a dose of Anthrax, - the rock variety, not the sheep kind. They've even got a new album out.
Thursday, June 6 brings us a food drive and country show deluxe, when relatives of people who were on the Grand Ol' Opry come to Louisville Gardens for a "Women of Country" show with three, count 'em, three woman performers: Lorrie Morgan, Pam Tillis and Carlene Carter. Take a nonperishable food item to donate to Dare to Care.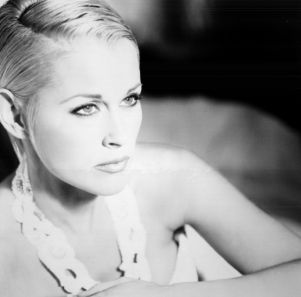 Lorrie Morgan
Still on June 6, there's a triple-bill songwriter show at the Rudyard Kipling, with a trio of writers calling themselves the Shenandoah Songwriters Tour. Andrew McKnight, Seth Austen and smoky singer Terri Allard will play you as many of their songs as you will sit still for.
Saturday, June 8 is the kickoff for the Bank One Lonesome Pine Special 1996 Summer Concert Series and they'll do with a little 'dawg' music - or whatever David Grisman is calling the music is Quartet makes.
Sunday, June 9, make tracks to Central Park for Rohm & Haas: the A.W.A.R.E. Coolfest, with The Spinners and The Wulfe Bros. Or, if you still want free and country, WAMZ' show at Louisville Motor Speedway offers up Aaron Tippin.
The Bellarmine Jazz Guitar Clinic's Guitar concert is on Monday, June 10, at Wyatt Hall on the Bellarmine College campus and you should go. Noted U of L composer John La Barbera has composed a piece in memory of the late Jimmy Raney that will be premiered by the assembled jazz guitar whizzes, including Gene Bertoncini, Howard Alder and Jeff Sherman. A 7:30 showtime means you can still get up for work the next day.
If you haven't had enough multiple-performers shows, take in the Lonesome Pine's "Singer Songwriter Showcase," with Gillian Welch & David Rawlings, Kate Campbell, Lynn Miles and Guests. Gillian Welch has been showing up on the various NPR Triple-A shows later and Campbell already has a following. At the Macauley on Jul 13.
If it isn't hot enough for you, now you can have Canned Heat again - Yep, that band, or at least some of them, at the Backstage Blues Cafe on Friday, June 14. The Legendary Firebirds open.
CityFair is the weekend of June 14-16, downtown Louisville on Main Street and the Belvedere. Hizzoner's crack staff have lined up country hunkster Mark Chestnutt for your Friday night enjoyment. 'Jerry's Jam' with The Supremes featuring Mary Wilson is the big Saturday show, so put on your red dress, baby.
Thursday, June 20, Willie Nelson him ownself comes to the Palace Theatre for some of that Willie-style pickin' and short song signing. In the Palace, that's like a double Dutch chocolate cheesecake with barbecue sauce on the side. . .
The Irish among us have reason to celebrate as the Lonesome Pine Series brings together the Chieftains and Nanci Griffith, at the Gardens on June 20.
Friday, June 21, you have your selection of cool blues. The Backstage Cafe has Robben Ford & the Blue Line w/ B# Sharp, while around the corner at Stevie Ray's Rollin' & Tumblin' Recording Artist Big Al & the Heavyweights will play stuff from their new CD.
Sunday, June 23, do your early summer good deed for MERF and scoot down to the Phoenix Hill Tavern for the MERF Blues & Barbeque, wherein you can stuff yourself silly with a variety of barbecue and hear a variety of the blues. Acts on the roster include The Revelators, The Accused, MR2 Blue and Sue O'Neil & the Blueshounds. $5 gets you in.
More R&B from the old school also arrives on 6/23, in the form of The Temptations and the Four Tops at The Palace Theatre. Will Prince Phillips be there, I wonder?
On Monday, June 24, the Toy Tiger kicks off a week-long anniversary celebration. Among the reunion and tribute bands will be the original Buster Brown, with Johnny Edwards and James Kottack coming in to play again, hey! That's on Wednesday, June 26. The original Fire Dept. plays the night before.
Perhaps you'd prefer some Texas/Louisiana piano boogie? That can only mean Marcia Ball, coming to swing those legs and pound those keys at Jim Porter's on Thursday, June 27.
The Courier-Journal's Jeffrey Puckett already expressed all the astonishment we're allowed over the pairing of Tiny Tim and Brave Combo. Tim just keeps on hangin' in there and anybody who ever heard Brave Combo rip up polka music knows that this is a band worth hearing. "Tiptop Through the Tulips" done polka style should be a real treat.
Late in the month, you can drive down to Freeman Lake in E-town for a country concert with Lari White and Tracy Lawrence on the 28th.
Afropop is the music of the 21st century and Angelique Kidjo plays an accessible and danceable version of the music woven out of African polyrhythms. Go hear her and the band close out the Lonesome Pine Special for this summer on July 30 at the Macauley.
For final excess leading into the blistering July heat, nothing will do but to take in KISS at Freedom Hall on June 30. If you can still move around after that show, your ticket stub will get you into the Tiger for more of the same.