I've Got A Mind To Ramble
Steve James
It was Derby Eve with music and festive parties all around town. The right place to be if you were on Bardstown Road was inside the Fender- and Gibson-covered walls of the Guitar Emporium. This night, the Emporium not only rivaled the Lonesome Pine backdrop but the music as well.
Texas troubadour Steve James performed two brief sets, picking and sliding on his plugged-in resonator guitar. He mixed anecdotes with his songs, like his story of his first encounter with the classic bottleneck guitarist Furry Lewis.
Steve was two sheets to the wind when he came up to Furry in a Memphis bar. Furry, who was also flying several sheets, turned to Steve and stuck out a big glass filled with booze and smeared with cake frosting and said,
"Here, you finish it, they gave me too much."
Steve draws heavily on the legends for inspiration but interprets their music his own way. The most engaging song of the evening was "Downbound Train." Originally a cowboy song about the evils of drinking, Chuck Berry recorded it in 1955 for his After School Session album on Chess, with Otis Spann and Willie Dixon. The song is filled with haunting, mournful images and Steve captured the soul of it.
Jimmy Brown, the proprietor of the Guitar Emporium, was very pleased with the turnout for the KYANA Blues Society-sponsored concert. He said he would like to present more shows, with a little help and guidance.
As for Steve James, just 96 hours before he had been playing a pub in Ireland and the following night it was up to Ohio for a concert put on by the Columbus Blues Alliance.
He closed his last set with Sylvester Weaver's "Guitar Rag."
W. C. Clark
Another Texan, considered by many to be the godfather of the Austin blues scene, came to Stevie Ray's on May 15. W. C. Clark and his band have been on the road the past two-and-a-half weeks, promoting his second release on Black Records, Texas Soul.
As the title implies, this veteran bluesman mixes a mega dose of soul into his music. His smooth voice is somewhere between Sam Cooke and Phillips Walker. His guitar solos show a maturity that recalls Wayne Bennett, T. D. Bell and what Anson Funderburgh is doing today.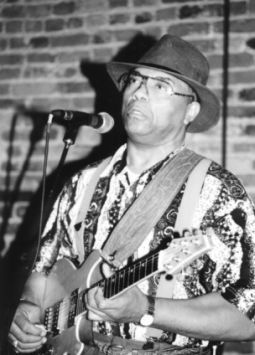 W, C, Clark at Stevie Ray's. Photo by Keith Clements
W. C. is a professional in every sense: starting on time, taking a short intermission between sets and dressing nattily. He delivered such soul standards as "Things Won't Be the Same," "Slip Away," "Something's Wrong With My Baby" and "Start All Over Again."
W. C. used his high falsetto and an easy groove on Latimore's "Let's Straighten It Out," which is on his first Black Top release, Heart of Gold. It was late into his first set that he got into some deep blues with a medley that started with "Five Long Years" and ended with "Drivin' Wheel."
W. C.'s band included Grant Leeper on keyboards, Pete on drums and Brad Andrew blowing some punchy sax solos. Gerald Spencer played five string bass and was on both of W. C.'s records.
Stevie Ray's was an appropriately named venue for W. C., because he befriended a young Stevie Ray Vaughn after Stevie left the Cobras. At the time, W. C. was so impressed with Stevie's energy that he backed him up on bass and they added Lou Ann Barton on vocals to form the Triple Treat Review.
I left W. C. Clarke's show feeling like he had tapped into my spirit.
David 'Honey Boy' Edwards
The Kyana Blues Society will be embarking on its 2nd Annual Bluesland Cruise on May 18, and by a lucky coincidence 'Honeyboy' Edwards will be performing at the first stop at Big Heavy's Blues & Dance Club. He will be accompanied by Rick Sherry, who backs up 'Honeyboy' on harp and washboard. I've seen this Chicago resident via Mississippi legend several times at the Chicago Blues Festival where he will be performing again this year. 'Honeyboy,' now an octogenarian, is one of the last remaining bluesmen who bridges the primitive Delta tradition with the amplified urban blues. His life and associations parallel the history of the blues: when he first hit the road in 1932, it was with Big Joe Williams.
More about 'Honeyboy' and the 13th Chicago Blues Festival next month.