Cowboy Corner
31st Annual Academy of Country Music Awards
The 31st Annual Academy of Country Music Awards, hosted by Faith Hill and Brooks & Dunn, were handed out April 24 in California. Hot newcomer Shania Twain and co-hosts Brooks & Dunn walked off with the most trophies. Twain claimed her first two ACM awards for Album of the Year for her multi-platinum selling The Woman In Me and the Best New Female Artist Award. The dynamic duo walked in with the most nominations and walked away with the top trophy, Entertainer of the Year, as well as the Duo of the Year Award.
Louisville's own Patty Loveless captured the Female Vocalist Award and Alan Jackson was named Male Vocalist. Merle Haggard was awarded the Pioneer Award while redneck comedian Jeff Foxworthy was given the academy's Special Achievement Award for promoting country music.
The winners are:
Entertainer: Brooks & Dunn
Album: Shania Twain's The Woman In Me
Song: Tracy Byrd's "The Keeper Of The Stars"
Single: George Strait's "Check Yes Or No"
Male: Alan Jackson
Female: Patty Loveless
Group: The Mavericks
Duet: Brooks & Dunn
New Male: Bryan White
New Female: Shania Twain
New Group: Lonestar
Video: Jeff Carson's "The Car"
Pioneer: Merle Haggard
Special Achievement: Jeff Foxworthy
Bass: Glenn Worf
Drums: Eddie Bayers
Fiddle: Rob Hajacos
Guitar: Brent Mason
Keyboard: Matt Rollings
Steel Guitar: Paul Franklin
Specialty Instrument: Terry McMillan, Harmonica
Radio Station: KSIX Nashville
Disc Jockey: Gerry House, KSIX Nashville
Nightclub: Crazy Horse Steak House & Saloon, Santa Ana, CA
Talent Buyer/Promoter: George Moffett, Variety Attractions, Zanesville, OH
Congratulations to all the winners!
Clay Walker Diagnosed with Multiple Sclerosis
Giant Records' platinum recording artist Clay Walker was recently diagnosed with multiple sclerosis, a disease which attacks the central nervous system, but he's not about to let it slow him down. His management assures us that Clay is in good spirits and has a good attitude. His doctors expect to treat the disease with medication and it should cause no immediate impact on either his career or his lifestyle.
"This is a lot to absorb," Walker said, "but I think it's important that everybody know that I feel good. I'm looking forward to seeing everyone and I continue to count my blessings."
Best of wishes, Clay!
Country Radio Switches
If you've been ridin' along in that old beat-up pickup truck (yeah, the one with three guns in the gun rack and an old mutt sitting beside you with his tongue hanging out the window sampling the wind) lately and popped that old Porter Wagoner and Dolly Parton duet 8-track tape out long enough to adjust the dial on your radio, then you've probably noticed some drastic changes among country radio stations. WHKW 107.7 FM, "The Hawk," has soared all the way down to 98.9 FM, bumping "Real Country" WKJK all the way to the AM dial, 1080 AM to be exact.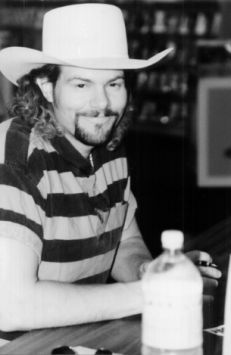 Our favorite Country photographer Letha Marshall caught up with Toby Keith, who was signing autographs for fans at the Disc Jockey Record Store on Shelbyville Road.
Don't get upset already – no country's leaving, it's just shuffling around. All these changes have been brought about by the 1995 Telecommunications Act, which deregulated the TV and radio industry, allowing individual companies to own many more radio stations in a single market than previously. San Antonio-based Clear Channel Communications, which bought 1080 AM WHKW, already owned 97.5 FM WAMZ, 98.9 FM WKJK, and 840 AM WHAS. With these changes, Clear Channel basically dominates country music in Louisville radio and is virtually untouchable.
Country Music at 122nd Kentucky Derby
Louisville's skyline was shining bright with country music stars during the 122nd Kentucky Derby. Flatwoods, Ky.'s Billy Ray Cyrus and Sawyer Brown had Louisville pumped with energy as they motored down Broadway during the Pegasus Parade and later performed at the Philip Morris' annual Festival of the Stars concert. Billy Ray performed hits such as "In The Heart of a Woman," "Some Gave All," "She's Not Cryin' Anymore," and, of course, the multi-platinum selling "Achy Breaky Heart," as well as cuts off his forthcoming new album, including "Harper Valley P.T.A.," written by Kentucky's own Tom T. Hall.
Sawyer Brown, each member of which had been honored as a Kentucky Colonel earlier that day, kept the crowd dancing in the aisles with hits such as "Some Girls Do," "Thank God For You," and even their latest tender ballad, "Treat Her Right."
Other country greats arrived in Louisville for just one reason: the big race, the Run for the Roses. Among these were country crooner George Strait, the Outlaw Waylon Jennings, and Jennings' lovely wife, Jessi Colter.
TNN Music City News Country Awards
Be sure to tune in to the 30th Annual TNN Music City News Country Awards on Monday evening, June 10, at 8:00 PM Eastern time on The Nashville Network and root for Kentuckians Billy Ray Cyrus, Patty Loveless, John Michael Montgomery, and Ricky Skaggs. Billy Ray leads the Kentucky pack with three nominations: Entertainer of the Year, Male Artist of the Year, and Album of the Year for Storm In The Heartland. Ricky Skaggs follows with two nominations: Christian Country Artist and Vocal Collaboration of the Year with Vince Gill and hometown girl Patty Loveless for "Go Rest High On That Mountain." John Michael Montgomery will vie for Video of the Year with "Sold (The Grundy County Auction Incident)," which was filmed near John Michael's home in Nicholasville, Ky.
Congratulations and good luck!
Hot New Country
Your favorite local record store is running over with brand new, hot country. George Strait's Blue Clear Sky has finally hit the streets. Non-conformist traditionalist Junior Brown is back with Semi-Crazy. Hot newcomer David Lee Murphy follows up his debut album, Out With A Bang, with Getting Out The Good Stuff, which includes "Every Time I Get Around You."
Vince Gill's High Lonesome Sound is now available and not only includes the radio-edited title-track, but also a bluegrass version with bluegrass diva Alison Krauss joining in. Fans of Rhett Akins' latest release, "Don't Get Me Started," won't want to miss his new album, Somebody New. Kenny Chesney's sophomore effort is titled Me And You.
Neal McCoy's latest, self-titled album includes a beautiful remake of The Casinos' 1967 hit, "Then You Can Tell Me Good-bye," and will soon be available. Also be on the lookout for his new video, which was filmed in the midst of Alaskan glaciers. Country songstress Lorrie Morgan is back with a brand new collection, which includes her duet with Jon Randall.
Upcoming Live Country
The "Women of Country" are going to take Louisville by storm on Thursday evening, June 6, when Lorrie Morgan, Pam Tillis, and Carlene Carter blow into Louisville Gardens. You definitely won't want to miss this history in the making. Lorrie (daughter of George Morgan), Pam (daughter of Mel Tillis), and Carlene (daughter of June Carter Cash and Carl Smith) all grew up backstage at the Grand Ole Opry and will now be sharing a stage for the very first time.
If free is more your price range for a concert, then you're in luck. Mark Chesnutt will be performing Friday night, June 14, at the "Country Jam," as part of the 10th annual Louisville CityFair on the Riverfront Plaza's Belvedere. You just can't beat this price for fine country tunes like "Too Cold At Home," "Old Flames Have New Names," "Blame It On Texas," and "Wings."
The "redheaded stranger" himself, Willie Nelson, will be appearing at the Palace Theatre at 8:00 PM on June 20. Willie will be sure to include his classic hits: "On The Road Again," "Whiskey River," and his number one smash hit with fellow outlaw Waylon Jennings, "Mammas Don't Let Your Babies Grow Up To Be Cowboys."
Pikeville, Ky.'s own Dwight Yoakam will bring his own blend of honky-tonkin' Bakersfield to Freedom Hall on July 5. You can bet your bottom dollar that Dwight will have the crowd rocking with hits such as "Guitars, Cadillacs and Hillbilly Music," "Little Sister," "Turn It On, Turn It Up, Turn Me Loose," "Ain't That Lonely Yet," and his recent hit, "Nothing." Appearing along with Mr. Yoakam will be Mr. "Thinkin' Problem," David Ball.
Well, that's it for now. Always remember, keep your boots shined up and your hat on straight, 'cause country music is comin' your way.