Tangerine Trees and
Marmalade Skies
The Fab Four are all the rage once again with their new releases of some previously unheard material. Reportedly, a condition for granting permission to issue this material was a stipulation that there would be no censorship. Few are aware that in the mid '70s the Beatles recorded their composition "Give Ireland Back to the Irish" on their Apple label. It was banned by Her Majesty's Government forthwith. Knowing that would likely be the case, the boys from Liverpool released it as a 45 only so that other material would not suffer the same fate. Here in the land of the free, we do not have to worry about such mind control, do we?
"Beatle" at Kentucky Scottish Weekend
The Kentucky Scottish Weekend at General Butler State Park was inundated with rain on Saturday. Fortunately, the organizers had the foresight to have plenty of large tents situated adjacent to pavement so the actual disruption was slight. The drumming competitors were fortunate to be judged by none other than Andy White a.k.a. "Beatle for a Day." Andy was a young Scottish studio percussionist whose wife was a Liverpool singer know to Beatles producer George Martin. When it became apparent that Ringo wasn't up to snuff on a couple of tracks, Andy got the call to sit in. The rest is history. Andy now travels Canada and the USA judging pipe band drumming and teaching from his New Jersey music shop along with Joe Morello of Dave Brubeck Quartet fame.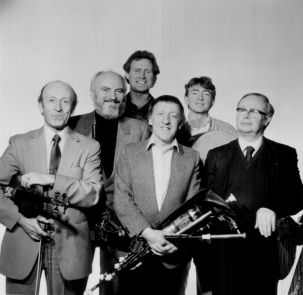 The Chieftains, will appear at the Louisville Gardens on July 28
Rick McKenzie, "lead tip" of the Louisville Pipe Band was awarded "Drummer of the Day" and received a huge trophy. The award was well-deserved as Rick has set a new standard of excellence for our local drummers. The Grade 5 band is on its way to the Gatlinburg Highland Games and the Grade 4 band will be traveling to Michigan for the Alma Highland Games. Both bands will join the rest of the LPB for the Glasgow (Ky.) Highland Games on June 1. (The Grade 5 band won First Place .)
The Chieftains are coming
Once again Rock is on bended knee before Sir Richard Van Kleeck at the Kentucky Center for the Arts for bringing to Louisville the Number Uno Irish music group. On July 20 the Chieftains will be joined by Nanci Griffith and her band (alone worth the price of admission) at the Louisville Gardens. Attendance is mandatory for all Celts. Don't dawdle by the fire and miss your tickets. Call KCA now! Two free tickets will be raffled at the Celtic Centre on Chenoweth Lane. You have to sign up by July 19 to be eligible.
Kentucky Folk Music Festival
Now under improved management at the KFMF at Wickland Estate in Bardstown May 31, June 1–2 offers Celtic cross-overs Nancy Griffith and Maura O'Connell as well as Kentucky's finger-style "guitar czar" Pat Kirtley. Louisville's own Rashers will be performing at 2:15 and 5 p.m., Sunday, June 2. For information and tickets, call 1-800-638-4877.
Grand Diversion — The Irish Derby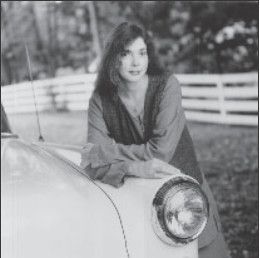 Nancy Griffith will appear at the Louisville Gardens on July 28,
The Irish Rover will be celebrating Ireland's preeminent equestrian event with a big screen video of the race on Sunday, June 30, under a big tent, beginning at 11 a.m. with an Irish breakfast buffet featuring music by the Pauline Conneely Trio from Chicago. From 1 to 9 p.m., there will be a kids' festival, an Irish marketplace and "wagering" on the races. "Irish Derby Eve" on Saturday, June 29, will feature Louisville's own Rashers and Galloglas mixing sets between 5 p.m. and midnight.
Picture Yourself in a Boat on a River
If you would rather dine while cruising along the Cincinnati skyline, you can board ship in Covington on June 30 and be serenaded by Galloglas at the 5th Annual Irish Evening on the Ohio. Call 1-800-600-5677 for more information and reservations.
Dancing with Ghosts/Somethings are Rockin' in Denmark
Ten Penny Bit will be a twangin' for the Cumberland Gap Civil War Re-enactment June 15-16. Call Robin at (502) 448-0700 if you want to enlist. A fond farewell to the mighty TPB as they depart for a two week tour of Denmark.
And the Band Begins to Play
Rock has it on good authority that we can expect to see changes in musical format (to Celtic rock) and personnel with Fianna Rua, Lexington's only working Celtic band.
In Louisville (and the surrounding area), any musicians wishing to explore Celtic music can call 897-9050 for possible collaboration.
In any event, do not miss the next Celtic Jam Sessiun at the Rudyard Kipling, Friday, June 7. Tah, tah!