Go, Cat, Go! The Life and Times of Carl Perkins
Hyperion, New York
By Carl Perkins and David McGee
Reviewed by Jean Metcalfe
What if?
What if smart-dressing C.V. "Champagne Velvet" White hadn't wanted to impress the women of Munich, Germany, back in the Fifties? And what if White hadn't asked Air Force friend Johnny Cash to check out his attire before leaving the base on a three-day pass? Furthermore, what if White hadn't pointed out that the shoes he was wearing with his Air Force blues were not Air Force black?
Listen up, children.
Cash later told Carl Perkins about White's blue shoes and suggested Perkins write a song about them.
And so Perkins wrote "Blue Velvet," right? (Sorry, I couldn't resist.)
Actually, Perkins blew off Cash's suggestion, several months passed, the Perkins Brothers Band played a college gig in Jackson, Tennessee, a handsome couple bopped to the music, Perkins finished a tune, the male half of the couple said angrily to his partner "Don't step on my suedes!," the coed apologized, the couple danced some more, and the band quit at 1 a.m.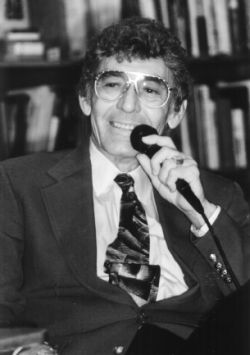 Carl Perkins spoke to the fans who came to Hawley-Cooke Booksellers for his book-signing. Photo by Letha Marshall
GO, CARL, GO!
Interview with the King of Rockabilly
On his decision to write "Go, Cat, Go!":
"It was something I thought I never would do."
When Hyperion contacted Perkins about two years ago, he told them, "Everything I know wouldn't take up three pages." But his wife insisted that he do it, "And [author David McGee] wound up . . . with a hundred and twenty-seven or -eight hours of me talkin'."
On Bob Dylan:
"He's a very intelligent, strange . . . he is different than anybody I ever met . . . he'll say, 'Carl, let's talk.' But he don't talk, you know. He just wants to hear what other people say. If you ask him something, he'll answer. Otherwise he'll listen."
When Perkins was in New York City in January of '92, Dylan visited him in his hotel room. Dylan had on "a green surplus army coat. Fit right in with the New York street crowd. Nobody recognized him. Had an old black toboggan on his head." Perkins extended his hand, but Dylan hugged him instead, saying, "Man I'm so glad to see you. You gotta beat this [throat cancer], you know you are."
Perkins continued, "And he pulled out a little red jewelry box. It wasn't wrapped. It was the way somebody like him would do. Handed it to me . . . we kept mashing around on it and couldn't get it open (laughs) and you push the button from underneath, so the top flew open and this little guitar was there . . . I kinda teared up a little, and I said, 'Gosh, Bob, I'll always keep this. Thank you, man. That's real nice.'
"He said, 'There's three things about it. One is for beatin' cancer, two is for getting there, and three is for gettin' back out here where . . . . (the melancholy recollection ended mid-sentence.) He's really a sweet guy." (Perkins was wearing the guitar pin on his maroon jacket at the Hawley-Cooke signing.)
On how he'd like to be remembered:
"Thank God, with his blessings, fifteen years ago I did the best thing I ever did in my life, and that is be concerned enough to start a child abuse center in my hometown (the Carl Perkins Center for the Prevention of Child Abuse in Jackson, Tennessee). And since then I can lay down at night knowing that that center is showing children . . . what love is. And then I hope that . . . other people will feel the same way. We can all do something about what's wrong. See, we live on the same dirt that our forefathers did. And love is God . . . . People are after material things. We're in a mad rush to have the biggest car and the biggest house. But if you ain't got love, you ain't got nothing."
At home in his bed in a government-subsidized housing project Perkins lay awake at 3 a.m. recalling the scuffed shoes scene. He also recalled Cash's Air Force story and C.V. White's admonition to Cash: "Don't step on my blue suede shoes." Perkins eased out of bed, crept down to the living room, picked up his Les Paul, and strummed an A chord . . . .
Perkins would later say that he "felt a song writing itself."
And that song, children, was "Don't Step on My Blue Swade Shoes."
Sam Phillips shortened the song's title to "Blue Suede Shoes"; Perkins' wife, Valda, corrected the spelling. ("And I still think s-u-e-d-e spells sue-id," Perkins joked at his May 14 book signing at Hawley-Cooke Booksellers in St. Matthews.)
On the den wall in his home in Jackson, Tennessee, there hangs a gold record for "Blue Suede Shoes," the only one Perkins has ever received as a recording artist. Framed alongside it, on a brown paper bag that once contained three Irish potatoes, is pencilled Perkins' original lyric to "Don't Step On My Blue Swade Shoes."
•
Carl Perkins has not had an easy life; even Job himself would not have traded places with the guy. From the cotton fields of Tennessee to the studio of Sun Recording; from honky-tonks with chicken wire that protected the band from airborne long necks, to the Rock and Roll Hall of Fame, Carl Perkins has just about seen it all. This sharecropper's son grew up picking cotton and listening to the music of his black co-workers. (One of them, Uncle John, helped him improve his cotton picking -- and his guitar picking.)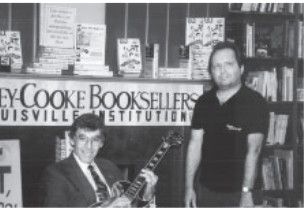 Carl Perkins picks a little on the guitar Rusy End, right, brought to be autographed.
While Perkins' passion for music was stoked by Grand Ole Opry stars Roy Acuff and Kentucky's Bill Monroe, it was Uncle John who put the soul in 6-year-old Carl Perkins' fingers:
"Well, chile, lean your head down on that guitar. Get down close to it. You can feel it travel down the strangs, come through your head and down to your soul where you live. You can feel it. Let it vib-a-rate."
•
Now, at age 64, Carl Perkins has conquered the bottle and the Big C, has written a most interesting book about his most interesting life, and is in the middle of recording a star-studded album. (Make no mistake, children, Perkins didn't ask the artists to do this album; his record label extended an opportunity to them, and they accepted.)
Willie Nelson, Johnny Cash, Paul McCartney, and John Lennon have already recorded their cuts. That's right, John Lennon. The late Beatle did a live recording of "Blue Suede Shoes" after the Fab Four broke up, and Yoko Ono has given Perkins permission to use it on the album project. With Ringo and George also on board, it could be said that Carl Perkins' album (due out before September 1 to qualify for this year's Grammy awards) has reunited the Beatles.
Ray Charles, Bob Dylan, Paul Simon, Brenda Lee, and Garth Brooks will add their voices to the project, with recording scheduled to begin June 1.
(In a pre-signing interview Perkins poignantly recited a lyric that he had written about firemen; Brooks will complete the lyric and record it for the album.)
•
A very small sample of the fascinating things in "Go, Cat, Go!" includes:
• In January of 1992, while Perkins was in New York City for an industry reception in his honor, Bob Dylan invited himself up to Perkins' hotel room and brought along a very special present.
• A conversation between Perkins and Elvis Presley in the fall of '55 revealed that they shared a favorite song: Red Foley's "Old Shep." (Foley was born in Blue Lick, Ky.)
• In 1956 Sun Recording's Sam Phillips ceremoniously presented Perkins a brand new Cadillac on the occasion of "Blue Suede Shoes" being a certified million seller. Perkins later discovered that Phillips had deducted the price of the Cadillac from his artist earnings.
• Once, in San Diego, Johnny Cash had to convince a very sick (from a four-day drunk) Carl Perkins to fulfill his obligation to open Cash's sold-out show. Perkins finished his set, downed a pint of Early Times and passed out on the bus. The next morning Perkins started a journey on the road to lasting sobriety. (The book contains a very funny quote by Harold Reid of the Statler Brothers regarding Carl's account of that milestone.)
• The Beatles recorded more of Perkins' songs than those written by any other artist: "Matchbox," "Honey, Don't," and "Everybody's Trying to Be My Baby."
• Louisville's Pee Wee King (with his Golden West Cowboys) was one of the many artists who recorded versions of "Blue Suede Shoes." (Pee Wee's wife, Lydia, recalled in a May 22 phone conversation that "It was so successful with them -- I don't know how many they sold -- but everybody thought they wrote it, they featured it so much on their TV shows, and on the road, too. I think it's a great song.")
• The Kentucky Headhunters recorded a neutered version of Perkins' "Dixie Fried."
• Louisville's Steve Ferguson played a prominent part in a 1969 Carl Perkins and NRBQ album, Boppin' the Blues. (In a phone interview with Steve on May 21, he recalled that he [Ferguson] was very sick with "strep throat or something" and that a doctor had to be called to his hotel room. "Through all the tunes that we recorded," he said, "I was just kinda sitting there miserable, and trying to get into it at the same time." But Steve did recall that "Carl was a real, real nice guy . . . as nice a guy as everybody says that he is. . . . You feel completely comfortable with him. It didn't at all feel like you were sitting with a star. I mean, he felt like he was your dad or something . . . I was only, like, 19 at the time.")
• In December of '91 Perkins, still recovering from throat cancer, joined The Judds onstage in Murfreesboro for the duo's final concert together. As he had done on their hit single, Perkins played guitar for their performance of "Let Me Tell You About Love." (The Judds hail from Ashland, Ky.)