Alan Rhody and a "Music JonesAlan Rhdoy"
By Wally Stewart
Louisville native Alan Rhody's country/folk songs have been a large part of the "Music Jones" I'm blessed with. His quarterly shows at The Rudyard Kipling have fed my hunger many times and I got fat again on April 27.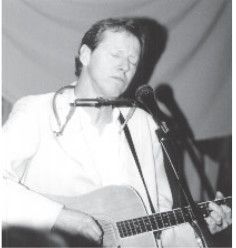 Alan Rhody
Rhody was aided by local bassist and vocalist Larry Colburn, who is an alumni of Alan's "Rear View Mirrors" band from a decade ago and more recently was in the defunct Uncle Pecos, and Nashville's Susie Monick, banjo, acoustic and electric mandolin, and concertina. (Alan, sign them to long term contracts!)
The blond chanteuse backed Rhody with a Kim Carnes-tinged voice and lots of filling, instrumental ear candy. Her mandolin added a touching, plaintive voice to old favorites "I'll Be True To You" and "White Roofs, Grey Streets," and tore up the stage on others. On "Trainwreck Of Emotion," her mandolin complimented the men's driving guitars and when Alan blew a mournful harp solo, I expected "Old #9" to crash through the brick walls.
Several tunes from previous releases and the recent From A Real Good Home were featured, along with Rhody's gorgeous new love poem, "Path Of The Moon."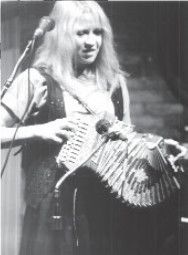 Sisie Monick took a lead on the concertina
This gifted writer works hard to give his fans more than their money's worth and the band had them clapping, shouting and grinning on rollicking covers of "Muleskinner Blues," "Timbrook and Molly" and Dylan's "Leopardskin Pillbox Hat." Alan yodeled on "Muleskinner" and dedicated it to his brother Richard, who was present in the sizable crowd, saying he was "An old muleskinner from way back!"
The feeding lasted nearly three hours and I waddled away with my "Jones" close to bursting. Monick and Colburn greatly enhance the songs and a performer I already enjoyed, and I'm sure "J" will be ready to gorge again the next time Rhody comes to town.