It Was a (Beach) Ball
Wilson definitely seemed to be an appropriate surname for the singer at center stage; it was, after all, the 4th Annual Bartenders' Beach Ball. But the Wilson at the microphone wasn't one of the fabled Beach Boys of California rock fame, even though he did grow up in the Golden State.
Kim Wilson, soulful singer and blues harp player; and his four fellow T-Birds put on an energetic show for the Feb. 18 Easter Seals benefit. And they managed to keep the Commweath Convention Center's dance floor bustling despite and array of food and potables beckoning from numerous bars and buffet tables in the spacious Monte Carlo ballroom.
''Black tie or best beach attire" was the stated dress for the evening. Both options were represented. And that was just on this one guy. Nyuk, nyuk.
Indeed one could see several gents who were formal from neck to tails' end, swim trunks and sandals or Nikes rounding out the ensemble.
The Ball began with a libation and a round of tasty appetizers on the Riviera Piazza — the Jalapeno Poppers were hot and hot— then moved into the ballroom for Mediterranean Delights (too diverse to mention), followed by coffee and desserts at the Moonlight Piazza. .
Backpack booze was available through out the evening and included assorted beers and a little concoction called Jack Juice (pineapple juice with not just a hint of a famous whiskey from our neighbor to the south).
With roulette, craps, poker and blackjack in a side room siphoning off some of the after dinner crowd, Joe Ely kicked off the musical entertainment in the main room. Accompanied by two talented sidemen, Ely's 35-minute acoustic set, which included songs from his new album, Letter to Laredo, virtually flew by. A 45-minute set would come later in the evening.
Incorporating past favorites and new tunes from their current — and appropriate to the occasion — album Roll of the Dice, the T-Birds followed with an hour-long first set that was likewise over in short order. Die-hard partyers would later be the lucky beneficiaries of a final 90-minute set.
Next year, when the winter doldrums have clobbered you like an avalanche, grab your favorite newspaper (hint hint) and look for the announcement of the 5th annual Bartenders' Beach Ball.
Then lay out your tuxedo ... and limber up your flipflops.
Congratulations to Hyatt Regency, Louisville's Brian P. Unwin, 1996 Bartenders' Beach Ball Chairman, on a successful evening.
Of the funds raised for Easter Seals, 99% stays in Kentucky and 80% is spont on direct service programs.
Sponsors for the 4th Annual Bartenders Beach Ball were Miller Beer, Philip Morris USA, Casion Aztar and Rocket Man, plus a lengthy list of supporters and special friends.
• An Interview With Kim Wilson •
Kim Wilson had just walked in the door of his Ft. Wayne, Indiana, hotel when he took my Feb. l5 call. The Hoosier city was a stop on The Fabulous Thunderbirds tour in support of their current album, Roll Of the Dice. Three days later they would be performing at the 4th Annual Beach Ball in Louisville.
What is the most fabulous part of being in The Fabulous Thunderbirds?
"Well, really I think it's the … for this kind of music ... I think it's the premier gig to have."
The T-Birds have been "up and down established — you're really only as established as (tired chuckle) ... you know, it's definitely what have you done for me lately, all over the place. But it's been an entity for 21 years."
Roll of the Dice, the T-Birds ' current album, hit No. 7 on the blues chart shortly after its release in August of '95, but sales have since tapered off.
"That's why we're on the road so much. We re out there showing everybody what we've got, 'cause [the album] is a new thing, pretty much, and it's one of those deals where we got some pretty good Triple A airplay. But we really want airplay across the board; that's what we're going for. We don't feel like we're really being looked at for what we are, so consequently we're taking our show out on the road a lot, and telling everybody out there to help us buck the system. And they're joining us."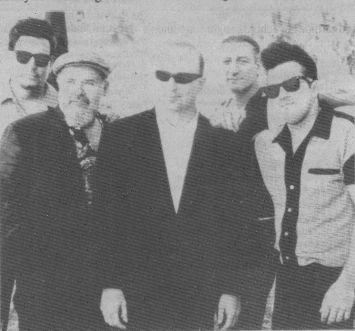 The Fabulous Thunderbirds, from left, Willie J. Campbell, Gene Taylor, Kim Wilson, Fran Christina and Kid Rams. Photo by Marcus Cuff
Wilson picked up harp in high school, and although he no longer recalls the precise moment when it happened, he does know that "a month after [that] … I had a band … I've been playing for 28 years now."
A co-writer on seven of the twelve cuts on Roll of the Dice, Wilson spoke about writing songs.
"Well, a song is really like almost having a child, to me. There's a few people who are more prolific than myself, although a write a lot of songs. Maybe it's a little more impersonal to them, but to me every songs as a very special thing … And I'm a stickler on making it exactly right and having it come exactly how it is in my mind. The most satisying part is seeing it happen that way. Seeing it evolve and finally be on a recording ... and if it's close to the way you envisioned it, that's the best. "
Wilson said that he usually does his songs in spurts of inspiration, but admited when asked, that he sometime has to discipline himself to write when it's time to record an album:
"But usually it's about a couple of weeks before, and I just have a giant spurt of energy. Lots of times what I'm doing then, though, is finishing up a lot of unfinished things. 'Cause I'll have eight or ten songs going on at once. And most of them will be unfinished for a long time. And so when it comes time to record I'll just finish them up. Lots of times that's when I'll go to a co-writer and say 'Here's what I have.' And it's a good idea, and [the co-writer] might even be someone who is more of a musical person than a word person. And just to be in the good company, lots of times I'll just come up with the words right then, and with a few catalyst lines coming in from the other guy ... it just happens real fast. ... You have to have a lot of respect for the person you're writing with. You can't just go and write with any body."
Does Wilson tailor each performance to the specific town the T-Birds are playing in?
"Well, I do something different every night. I don't really consider the place I'm playing when I do it. Lots of times I don't even know where I'm going until the night I get there. I just don't look at the interary anymore. You when when they tell me Louisville ... I've had great times in Louis ville. That's what I think of: 'Oh, this is gonna be a killer gig, wow, fantastic,' you know. But every night, [I do] something different. I don't stick to the set list at all."
Was the T-Birds' performance at one of President Clinton's inaugural balls a nice gig, a fun gig? Was it a good audience?
After a long pause, Wilson laughed, then carefully weighed his words: "It was nice playing for President Clinton. It was an honor to do it ... I wouldn't call it an ideal gig, no. It's a little stuffy. It was an honor to do it, and I would love to do another one."
Have the T-Birds ever been in a situation where the audience wasn't responding to their music?
"Well, rarely."
What do they do when that happens.
"I think we're pretty much compatible with anybody now, but in the past, we were put in with people maybe that the tow [music styles] didn't go together ery well and we were the opening act. And if they (The audience) were little blasé, you, you would try and rock 'em or if you had a hit you'd try to hit 'em with the hit, of course. If that doesn't work, then you just ... yeah, there's a number of little tricks you can pull, you know. They always seem to like the harmonica instrumental ... We've been very lucky in that respect., I think I've had things thrown at me, like, twice in my 28-year career, so ...
"It's no fun to get things thrown at you, believe me," he laughed.
We talked about instances where an audience enjoys the opening act more than they do the headliner.
"That has happened, There's nothing worse for a headliner to see than the other band getting all the press the next day in the review. l got kicked off a couple of tours because of that... lf you're opening up for somebody, you're definitely not going to turn the other cheek, and just lay down….You get up there and do the best thing you can do. And if you're in an opening slot you've got a lot more to prove, don't you? So, that's a really good motivation for me ... Muddy Waters used to always tell me, 'Oh, I'd much rather open up for somebody."'
It's hard to top a quote from Muddy Waters/