Bluegrass Beat
Otter Creek Crisis
A big question has been put to me quite a few times recently. The answer will, in turn, bring about an even bigger question and one not so easily answered. Or perhaps it will be too easily answered. First question: What about the Otter Creek Park Bluegrass Festival, and who are they going to have this year? First answer: It isn't going to be.
Then the questions really follow and they all boil down to What? Why not? It seems, as best I can tell from what I hear, that properly placed folks in city government do not have the vision to see that given sufficient growth opportunity, the Otter Creek Park Bluegrass Festival has everything going for it to become one of the top bluegrass festivals in the country. The festival has shown growth each year and has drawn worldwide attention to Louisville and Kentucky. Just to mention a couple of examples, the festival has drawn visitors from both Australia and Japan, It was, in fact, included as part of a Japanese TV documentary on bluegrass music. The Japanese love bluegrass music and have brought some large investments to Kentucky.
The scenario almost seems to go sort of like this: Well, we got rid of that festival that drew thousands to Louisville when that chicken outfit had it. We let the International Bluegrass Music Association get established in Owensboro so we wouldn't have to be associated with it. I hear they may move that bluegrass music museum they have established down to Nashville. Let's keep quiet about that one; we certainly. don't want it here. After all, we've got our priorities.
There's that $30,000 bus stop sheIter, a $100,000 donation to that other museum and a few other high priority projects that certainly are far above and beyond those bluegrass people.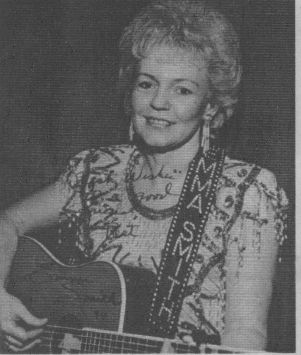 Emma Smith
OK, scenario aside, Otter Creek Park is one of the best sites I have been to for a bluegrass festival. When you walk into that clearing it just looks like a bluegrass festival. The camping facilities, the availability of the restaurant, the location, accessibility and everything about it makes this one of the ideal places in the country for an event of this kind.
Like any new venture,_ it takes time to grow. And it will grow if it is not cut off at the vine just as the blooms are beginning to open to their fullest. Yes, it takes some investment of time, great effort and moneh. Nothing worthwhile was ever gained without these ingredients.
I would urge all true believers and dedicated fans of bluegrass music to express themselves; make their feelings known.
Make them known by phone calls and letters. Do nothing, and it is even more certain that one of the absolute best bargains in bluegrass festivals and family entertainment will go away. Talk is cheap; action requires a little effort. It depends on you!
Final Question: Why did I write this?
Final Answer: It's disheartening to see something with so much promise and potential to benefit so many, something that so much hope, effort and dedicated work has gone into, just casually eliminated because of the personal dislikes and prejudices of a few.
They Believe In Bluegrass
Who is coming to the area this month? At Shepherdsville Country Music Place: March 1, Petticoat Junction; March 8, The Sand Mountain Boys; March 15, John Cosby, Charles Hall and the Bluegrass Drifters; March" 22, Tommy Brown and County Line Grass.
The West Point Opry will have New Kentucky Blue on March 1; Continental Divide, March 15; New Traditions, March 22; and The Dry Branch Fire Squad, March 29. As of this writing no show is scheduled for April 5. Schedules are subject to change.
From the Mall Bag
I had a nice card from The Old Time Music Group. These folks are another example of the really nice folks in this music business. I first heard them and have gotten acquainted with them at the Norris, Tenn., Museum of Appalachia. They were also on the TMA awards show last April at The Ryman.
The card was to let me know that, "We've met many folks who have recognized us from their listening to your program (on WFPL) where you are playing our tapes. We've been told we have quite a following in the Louisville area." It goes on to send greetings to all of our listeners and to say they may be performing in Lawrenceburg, Ind., in April. They will keep me informed about this.
l really enjoy getting feedback such as this. It helps us all — the artists, _me, and uItimately you the listeners when you let the artists know they have been played. Thanks. These are the kind of. things that help to continue to make it all worthwhile. This is support.
I recently received a newsletter from The Rosine (Ky.) Association, Inc. It seems that a lot of plans are being made for Rosine. From a press release by The Rosine Association, Inc., (TRA) comes the following.
"The mission of TRA is to establish Rosine, Kentucky, as the Birth Place of Bill Monroe and to the style of music known as Bluegrass. To build a monument and museum in his honor.
All members of the Association are volunteers and all money collected will go towards building the monument and to the revitalization of Rosine, Kentucky."
TRA offers for sale, spaces on the Bill Monroe Monument. For more information write The Rosine Association, Inc., P.O. Box 400, Rosine, KY.
For the Record
l have a new tape from Emma Smith: Emma Smith and Teddi Caldwell, The Mighty Captain. It is a gospel tape, out on the Old Homestead label. Most of the numbers were written by Emma or Teddi. The folks helping out on this tape surprised me. There is Emma Smith, of course, Teddi Caldwell, Johnny Bellar (dobro and bass), and mandolin, guitar and harmony vocals by Randall Hylton.
Emma is a truly nice little lady I met in Charlotte, Michigan, a few years ago.
She is a gooood writer (that's an Al Pernell gooood), and a hard-working good performer. I have been playing this tape Sunday nights (Sunday Bluegrass, 8-11 p.m., WFPK, 91.9 FM) since I got it.
Songs on the album are "The Mighty Captain," "Beyond the Cross," "Paul's Ministry," "Willow Tree," "Heavenly Father," "Let's Talk About Jesus," "High and Lifted Up," "Satisfied," "White Line," "I Want to Go Home" and "Joy In the Lord." If you like good gospel (and a lot of folks here do), if you like Emma Smith (and a lot of folks here have told me they do), then you will like this tape. It can be ordered from Old Homestead Records, Box 100, Brighton, Ml 48116.
Questions I can answer, comments or whatever, write them in to me at Louisville Music News, 7505 Cambridge Drive, Crestwood, KY 40014.