I've Got A Mind To Ramble
Jimmy Rocks This House
Jan. 29 was a special blue Monday of vintage Chicago Blues with the Jimmy Rogers Blues Band, plus a last minute substitution of Joe Willie "Pinetop" Perkins. This memorable event was a part of the Backstage Eclectic Series, which will feature guitarists Tinsley Ellis and Kenny Neal on Feb. 26.
When we arrived at the Backstage Cafe, Pinetop was sitting at the bar munching on a bowl of popcorn, without any teeth. He was down to the kernels and said, "l need to buy me some store-bought teeth." Willie said he got his nickname back in 1951 from playing "Pinetop's Boogie Woogie," the song he gave to Pinetop Smith.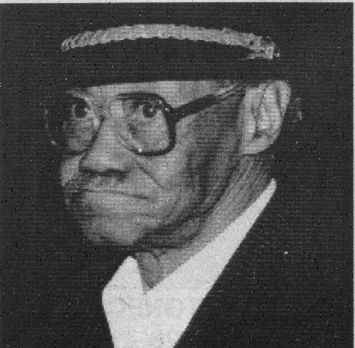 Pinetop Perkins without his chops at Backstate Cafe on Jan. 26. Photo by Keith Clements
During Pinetop's 82 years, he has played piano with Robert Nighthawk, Earl Hooker and replaced Otis Spann in Muddy Waters' Band in 1969. He said his wife of 47 years had passed away just two months ago. To get his mind off his sorrow, Pinetop said, "l wanted to help Jimmy out tonight."
Jimmy joined us at the bar, dressed in his usual dapper pinstriped suit and hat. We recalled his last performance in Louisville a year ago at Air Devils Inn and he knew of (ADI owner) Dan Shockley's tragic death.
He said that Maxwell Street Jimmy Davis had recently passed away in Chicago.
Finally those obnoxious MTV videos ceased and the screen went up for showtime. Pinetop stepped up to the bandstand to play "Chicken Shack," "Kidney Stew," and a nice tribute to the late Sunnyland Slim. Pinetop can still play with lots of flourish and sweeping gestures when he rolls his fingers up and down the keyboard.
Then it was time for Jimmy Rogers, who is 73 years young, to open with "Rock This House Tonight." And rock he did, with over an hour of vintage, elegant blues. When Jimmy sang "That's Alright," "Chicago Bound," "Ludella" and "I've Been Mistreated,"it was a trip back to the era when he and Muddy defined the Chicago blues sound during the late '40s and '50s.
In addition to Jimmy and Pinetop, there was Big Bill Hickey on harp. He has recently replaced Madison Slim and has his own CD out called "Bill's Blues" on the Atomic Theory label, which also features Jimmy Rogers and Hubert Sumlin. Bill's playing showed a confidence and sensitivity to his mentors.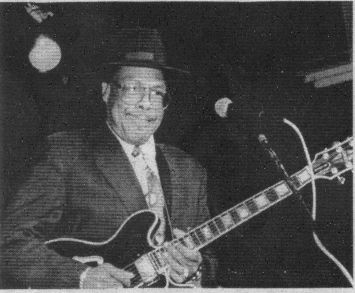 Jimmy Rogers playing his Gibson guitar that Pinetop claims he won in a contest. Photo by Keith Clements
The rhythm was propelled by Fred Crocker on bass and Ted Harvey on drums. Ted was one of the original Houserockers in Hound Dog Taylor's band.
Backing his dad upon second guitar was Jimmy D. Lane. Jimmy, who has gained a few pounds lately, provided a scorching contemporary sting to the band's traditional sound. His vocals are deep and slurred and he cups his hand over his right ear before he sings each phrase.
Jimmy demonstrated his Hendrix-like fire with a powerful version of "Red House." Young Jimmy is a rising star on the Chicago blues scene.
For those of you who missed this extraordinary concert, go out and buy Jimmy Rogers' classic recording Chicago Bound on Chess to recapture the evening.
Cruisin'for a Bluesin'
The second annual KYANA Blues Society Blues land Cruise is ready to roll again on Saturday, April 20. We will meet at Willie's Velvet Rose, 519 E. Jefferson St., at 7 p.m. Willie Bright will prepare another fine feast of soul food. Then we will board the bus (or buses) for the Backstage Cafe. After a solid set of blues we will head west to the Blues Castle for some authentic down-home blues by the recent Sylvester Weaver Award winner, Fred Murphy, with the Blue Devils Band and Mary Ann Fisher.
The price is still a bargain at $15 per person and includes the food, covers, prizes and transportation. Send your check to Rick Harlow at 1838 Bonnycastle Ave., Louisville, KY 40203, or call me at 451-6872.
Remember, this event is for KBS members only, so if you are not a member but would like to cruise, this is a good reasojn to join the KBS.