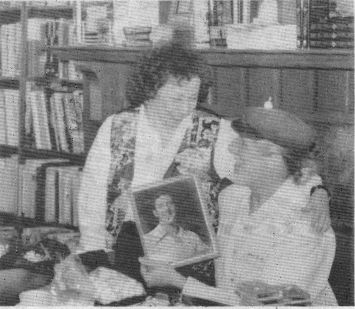 Sandra Flaksman had Bob Roenthal authograph an early photo of himself. Roenthal was signing his new CD, Forever Angels, at Hawley-Cooke Booksellers on Shelbyville Rd. on Feb. 10. Photo by Jean Metcalfe.
Forever Angels (Independent)
Bob Rosenthal
By Jean Metcalfe
Bob Rosenthal is the Alan Alda of folk singing. He cares deeply about the very old and the very young, the coal miner and the fallen soldier. And he's got a heart the size of Mr. Peabody's coal train.
It is not surprising. then, that he put his theme song, Si Kahn's thought-provoking "What You Do With What You've Got," at the front of his brand-new album, Forever Angels.
Though perhaps best known for his hilarious interactive performances of "Little Bunny Foo Foo" (his second album is titled Bunny Foo Foo Loves You), Rosenthal's recordings and live performances are heavy on the plaintive side. When he sings "Hobo's Lullaby," one feels his compassion for the homeless. Ditto for the "railroad bum" in Jimmy Rodgers' "All Around the Water Tank," complete with yodel.
Rosenthal's tender reading of Dan Fogelberg's "Run for the Roses" will bring a lump to the throat of most Kentuckians, especially the horse lovers, as he exhorts a young colt to join in "the dance." An odds on favorite for a tap of the repeat button.
"Whiskey in the Jar" takes a fun, mild walk on the wild side and, one supposes, represents the rowdy-facet of Louisville's beloved folk singer.
Wistful renditions of "Willie McBride," "Dona, Dona" and "Scarlet Ribbons" further illustrate Rosenthal's melancholy side Also included are fine interpretations of "Sloop John B," Kahn's "Aragon Mill," "Gypsy Rover," "Greensleeves," "Suzanne" and Merle Travis' "Sixteen Tons" and "Dark As the Dungeon."
"Will the Circle Be Unbroken" nicely winds up the 16-song collection. Dedicated to Rosenthal's "Mom, the popular singalong number is tagged with a lovely personal note to the woman who gave life to this gentle man.
In his characteristic credit-where-credit-is-due fashion, Rosenthal dedicates "Forever Angels" to a pair of dear friends who encouraged him in his career. "May they live forever in our memories." he says of the late Diane Babcock and Sarah Adams, and we know that they will in his.
The interpretation and enunciation of the lyrics on all the album cuts are superb; no instances of "wha'd he say?" here. And while Rosenthal didn't write any of the songs, it's a given that, like the greeting cards we lovingly select from Hallmark, he invested a considerable amount of thought in choosing them.
•
Hawley-Cooke Booksellers recently hosted a signing for Rosenthal's new album, so they'll likely have a few copies in stock.
They may also have a supply of his two other albums. (Besides Forever Angels, Bob has released three previous albums Listen My Friends, which is no longer available; Bunny Foo Foo Loves You and Nothing But Beans.
Do yourself a favor — buy a copy of Forever Angels. Heck do yourself a real favor and buy a copy of all three.