Claire Lynch At West Point
By Bob Bahr
In 26 days, she could receive one of the highest awards given to a musician. A Grammy for Best Bluegrass Album. but on Feb. 2, singer/bandleader Claire Lynch was playing for about 30 people, at the 500-seat West Point Country Opry south of Louisville. Lynch was visibly disappointed, the promoter shook his head sadly and the fans that showed up were sympathetic and bewildered. Ironies like this happen in the music world, but rarely on a scale this big. Perhaps it was yet another quirk of the bluegrass music industry, a genre with a baffling mix of down-home atmosphere and unsurpassed technical skill, a riddle of fierce fan loyalty and divisive sub-loyalties. Maybe Lynch doesn't play a pure enough brand of bluegrass for the purists.
Or maybe it's just Louisville. Ky.
"l think that there are some towns that are good for bluegrass and some that aren't, and they may be, just one hour apart," Lynch suggested in an interview a week after the show. She had played a sold-out show in Nashville days before. and was headed to a sold-out show in Cincinnati the following night. "We really want to break the Louisville market. and we know that it might take a few visits to do it.".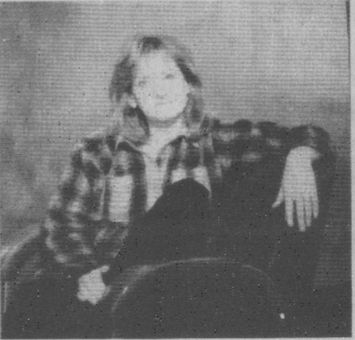 Clarire Lynch
Her voice that night in West Point was its customary strong, sweet self, communicating both a viral backbone and a traditional femininity. Lynch and her Front Porch String Band pasted smiles on their faces and gamely swept into "Alabama State of Mind," a song from her Grammy-nominated album Moonlighter. Anyone who stumbled into the show not knowing Lynch's music was immediately reassured that her band' s abilities weren't the reason for the paltry turnout.
"Appalachian Lullaby," a melancholy, beautiful tune of love, soothed the ears like aural mother's milk. Guitarist Jim Hurst, the newest member of the Front Porch String Band, provided pleasant high-tenor harmonies. Lynch noted that the sedate audience was even more relaxed after that jewel, so she threw the spicy Hank Williams number "Jambalaya (On the Bayou)" into the mix, and the rest of the group showed their chops.
Missy Raines proved that she was one of the most entertaining and skillful bass players this side of Victor Wooten, and Claire's husband. Larry Lynch, picked up the mandolin with a confident groove and a mischievous sense of musical humor. The fans saved some of their loudest applause for Michael McLain's banjo breaks, although Hurst's guitar solos spun a few heads as well.
Larry introduced the jaunty, "Roll On Buddy"-style tune "Further in the Hole," a song about how hard it is to get financially ahead — especially if you are playing bluegrass music. The festive mood of "Thibodaux" with its country-cajun rhythms, gave way to Moonlighter's waltz celebrating innocence, "My Heart Is a Diamond." As the song modulated into an ending chorus, the room was overtaken with a calculated sense of release.
The band wound up the first set with the old standard "Wabash Cannonball," souped up in a killer arrangement that the Front Porch String Band has been using for years. Sparkling. wandering, building, venturing, their interpretation proved that any standard can be thrilling again with a little inventiveness and spirit. You haven't truly heard this A.P. Caner classic until you've heard it adorned with the colors and depths that Lynch adds to it.
The second set began with a number that may draw parallels between Lynch and Alison Krauss in the minds of listeners — "Second Wind." And like Krauss, Lynch will raid pop music's closet for new tunes. That night's entry was "Hitchcock Railway," which was made famous by both Jose Feliciano and Joe Cocker. "We thought somebody ought to 'grass it up'." explained Lynch in her introduction to the song. "Life Without You" was a jumpin', newgrass-inspired performance, then a fiddle medley of "Pigeon on the Gate/Leather Britches" allowed Larry to demonstrate his formidable chops.
Hurst took the lead vocal mic for "Gulfstream Dreaming," and aside from earning some fans for his singing, the number also showed why Claire is in demand by folks such as Linda Ronstadt, Patty Loveless, Dolly Parton and Emmylou Harris for her backing vocals.
The highlight of the evening was Lynch's emotional rendition of the gospel song "He Leadeth Me," which seemed to bring out something in her that the rest of the show couldn't arouse.
It was her best vocal performance of the night, a star turn, and maybe in her mind the audience wasn't the 30 people there to see her show, but the Creator who gave her that voice more than three decades ago.
A groovin' version of the jazz classic "It Don't Mean a Thing (If It Ain't Got that Swing)" morphed the group into an acoustic swing band, then Lynch led the way into "Pee Wee and Fern," a slightly comy song that climbed the bluegrass charts a few months ago. "If You're Ever in Oklahoma," a song that John Cowan handed Lynch some years back, closed the show before an unnecessary (but gorgeous) encore of "Wild Bird" sounded the last notes of the night.
Perhaps it wasn't the best Front Porch String Band concert, but even on a night when their spirits are flagging a little, this group puts on an impressive show that jumps from country to old-timey to gospel to newgrass.
"Poor turnouts always affect a show," Lynch said later. "Great turnouts affect it the other way. If an audience is there and enthusiastic, you're going to get a lot better music from the band."
As good as Lynch's show was, it was hard to leave the West Point Country Opry without feeling a little disappointed -— in this area's listening public. In the Bluegrass State, a top act with an honest, down-home person like Lynch can only muster 30 people to a show.
What's the matter with this picture?